ABOUT COSTOLO
Costolo is a fresh and high end jewelry line based in Los Angeles. Their custom designs are modern, unique and made of fine quality and precious materials. Its founder Rose Costolo, (who also worked with another jewelry line, Angel City Jewelers) is making sure her jewelry line is sustainable by making sure portions of the brand's profit goes to causes that support healthier diamond mining. Furthermore, the jewelry line gets its inspiration from the elements of nature and love in all forms. Truly an innovative and one of a kind statement brand you wouldn't want to miss out on. Examples of its very unique line are pieces such names "Dopamine" which is literally the feel good chemical. Imagine such modern, authentic and cool designs in your collection. Let us now look at 2 stunning pieces from Costolo.
ICE EARRINGS (Pictured Above)
The first piece we present to you is this very elegant and modern Ice earrings. It features 14 karat white gold drip earrings encrusted with  brilliant natural VS quality diamonds. Furthermore, it is hollow ensuring that it is very light to wear on the ears. Made with absolute care, this piece should be allotted 3 weeks production. I can imagine wearing this piece to a very important event, it sure will make heads turn just like it probably did with DJ Millie when she wore this at the Grammys! Get this for $9,950.
SEROTONIN RING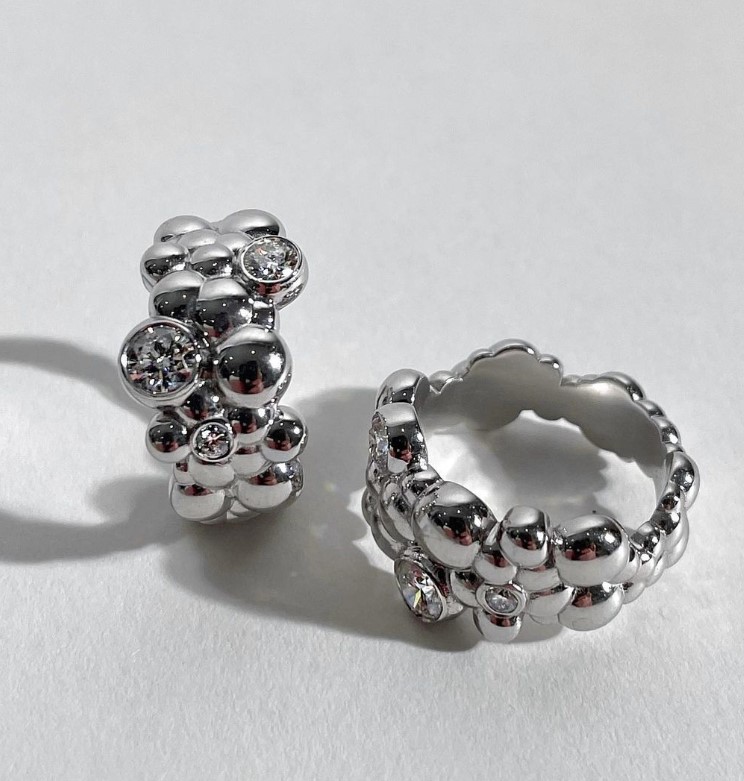 The next piece we have is this gorgeous and very unique Serotonin ring in white gold. The ring features 14 karat solid white gold and high-polished with 0.55 carats of the Impossible Diamond. However, please allow 1-2 weeks for the production of this very beautiful make you feel good ring. This ring, similar to the first piece is made with care. I can imagine this jewelry worn in any event, whatever time, from casually catching up with an old pal to a formal dinner event with your family. Did you also know that serotonin is the will power hormone, and mood stabilizer? Without it, we cannot function normally, so this is such a relevant piece considering what chemical compound it's named after! Get this for $2,100.
And there you have it, 2 of Costolo's stunning jewelry pieces! If you want to find out pieces and get updated, connect to their Instagram. Want to look at more jewelry lines we've featured before? Click here.