First of all, let's start by agreeing that style is a personal expression of your unique personality. This is why we highly encourage you to be bold with your fashion choices. With this cool men's style we added the majestic color tone of purple to add a hint of royalty. Let's break it down so you can get the look.
First, you'll want to get an Armani dress shirt in purple. There are many shades of purple, so we recommend lighter shades like lavender for daytime or casual events and darker tones for more professional or serious meetings. Some come with stylish designs on the wrists and even collars, and these are great for fun, social gatherings when you're looking to make a major fashion statement.
Additionally, famed Italian fashion house Valentino is renowned across the globe for its exquisitely designed clothes, accessories and jewelry. Expertly crafted from pure cotton, this T-shirt from Valentino features a classic round neckline, short sleeves, a straight hem and silver-tone stud embellishments making the shape of stars as well as cabochons
As can be seen, you'll want to start by getting a nice pair of black slacks. Black pants are a staple in the fashion world, because they look great with any color and all shirts and shoes. We selected these trousers from PRADA with a wool and silk-blend. The lightly textured striped seersucker used to tailor Prada 's trousers have a touch of stretch for flexibility. This pair has a refined straight-leg shape that falls to unfinished hems so you can have the length customized. Wear yours with a crisp shirt tucked in.
Coupled with the perfect shoes, both of these slip-on loafers are great choices for almost any occasion. You'll love these PRADA dress shoes. If you want a traditional black style, we love these  patent leather loafers by PRADA.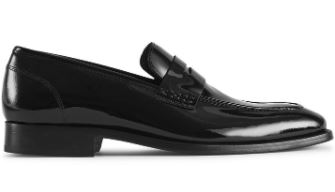 Finally, the star of this outfit is definitely the timepiece. Your watch will always be on display no matter what you're wearing. With this in mind, we selected this super classy and sleek Movado watch in black sapphire with stainless steel bracelet. The unique bezel-free case of this black Sapphire collection watch is entirely spanned by a flat sapphire crystal, which showcases a signature Movado museum dial.
In conclusion, now you have a cool style that you can wear anytime with black and purple. We know you're going to love it.

SHOP MORE STYLE FOR MEN NOW!!!