The weather is warming up and it's time to bring out the cool casual style for men. Wear this winning look in black and blue with the unique timepiece that will take your style to a whole new level.
In the fashion world, duo-tone is always a winning look, especially with this super cool style for men this summer. We love light blue for gentlemen this summer. It's a cool color and it's soft on the eyes for those looking your way.
First, pair cool jeans with a soft and comfortable Sun Logo collared shirt from Moschino. This collared shirt with short sleeves should be a staple in your closet. This look can be worn day or night.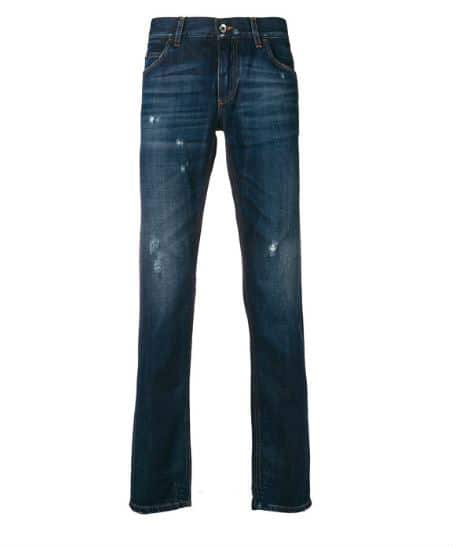 Next, get these distressed blue Dolce & Gabbana jeans. They're comfortable and casual, and best worn for any social occasion.

Then of course, fashion and style is about being bold, taking risks, and with this casual style we selected these Roberto Cavalli satin shoes for men with metal applications. A classic designer of men's shoes that are perfect for every fashion and style occasion. So get yours today.
The final touch is Hamilton Ventura watch for men. Over fifty years after the Ventura's introduction, this statement-making timepiece with its distinctive shield-inspired case is revamped in a bold, larger size. An angular crown doubles as a 3-o'clock marker and racy-red color pops at the gridded cutout dial. This menswear inspired timepiece was constructed from the finest materials for a durable yet refined look.
Now you can have this unique summer style for men with class, cool, and color that will always be in style. C' mon you know you know you want to.

SHOP MORE CASUAL STYLE FOR MEN NOW!!!