To create a truly distinctive sense of style means to be bold and fearless. This fashion-forward ensemble encompasses a strong dark palette, showing innate power and a sense of personal destiny. Associated with elegance and mystery, black is the perfect color to show the world that you are a man of great depth and complexity. It is perfect for a night out on the town when you want to create a lasting impression.
To start creating your look, you'll need a stylish and lightweight leather jacket. In 100% leather, this shirt makes a heroic and resolute statement. The slim fit of this cool Connelly leather jacket gives an effortlessly sexy style and creates head-turning allure. The sleek texture of the leather gives a stylish edge and shows that you are unafraid to push fashion boundaries. This is a truly masculine shirt, showing the world your inner style warrior.
Next, you'll need a pair of truly flawless tailored trousers. Look to AMI for cool wardrobe building blocks with a modern slant like these black wool trousers. They're shaped with long straight legs that feature sharp pressed front creases and an elasticated waist that secures with black drawstring ties. Fits true to size.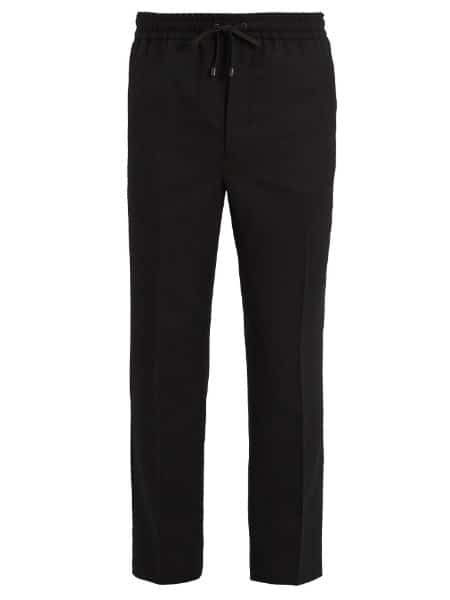 Then you'll want to add this simply iconic Raymond Weil Freelancer Watch, 42mm. Crafted exquisitely from stainless steel, this piece adds a dash of manly fashion. The black and silver bezel works well with the dark hue of your outfit to mirror the mysteries of the night sky. Sporty watch designed with a cool perforated straps that creates a subtle opulence that really lifts the ensemble to new levels.
After that, add this sensational John Hardy Woven Leather Bracelet. The bamboo motif elegantly mirrors the beauty and power of nature.  Additionally, this adds a note of rugged and manly charm, whilst remaining refined. A sterling silver clasp adds a hint of indulgent luxury.
Lastly, finish your new ensemble with these suede PRADA Tassel Loafers. Understated and classic, these loafers are the last word in classic style. Shoes of this quality and design are never out of fashion. The tassel detail adds an individual touch that enhances the style and sophistication of the loafers.
Finally, you are ready to set the light alight with your sexy and alluring new stylish city style. With your new air of mystery, masculinity and rugged sophistication; you are a man of power and purpose ready to turn heads with this city style.
Written by Hannah Stephens
SHOP MORE CITY STYLE FOR MEN NOW!!!