If you need a powerhouse, high fashion get-up, then this should be one of your number one go to outfits. It is a style that is classic and yet ultra modern. In the fashion world, you always want to be pushing the envelope of creativity. With this unique dress and stunning shoe set, you will accomplish just that. Now all you need is the right makeup to accentuate the look.
First, the Metallic Tweed Minidress by Balmain looks great for any business minded lady. The arms have a classic boxy look. This makes the dress look well cut. The high quality material is easy to wear on any fall or winter day. The patterning on the top gives an asymmetrical feel. It draws a person's eyes in the detailing of the outfit. The frayed arms and skirt give some added pizzazz to the ensemble.
Next, put on the Saint Laurent Niki Wedge Boots. They are great when you need to do some walking but want to look fabulous doing so. That being said, these boots are perfect for the office or to wear for a day of shopping. The pointed toe is a fashionable twist on traditional wedges. Pairing a pointed toe with a wedge-like heel makes the boots stand out from the crowd. That's why these particular boots are a must have. If you only get one pair of new boots this season, let it be these.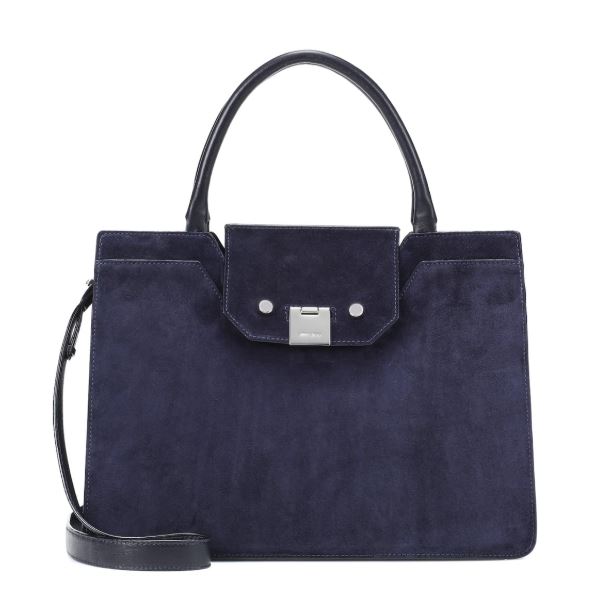 Then, the Rebel Tote by Jimmy Choo adds in a soft suede. You can carry the bag over the shoulder or just clutch it when walking. In the fashion world, any Jimmy Choo collection piece deserves to be highly celebrated. In fact, this classy purse does not disappoint with highly desirable features. The tote matches well with the entire outfit as it creates visual interest. Anytime suede and leather can be paired together, a modern look is sure to be a hit. Make this look your own today!
SHOP MORE FASHION AND STYLE NOW!!!