Restaurant Marigold is located on the Main Rd. in the Wine Region of Franschhoek, South Africa; situated outside of Cape Town, South Africa. It is a part of the luxury Leeu Collection restaurants. Marigold is an Indian restaurant serving authentic Indian cuisine with a modern twist. Don't worry if Indian food isn't really your favorite cuisine, you're sure to find something that you'll love at Marigold as they try to appeal to all taste preferences.
Marigold is small and intimate. Its colors and modern décor also present a very warm and inviting environment. A lovely wood fire is set to further enhance the warmth of the restaurant and creates the perfect ambience for a memorable dining experience. Small doesn't mean tight and cramped as the tables are perfectly appointed to offer guests the perfect amount of space to enjoy their conversations without listening to everyone else's.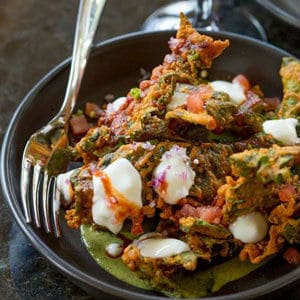 Your dining experience will begin with the most helpful team of servers. You don't have to know anything about Indian cuisine because they will certainly help you find something that you're sure to enjoy. You'll enjoy authentic Indian dishes with a slight twist. The first thing that you'll enjoy is a variety of tasty Indian breads and spreads. This prepares your palette for what's to come. The menu is designed for you to enjoy a small sample of food so that you don't have to commit to an entire dish if you're unsure about what you would like to eat. One of the most ordered dishes on the menu is Deep Fried Spinach. This is something that simply can't be explained but we'll try.
Think of various exotic spices and tangy flavors all combined into one explosive dish and you'll have Deep Fried Spinach. The Butter Chicken, Lamb Curry, and lentil soups are also among the many delicious dishes ordered most often. If you can't eat spicy food, no problem, you'll have your choice of mild or medium dishes. You're sure to also be impressed with the great variety of wines, which includes wines from the Mullineux & Leeu Family Wines. We understand that it can be a little tricky trying to determine which wines will pair best with your dishes and that is why your helpful server is there to assist you in making the best choices. They will make wine recommendations based on your dishes and wine preferences. You are definitely in good and capable hands with the servers of Marigold restaurant. They really know their stuff!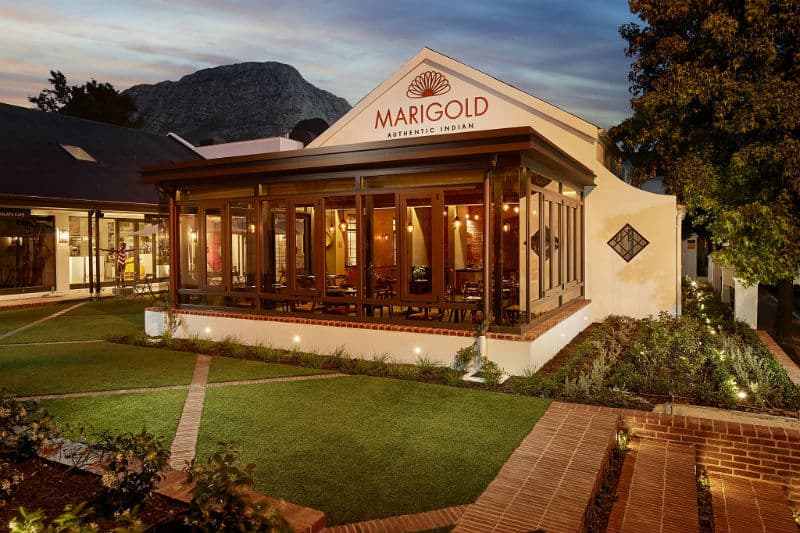 Chef, Vanie Padayachee, is an expert at perfectly blending all sorts of exotic spices to create the most incredible Indian dishes. She is from Duban, South Africa; a melting pot of cultures and diversity. She spent time in India to ensure that her dishes are as close to the authentic taste of India as possible. Her time spent in India also enabled her to do something slightly different with her dishes without losing its appeal. The results of her efforts has made Marigold the premier dining venue in Franschhoek.
With a great staff, talented chef and an amazing menu, it is no wonder Marigold is the talk of the town. If your plans take you to Franschhoek, South Africa, don't miss the opportunity to visit one of the absolute best and most visited restaurants in the area, Marigold. It is truly a culinary experience that leaves you craving more.
While management is always happy to accommodate as many patrons as they can, this isn't always possible. Reservations are highly recommended.
About The Author:
Dawn Wilson
Travel Writer/Luxury Boutique Hotel Specialist
Dawn Wilson is a Travel Writer and Luxury Boutique Hotel Specialist. As the owner of Unique Boutique Hotels, she writes about the boutique hotels with the highest guest approval ratings. She has also written for several digital lifestyle magazines, which include, the Miami Shoot Magazine. Her love of travel, art, and design led her to become a travel writer who focuses on luxury lifestyle experiences. She recently began exploring more international boutique hotels & resorts and is excited to share her recent discoveries. Dawn splits her time between the U.S. and South Africa.