First of all, in this season, don't just use your same tired fall clothes. Instead, dress them up with some new elegant pieces. This beautifully blue style has one of a kind stylish pieces that you can wear for almost any social occasion that requires some fashion wow. You will love this look, and from head to toe, whoever lays eye son you, will too. Here's how to make it your own.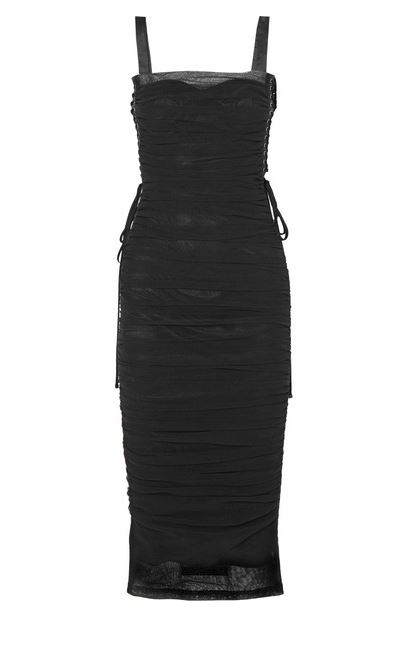 The Dolce and Gabbana Ruched Bustier Dress is an ultra feminine dress that is perfect for date night, parties, or formal dinners. It goes beautifully with the light blue shoes. Previously, fashion rules dictated that you cannot wear black and blue together. That being said, style is all about making your own rules. Now is the season to mix up colors and be bold in your fashion choices.
If you want to spice up your personal fashion world, this is the perfect statement piece to do just that. Mix it up with this Alexander McQueen Double Breasted Crepe Tuxedo Mini Dress. This is a unique fashion item and is a fabulous dress alternative that can also be worn over pants for a unique European style. Additionally, you can wear it with high boots too.
Next, get these Lancer Glitter Pumps that are sure to become your new favorite shoes. Jimmy Choo always offers a versatile heel that is great for casual office wear and social occasions. Everyone needs a stylish pair of Jimmy Choo high heels, and if they don't have one, then they need one.
Moreover, find some room in your closet for a new Valentino handbag. The Small Chain Cross body bag is perfect to dress up or wear at the office. Crafted from luxury Italian leather, this Valentino bag features a fold over top with hinge-lock closure. This is a petite purse that is perfect for all your daily lady essentials. Add it to your purse closet today.
Finally, you'll want the perfect jewelry accessory to bring a little dazzle to your ensemble. You will adore this Vintage Platinum with Natural Emerald Cut Sapphire & Diamond ring. They say diamonds are a girl's best friend, and we don't agree. God is a girl's best friend, but diamonds are definitely a girl's most beautiful style accessory!
SHOP MORE FASHION AND STYLE NOW!!!