When thinking of designer men's fashion, three-piece suits are the first thing that comes to mind. However, an occasion for dressing so rarely comes. Because of this, it's best that any fashionable man also has a stylish casual outfit to wear while he's out on the town,working in the office, or going on a hot date.
Stylish Shirts
One of the most popular names in fashion, for both men and women, is Gucci. This brand screams class. Polos are a great business casual option, and this paneled polo shirt by Gucci is professional enough for the workplace and fun enough to wear at the bar. This tri-color polo is reminiscent of a sports jersey but has all the refinement of a polo. As a bonus, the combination of red, white, and blue can match with near every outfit.
If it's cold out and short sleeves just aren't cutting it, a long-sleeved polo could be for you. This long-sleeved polo by Ermenegildo Zegna XXX can keep you warm and cozy while still looking professional and sharp. Unlike short-sleeved polos, this shirt matches nicely with a tie. Of course, it can also be worn without one. Either way, this shirt will keep you looking stylish while keeping you warm.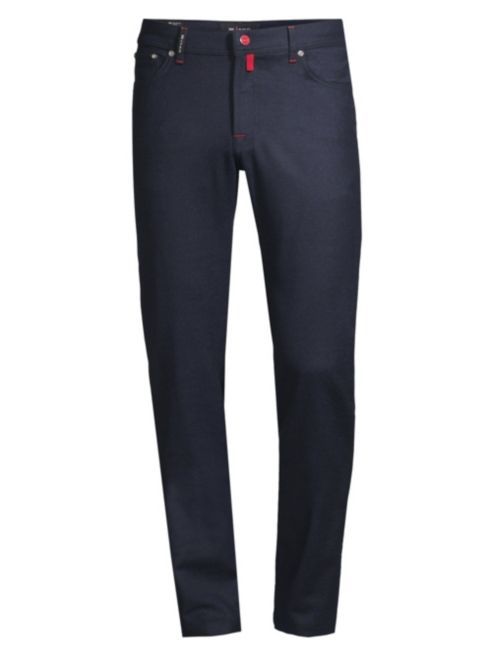 Skinny Dress Pants
When it comes to men's fashion, most dress pants tend to flare out near the ankles. While this isn't a fashion no-no, skinny pants are more in-style these days. Because of this, it's a great idea to have a pair of skinny dress pants, like this straight-fit pair by Kiton. They have the look of business attire while having all the comfort of casual pants. These pants are great to wear at work and they are the perfect fit for date night or a night on the town with the boys.
Leather Loafers
No outfit is complete without a pair of shoes to match. Black or blue shoes are some of the best, as they match with every outfit. These Salvatore Ferragamo loafers are a triple-threat, as they are comfortable, formal, and made of dashing leather. These shoes are perfect for nearly any occasion, except maybe jogging!
A Handsome Timepiece
Never be afraid to accessorize. As far as men's fashion goes, you can never go wrong with an elegant watch. This Hublot watch in blue and gold matches especially well with the Gucci polo already discussed. The blue and gold color combo matches perfectly with the blue on the shirt. Of course, this watch also matches well most other shirts. We suggest that you wear it with outfits that involve dark blue, black, or white clothes. For this reason, this watch ties together this Man of Style outfit wonderfully.
Whether you're looking for the perfect outfit to impress your boss, your buddies, or your date, this outfit is sure to make you look like a cultured man of style. Any of these clothing items on their own, or better yet combined, will make you stand out from the crowd and make everyone around you wonder, "How can I get the look?"
SHOP MORE FASHION AND STYLE NOW!!!