Hello to all stylish ladies! As we move into a new season, you'll want to be dressed for success. We've created this bright and zesty ensemble to show the world that you mean business! With a dash of cheeky sixties flair, be ready to stand out from the crowd.
First, you'll need this gorgeous wool blouse. The deep fuchsia hue adds a pop of bold color to your ensemble and shows you are a strong, fearless woman. The elongated sleeves adds a touch of ladylike chic. In pure wool, this stunning piece represents absolute luxury.
Next you'll love the black Balmain fringe mini skirt cut from a mid-weight cotton-blend and embellished with fringed chevron stripes for a tactile finish. This skirt embodies pure luxury and style. The mini length give a flirty and feminine silhouette. However, the beauty of this piece is truly in the finishing touches. The fringe design offers unique and fashionable stylish flair that is a must-have. You'll see this on all the runway catwalks. We think it's time for you to strut your stuff too.
Furthermore, you'll want to add some classic accessories to your look. These fabulous black PRADA sunglasses exude Beverly Hills chic style. Their timeless appeal will give a touch of ladylike elegance and grace. Also, the lenses ensure absolute protection all day long, perfect for summer functions and parties.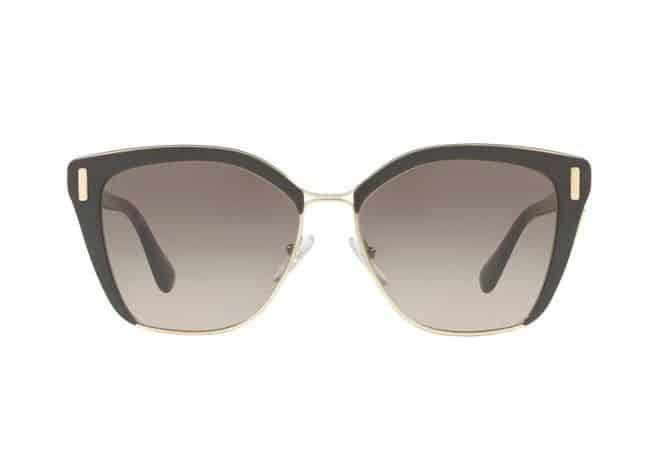 In addition, this FENDI Chameleon Diamond Watch is truly a piece to treasure. Fendi is famed as being synonymous with classic style pieces with a creative flair. This stand-out watch is understated and ladylike, with sparkling diamond and logo detail. Made in Switzerland, the quality of this stunning watch is unparalleled.
Of course, you'll be wanting some jewelry to add even more sparkle to your ensemble. Everyone knows that diamonds are a girl's best friend! Embellish your fingers with this Andrea Fohrman Galaxy Star Ring in 14-karat yellow gold for a unique look. Inspired by the natural world, Andrea Fohrman is famed for gorgeous ring styles reflecting the mystery of the night. It is made lovingly by hand from 14-karat yellow gold, luscious black onyx and a sparkling white diamond. The diamond star adds a touch of mystery and intrigue. This is truly a superstar ring, for a superstar like you!
After that, you'll be needing the Italian leather gloves by GUCCI. These are made of a divinely soft leather with a touch of finest Italian cashmere lining. These gloves are sure to add a touch of runway fashion charm to your look.
Finally, finish your ensemble with these Gianvito Rossi high heels. Adding a bright flash of fuchsia to your outfit, these shoes add a sexy edge. Handmade in Italy, the stiletto heel and on-trend style make a shoe that is delightfully flattering.
Now you're dressed for success, it's time to go out and make your mark. Show the world that you mean business in this fabulous Balmain fuchsia style as you take on all challenges, dressed perfectly for the part. It's time to conquer the world!
Written by Hannah Stephens
SHOP MORE BALMAIN STYLE NOW!!!