We travel the world seeking talents from all walks of life, and we have discovered a rare artist who captures so beautifully the vibrancy and brilliance of life itself. From sprawling landscapes, to beautiful horses in an array of circumstances, and the basic simplicity of life, Roberto Benítez  has a unique gift of painting.
His ability is to make breathtaking masterpieces that you can add to your personal art collection and enjoy for generations to come.  Whatever the subject, Roberto Benítez Robles is a fine artist whose gift for capturing beauty and translating it through paint, is bold and beautiful. It is our great honor to shine light on his success story. Let's learn more from the heart of this gifted artist.
Beverly Hills Magazine: Tell us a little about yourself. Where are you from, where did you grow up, any education or academic training?
Roberto Benítez: I am proudly Mexican, I was born in the city of Puebla on January 22, 1971. I come from a family of artists and grew up in an environment that favored my approach to painting from a very young age. My father directed my training in adolescence and then I attended Plastic Arts at the Esmeralda School at the CDMX.
Beverly Hills Magazine:  How wonderful. When did you discover your talent as a painter?
Roberto Benítez: As a child I painted on the walls of my house or wherever I could. I would paint my favorite characters; my father supported my talent from those moments, putting in my hands the necessary materials and motivated me to participate in school painting competitions of which I obtained the first places and national recognitions.
Beverly Hills Magazine:  How do you prepare for each new piece?
Roberto Benítez:  I feel that I do not need so much preparation. I just relive in my mind moments of my childhood or I transport my mind to that which filled all my senses with emotion, and from there I take the canvas and paint what I feel inside and see in my mind. I then use colors that highlight and convey this feeling of joy and peace that characterize me.
Beverly Hills Magazine:  What inspires you to paint?
Roberto Benítez: My most intense inspiration is the fairground carousels, my taste and love for their bright colors and the memory of painting these beautiful steeds. The colors and traditions of my country, as well as nature. I enjoy an authentic love for what plasm and enjoy an interesting perspective on art and life.
Beverly Hills Magazine:   Where do you get your inspiration from?
Roberto Benítez: Much of my inspiration is in my surroundings, in Mexican customs and traditions.
Beverly Hills Magazine:  What makes your work unique?
Roberto Benítez: My art signature is the rag dolls and their color. My work is unique and known for its style and mixture of several elements that combine an innocent and pure feeling.
Beverly Hills Magazine:  Why do you think that art is such a valuable collector item?
Roberto Benítez: In my opinion, the value of every work of art depends on its nature, whether economic, aesthetic, cultural, historical or heritage. Each work acquires a degree of value for its proposal or innovation. The unique and original works with good proposals are those that acquire a great value for collectors, museums and gallerists.
Beverly Hills Magazine:  How are collectors an important part of the art world?
Roberto Benítez: Art collector's are one of the four figures that are usually recognized within the demand of the art market, and they are a fundamental part of the art market because they either preserve and disseminate the works of artists.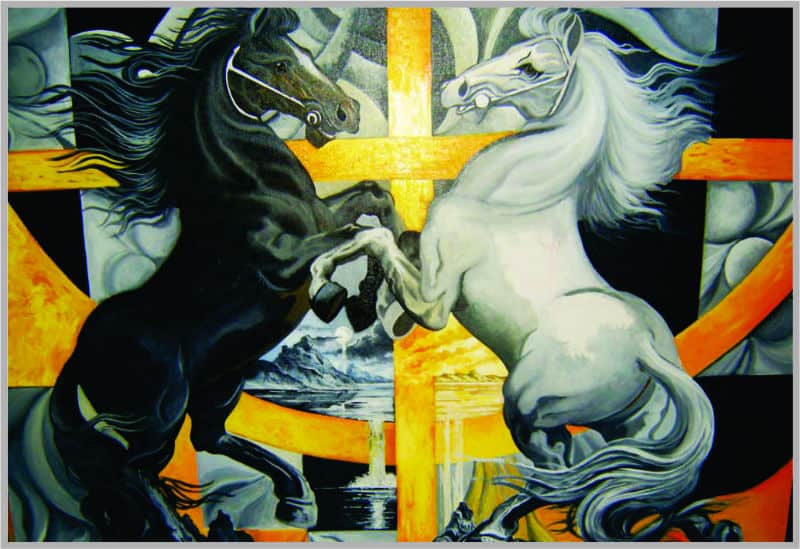 Beverly Hills Magazine:  What message do you hope to convey through your work?
Roberto Benítez: I intend to transmit the feeling of joy, of passion, and of experience. I want my paintings to preserve the customs and values ​​that characterize every human being for their roots.
Beverly Hills Magazine:  What advice would you give aspiring artists out there?
Roberto Benítez: More than an advice, I would tell others that we all have to be what we want, open the way and follow it until you get where you want. Create and project your career as the best work of art. Let love and passion be your canvas and your colors to perform your work, whatever that may be.
Beverly Hills Magazine:  Have you discovered a personal purpose in what you do?
Roberto Benítez: Of course, at first I focused only on being a plastic artist, being a creator of works with my own style and over time I realized that I am also a spokesperson for my culture and that I have a great interest in representing Mexico. My goal is to reaffirm customs while preserving values ​​within the family.
To purchase or commission masterpieces by Roberto Benítez, visit his online gallery www.rbenitezartgallery.com.mx
Contact him via email at roberto22benitez@hotmail.com  or call TEL. 011 +52 (222) 9 62 64 53