The most expensive luxury estate in the United States is currently for sale. Dating back to 1936, this stunning dream home is part of California's prestigious Bel Air neighborhood. The Los Angeles suburb began in the 1920's at the behest of local tennis-player-turned-developer, Alphonzo Bell. (Image credit: Simon Berlyn)
Intending to create a community for his rich clients and friends, Bell paid $6 million for the 22,000 acres that became Bel Air. He thought the locale's hills and views would be a selling point for the expensive lots that would sell for up to $30,000. Though he envisioned something similar to Beverly Hills, he hoped it would not become a hotspot for Hollywood celebrity real estate. He chose the name for his swanky community as an anagram of his own.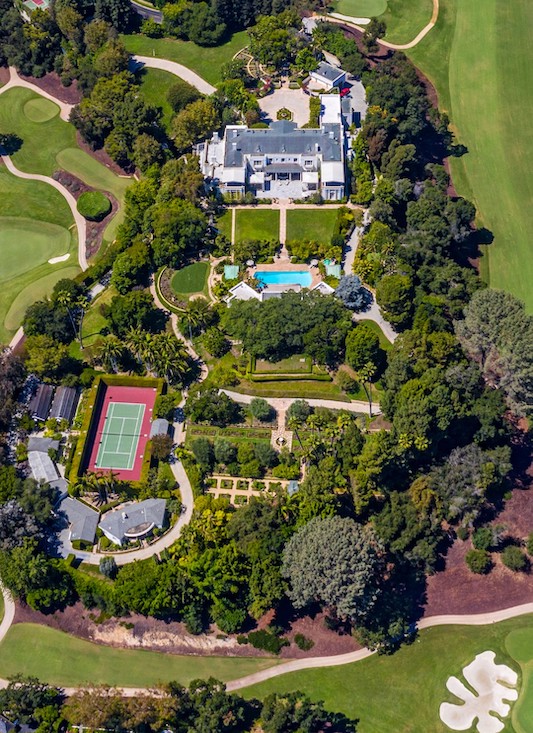 A Historic Property
Hilda Weber, heiress to the Charles Boldt Glass Company, originally built this spacious luxury estate for her personal us. And the top designer's of the 1930's, James Dolena and T.H. Robsjon-Gibbings, worked together to create this magnificent 40,000 square foot mansion. By the time it was complete, the widowed Weber hoped just owning the massive home would give her entrance into Los Angeles's high society. However, much to her surprise and disappointment, the elite socialites shunned her. Unfortunately, she lacked the financial management skills to retain her wealth. Eventually, she could no longer maintain the mansion.
Contact Maddison Estates to Sell, Buy, Or Build Your Dream Home!
In 1950, hotelier Conrad Hilton bought the luxury home from Weber for $235,000. Since then, the luxury estate has undergone extensive changes and additions by the Hiltons as well as its current owner, Gary Winnick, who purchased it in 2000 for $94 million. Nineteen years later, designer Peter Marino and his team of 250 craftsmen renewed the dream home in a museum-quality restoration.
Today, this impressive luxury estate is on the market, priced at $225 million. Indeed that is but one-thousandth of the price Hilton paid in 1950! And ever-exclusive and seeking a special buyer with extraordinary means, conventional real estate listings do not even include this distinctive property.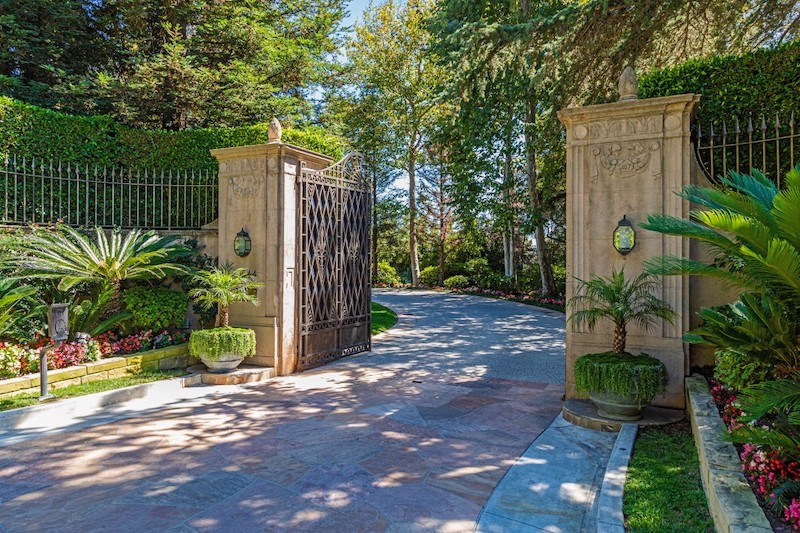 Sprawling Luxury Estate
This luxury estate sits on a promontory of 8.4 acres, insulated from neighbors but still boasting stunning views. Moreover, its location abutting the Bel Air Country Club assures the views will never be obscured. A long drive meanders through the lush landscaping, leading toward the main house.
The magnificent entry leads to a grand hall, complete with 18-foot ceilings. At the end, find a large reception room branching off into formal living and dining areas, a grand ballroom and a piano room. Of course, with 60 rooms, there are a wealth of areas available for entertaining and hosting guests.
The grounds contain a pool house with professional screening room and formal bar, lighted tennis courts, separate basketball court, koi ponds, a full guest house and multiple greenhouses. Truly, there is no feature from which this house is lacking.
This one-of-a-kind luxury estate is currently the most expensive home in the United States and is priced at $225 million. It is listed by Jeff Hyland and Rick Hilton, grandson of Conrad Hilton, at Hilton & Hyland, Beverly Hills and Shawn Elliott of Elite Real Estate Marketing.