With the advent of the fearless and empowered Wonder Women, we are honored to meet a reigning woman of wonder in her own right, Mrs. Cait Scudder.
As CEO of a multi-six figure online business coaching empire, Scudder serves as the fearless front-woman of the boss babe revolution. A true trailblazer, she leads other inspired femme-preneurs in the fight to courageously make their dreams a reality, all while truly enjoying life and traveling the world with her husband.
 Scudder established a multi-faceted business coaching enterprise run entirely from her laptop – one which she scaled to six figures in her first 12 months.
 Featured in Forbes, Fast Company, and many more – Scudder and her team now lead a tribe of more than 25,000 ambitious women across six continents in their quest to "nail their niche," leverage their "zone of genius," to finally build the profitable business and radiant life of their dreams. Her wildly popular Born to Rise podcast is pure mental fuel for go-getters thirsty for the inspiration and actionable tools to help master their mindset, explode their business, and achieve everything that becomes possible "when you decide that now is your time to rise."

Beverly Hills Magazine:  What does it mean to be an entrepreneur?
Cait Scudder: The first thing that comes to mind is the freedom to create. Creative expression is so much a part of what it takes to be an entrepreneur. I think it's the coolest thing in the world that I get to discover and utilize the gifts inside me to do what I do.  First, you have to find out what your gifts are, bring them out to serve other people, and finally be courageous enough to build a business using them.
Beverly Hills Magazine:  Absolutely! We are made in God's image. We are born to create, and God place unique gifts and talents in each and every one of us, that no two souls are alike. This means we each have something so rare and incredibly profound to contribute to the greater good of all by simply using our gifts. So when did you start your business?
Cait Scudder: Started in middle 2017…June 2017.
Beverly Hills Magazine:  What is the most challenging thing about being an entrepreneur?
Cait Scudder: To be really honest, flipping the off button.  I am constantly living and breathing the creative process, and being in the creative state is the most exhilarating thing, but sometimes I don't even notice that I'm burning the midnight oil, and not taking enough time off, whether it's by spending time with friends, my husband, or just time alone.
Beverly Hills Magazine:  Oh yeah, I agree with you. I love that creative space. It transcends the physical realm. It's a spiritual dimension we tap into. For me though as a born-again Christian, I always make time to spend with God, reading His Word, praying, worshipping just in the secret place of my bedroom, or even my car. It's in His Presence that I receive more grace to continue on in His Divine Strength, and not my own. I literally can't do anything with Him, LOL! And what's the most rewarding?

Cait Scudder: I think the most rewarding part is witnessing the women I get to support. I manage an extremely active Facebook group called The Radiant Entrepreneur. I get to witness a true community of women supporting women, and see those whom I serve flourish.
Beverly Hills Magazine: What is your business mission?
Cait Scudder: To empower women to rise into their zone of genius to create a purpose driven business and light up others to rise.
Beverly Hills Magazine:  I love that! What have been major obstacles/stepping stones that you overcame to achieve your success?
Cait Scudder: Fear. When I first started my business I asked myself, "Am I going to be able to do this?" I had fear of success. Fear of failure. I think fear is what stops most of us from ever taking the risk. Also, as I was starting to rise I had some people who were close to me, or who I thought were my friends not understand me, they judged me, and became jealous. This occurred at the time of my wedding as well, and my support network of women at that time just turned on me. I was succeeding and thriving in my own power, but was also facing gossip and a lot of talking behind my back. In my mind I thought that was the worst outcome, but when I reflected on the situation and questioned whether or not I was doing the right thing, it became more clear that YES! I was following my calling. That experience solidified it for me.
Beverly Hills Magazine: Fear can paralyze us, but I know God is love, and His perfect love casts out all fear, so I draw near to Him in every moment. Plus being sure of the call on our life is paramount. It's what you were put on this planet to do! I experienced something similar. When we step out to follow our destiny, the devil knows that it is going to change the world for the better, so he activates people around us to try deter us, hinder us, or literally stop us. But God works all things together for our good, no matter what the devil throws our way, if we just keep going… we will always prevail. Do you have a quote, motto, or Bible Scripture you like to live by?
Cait Scudder: I've always loved the quote by Anais Nin, "And the day came when the risk to remain tight in a bud was more painful than the risk it took to blossom."
Beverly Hills Magazine:  That's a good one! I always compare the entrepreneurial journey and our simultaneous spiritual growth to a rose. Mine is Matthew 19:26, "With GOD all things are possible." This reminds me that when I operate in my own capabilities I am limited, but when I trust in God and His Holy Spirit working through me, I become limitless. What makes your business different from others of its kind?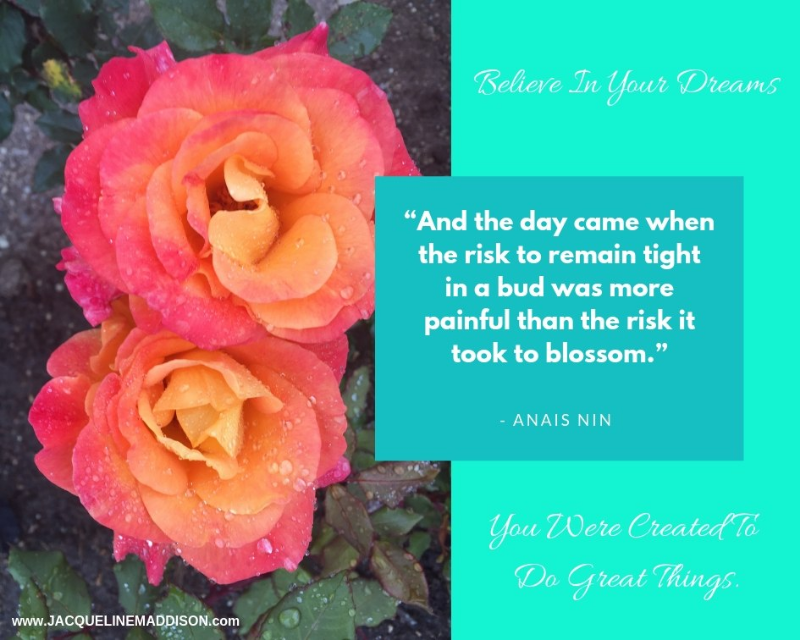 Cait Scudder: I have a 3-part framework, Energy-Strategy-Sales. I have an energetic signature that is different from other coaching programs. I inspire a commitment to being authentic, committed, and available with a mindset of "How can I serve you?" This causes entrepreneurs to have generosity, and focus on service in their business.
Beverly Hills Magazine:  That's fantastic, reminds me of the Trinity. I always say, "There can be no ego in true success for it is always about service to others." What do you believe is the key to success?
Cait Scudder: There's 2 parts. First is being brave enough to start and being willing to take the risk, and second is, perseverance and not giving up.
Beverly Hills Magazine: How do you take care of your spiritual self?
Cait Scudder: Through reflection and surrender. It's not easy. I try to make a practice of it. Journaling is a big gateway for me that helps get me into that space. It's in those honest, quiet moments that I open myself up to support.

Beverly Hills Magazine: Yeah, that time of solitude alone with God is essential. I journal to Jesus, like, "Dear Jesus"…and that helps me get into prayer. How has God played a hand in your life, or let you know that He is always with you?
Cait Scudder: For me, it's by seeing evidence that I'm supported. Synchronicity is a big sign for me.
Beverly Hills Magazine: For me, it's rainbows and butterflies. It's true! God will manifest rainbows and butterflies, no matter where I am. These are God winks that He uses to let me know He's always with me. If you had to give a piece of advice to aspiring entrepreneurs out there, what would it be?
Cait Scudder: Decide, start, and honestly stick with it. My advice is if you start and feel like it's a struggle, give it time. Also spend time, solving the right problem… Don't be so quick to say this isn't right, or that isn't right…. Figure it out. And get curious.
Beverly Hills Magazine:  What is "success" to you? DEFINE success.
Cait Scudder: To me success is to know that I have impacted other's lives for the better. Knowing that I have left a room better than I've found it. The ripple effect is righting the way for others.
Beverly Hills Magazine:  Have you discovered a personal purpose in what you do?
Cait Scudder: My purpose is to remind women that they're capable of achieving anything they want. I inspire, motivate, and equip women to rise. 

Beverly Hills Magazine: That's so beautiful! We need more empowered women to empower women! Do you believe you are living your God ordained Destiny and doing what God created you to do?
Cait Scudder: Definitely, I'm living my purpose.
No longer will we only find strong, beautiful, and spiritually charged women in big blockbuster Hollywood films. Cait Scudder is living proof that a woman can recognize her own inner strength, take a giant leap of faith, and trust that she can achieve her heart's desires. The time has come for today's women to step into the fullness of their own power and authority in the earth realm as daughters of God, eternally endowed with every good gift from above to accomplish all of their greatest dreams. After all, if God be for us, who can be against us? Oh what a wonder it is to be a woman!