Having a beautiful and functional home is one of the most fulfilling experiences. Whether you are looking to spruce up your current living space, or looking at ways to boost the value of your home should you decide to move in the future, there are countless tactics for adding glamour and practicality. From small décor updates to larger remodeling projects that take more investment, creating a charming atmosphere you love coming home to can be achieved without breaking the bank. In this article, we will be covering six different strategies on how you can enhance and add value to your home today.
Spruce Up Your Deck
Your outdoor space is an extension of your home, and updating your deck can significantly impact your property's allure and value. Consider investing in quality, weather-resistant furniture to create an inviting outdoor living area. Power wash the deck to remove grime and apply a fresh coat of paint or sealant to enhance its appearance. You might also think about working with a local contractor to add extra features that maximize usability and convenience. So whether that be deck and siding contractors in Alpharetta or a roofer in Athens, you'll find the services you need to take your deck to the next level. Just make sure you do your research and find a licensed and insured contractor who can complete the job to your satisfaction.
Kitchen Revamp
The kitchen is frequently referred to be the "heart of the house," serving as a gathering place for families to prepare meals and share stories. It's also a place where potential buyers often pay the most attention, and for that reason, a kitchen remodel can add considerable value to your home. Begin by upgrading outdated appliances to energy-efficient models, not only enhancing the aesthetics but also saving on energy costs. Consider a fresh coat of paint in a modern color palette to brighten the space. 
Bathroom Upgrades: Turning Functional Spaces into Stylish Retreats
Bathrooms, while primarily functional, can also serve as tranquil retreats within our homes. Upgrading your bathroom can significantly increase your home's value and overall appeal. Start by addressing the basics: ensure that all plumbing is in top-notch condition and that the room is well-lit. Next, consider replacing outdated fixtures with modern, water-efficient models – this not only adds a touch of elegance but can also result in savings on water bills. You could also introduce a fresh, neutral color scheme to create a serene atmosphere and remember, a well-placed mirror can make the room appear more spacious.
Smart Home Integration
The integration of smart home technology is a progressive step towards enhancing the comfort and convenience of your home, while also significantly increasing its value. From learning thermostats that adjust to your patterns to intelligent lighting systems that can be controlled from your mobile device, smart home features are changing the way we live. They not only offer luxury and convenience but also improve home security and energy efficiency. So, whether you opt for a comprehensive home automation system or simply add a few smart devices, the potential return on investment can be substantial. 
Maximizing Space
In many homes, space is a premium – every square foot counts. Cleverly utilizing this space can both add value to your home and enhance the functionality of your living areas. Start by decluttering and simplifying your home. Removing unnecessary items and furniture can free up a surprising amount of space and create a more relaxed and spacious atmosphere. Consider using multi-functional furniture like storage ottomans or sofa beds that can adapt to different needs and purposes. Make use of vertical space as well, by installing high shelves or floor-to-ceiling shelving units. Finally, ensure your rooms are well-lit, as a bright room feels more spacious and inviting.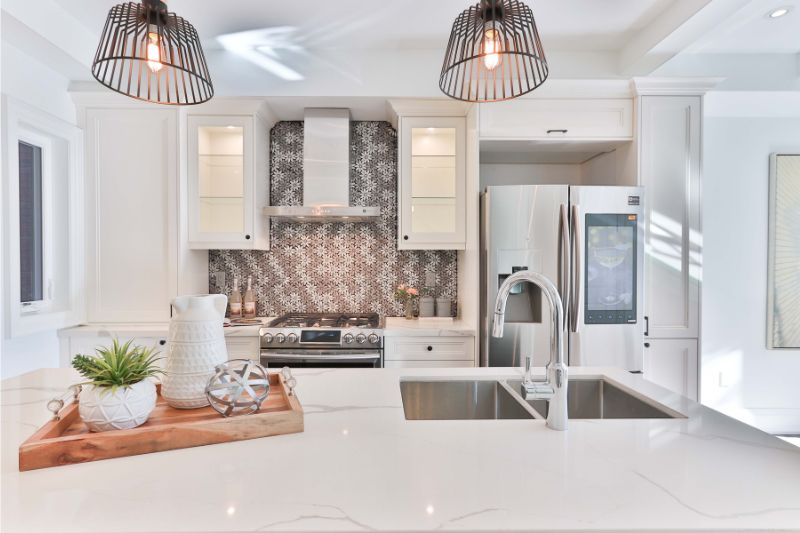 Energy Efficiency Investments
Investing in energy efficiency is a highly effective way to increase your home's value while simultaneously reducing utility costs. Start by replacing old, inefficient appliances with Energy Star-rated ones, which can significantly decrease your energy consumption. Consider upgrading to double-pane windows for better insulation, and invest in a high-efficiency HVAC system to ensure your home is heated and cooled more effectively. 
Solar panels are another excellent investment; though the initial cost can be high, the long-term savings are substantial and can increase your home's value. Additionally, potential buyers often appreciate the sustainable aspect of a solar-powered home. Remember, not only do these upgrades save you money on your monthly bills, but they also make your property more attractive to buyers, adding to the resale value of your home.
In conclusion, there are numerous ways to add both glamour and value to your home. From small décor changes to larger investments, creating a space you love coming home to is achievable for any budget. Whether you're looking for a way to make your living area more enjoyable or hoping to increase its resale value – these six strategies can help enhance the charm of your property.