The Pacific Ocean is a wild and wonderful thing. There's nothing better than watching the sunset over the big blue ocean while you enjoy a fabulous dinner with friends.  Whether it's a fresh raw bar and hors d'oeuvres, a perfectly cooked steak and bourbon on the rocks, or a burger and a few beers after work, why not amplify the experience with a magnificent ocean view? Here are six LA restaurants with a striking view of the sea.
#1. The Penthouse Restaurant at Huntley Hotel
The Huntley Hotel overlooks the sandy Santa Monica State Beach. With ornate white and gold decorations donning the walls and ceiling, The Penthouse is crisp, clean, and elegant.
Enjoy some fresh seafood salad, a decadent fillet, or one of the amazing desserts. The Penthouse has a full bar that offers classic and specialty cocktails, as well as couch, chair, and bar seating and two entire walls that have been sectioned into large windows offering panoramic views of the ocean. 
This penthouse view is perfect for every occasion. Enjoy your chilled white wine as the Santa Monica Mountain Range paints a picture in the background.
#2. Whiskey Red's
Nothing beats a nice brunch overlooking Marina Del Rey. What better place to savor a cold beer with that sea breeze caressing your face than Whiskey Red's? This is a seafood spot that serves daily catches, classic sea fare, pub starters, great steaks, and one of the best raw bars on the block. 
You'll find comfort in the traditional seaside pub-style fare and be swept away by its charm. Don't forget to swing by on the weekends for their bottomless mimosas and yummy brunch! And of course, you can enjoy it all while gazing out at the sparkling waters of the marina.
#3. Mar'sel at Terranea Resort
Thinking about a little Sunday brunch? Try mar'sel located in Rancho Palos Verdes! Resting on a grassy hill above the ocean, mar'sel offers an elegant atmosphere with a friendly feel and both indoor and outdoor seating. Zagat rated it one of LA's Top 5 Best Hotel Restaurants. 
This multi-award-winning restaurant puts its own spin on California cuisine. The menu changes with the seasons to ensure the freshest ingredients. Some of their ingredients are locally sourced, even as close as the very grounds of the hotel. 
#4. The Lobster
High on a bank overlooking the Santa Monica Pier is an aptly-named, internationally acclaimed restaurant known for its magnificent lobster. The Lobster specializes in both California and Maine lobsters and works with only local, seasonally appropriate ingredients. 
With a near 300-degree visibility thanks to walls completely made of glass, this restaurant has some sensational views of the beach. Celebrity Chef Govind Armstrong will make sure that your experience at The Lobster is something you won't forget.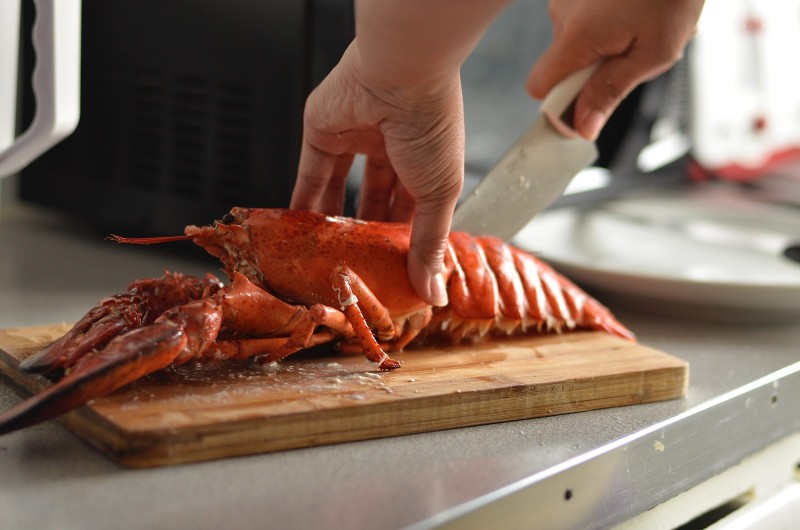 #5. Catch
Located high up in the Casa Del Mar Hotel, right next door to the Santa Monica Pier, Catch overlooks the Santa Monica Beach. This place is what happens when phenomenal Japanese influence meets chic American-style seafood. 
This restaurant is an exquisite spot that offers the freshest raw bar in addition to many classic apps. The main courses are divided up into "Land", "Sea", and "Pasta". Nothing says fresh seafood like being able to look out the window to the ocean where it came from. 
Try one of the set main courses, or make your own with the à la carte menu. To leave without trying one of their signature cocktails would certainly be a sin.
#6. Malibu Farm
Is a seaside spot not close enough to the water for you? How about right in the middle of the sea? Malibu Farm is located at the start of the Malibu Pier. The stylish design and unique location help Malibu Farm stand out as one of the coolest places to eat in the area. 
Malibu offers fresh seafood apps, sides, and entrees in addition to delectable pizzas and pastas. Wet your whistle at the full bar complete with traditional and specialty cocktails. Dining with little ones? Malibu has a decent kids' menu and a long list of desserts! Malibu Farm has indoor and outdoor seating and is the perfect spot to enjoy on a date or with the family. 
Reserve your table by the ocean today
A brilliant Pacific ocean view isn't something to be taken for granted. Whether you've never seen the sea or you live nearby, scenery like that can only amplify an occasion. Create lasting memories or celebrate special moments the way they are meant to be experienced, combining a striking view with a fabulous meal. 
It's time to elevate your dining experience. You'll find no shortage of Los Angeles dinner venues serving up international dishes and unique experiences. Whether you're planning a small lunch or a big celebration, start scoping out LA restaurants with a view today.