ABOUT YESSAYAN
Yessayan is a high end and fine brand of stellar gemstone jewelry that has its origins in Beirut. The brand has been supplying high fashion jewelry all over the world for 45 years already! However, it is only recently that the first boutique opened in Beirut, and expanded to Middle East countries such as Egypt, Kuwait and Saudi Arabia. Furthermore, Yessayan has also expanded to Asia, Europe and the United States. Among their clienteles are true Royalties and world renowned celebrities. Fancy yellow and white diamonds are what Yessayan specializes in. Additionally, fresh water pearls and South sea pearls are in the jewelry. Lastly, their style gives attention to detail, is intricate; focusing on one single diamond surrounded by miniscule ones. Let us now look at 5 precious pieces from the line.
EMERALD AND DIAMOND TWO-TONE FLORAL DROP EARRINGS (Pictured Above)
The first extremely gorgeous piece of jewelry we have here is this mesmerizing Emerald and Diamond two-tone floral drop earrings. Made of of 2.47 carats of natural Emeralds and 2.81 carats of diamonds, this sure is a clear cut and amazing combination. In addition to that it is made of 8.2 grams of white and yellow gold! Furthermore, it features a floral, leaf-like top and a tear shaped Emerald that drops from it. Definitely a rare piece of art as the variations of gold and diamonds vary. I can imagine a princess or a Hollywood actress wearing this with a black, silver or any shade of green gown. These drop earrings will be the best accessory to any garment!
BAGUETTES AND ROSE GOLD CUFF BRACELET
The second and next piece of fine jewelry featured to you here is this Baguettes and Rose gold cuff bracelet. Made of 2.64 carats of diamonds and 4.9 grams of 18K Rose gold, it sure is a sight to behold. Furthermore it features 4 rectangular diamond pieces juxtaposed to each other in symmetrical alignment, and are the stars of the show, each connected to a Rose gold band adorned with smaller diamond crystals. Sophisticated yet versatile, this band can also be for casual occasions such as parties or semi-formal gatherings. Rose gold is such a captivating color that any other color will look classy alongside it. This bracelet is definitely one for your collection.
CIRCLE LINED DIAMOND PENDANT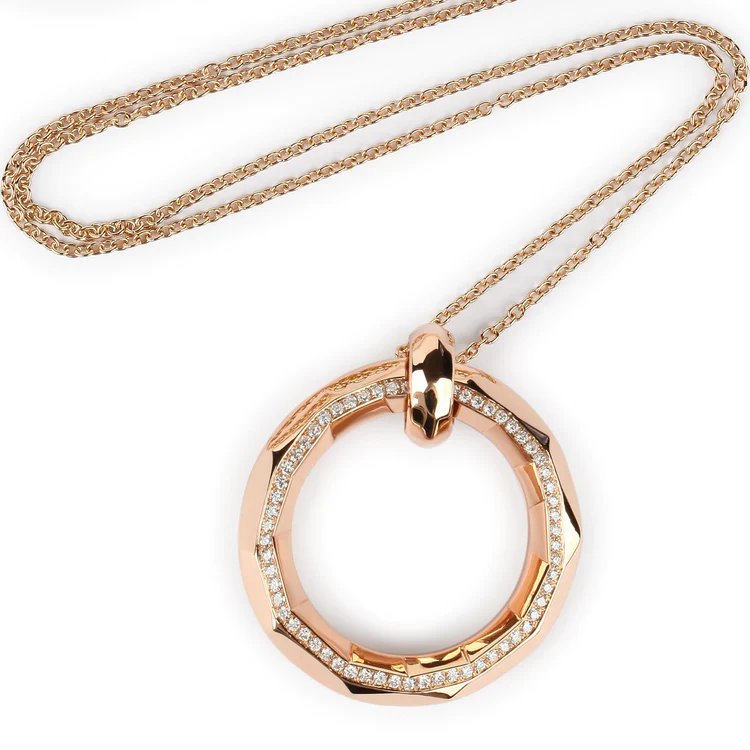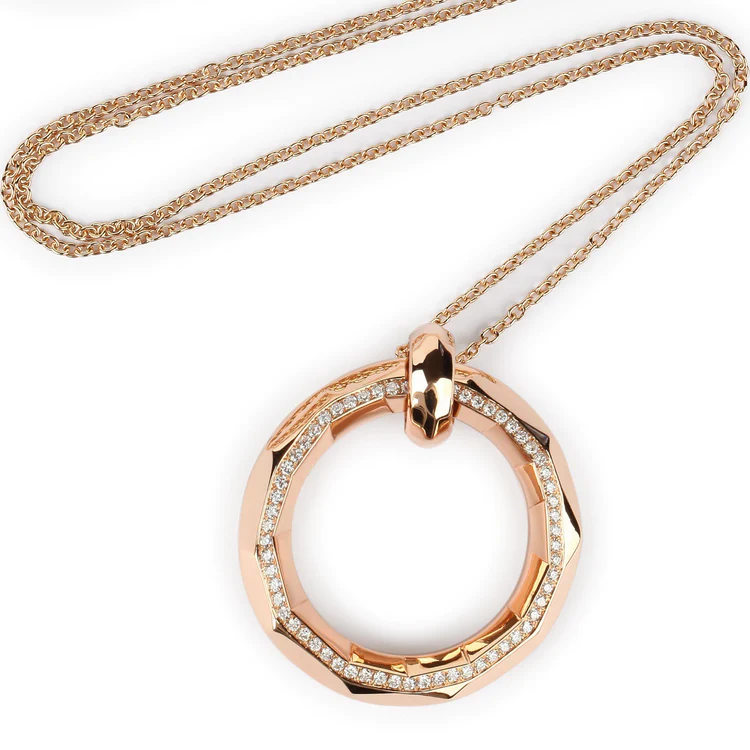 The third luxurious masterpiece of a jewelry we present to you is this Circle lined diamond pendant necklace. Made of 0.66 carats of diamonds and 7.3 grams of 18k Rose Gold, it is simple yet very elegant. Furthermore, it features a Rose gold ring topped with diamonds. Pairing it with the previous jewelry is a an awesome idea! I can imagine wearing this necklace at either a formal event with a strapless black or white dress and even casually while on a lunch or dinner date with your silk blouse or shirt. This piece absolutely brings elegance to any simple outfit.
COLORED GEMS & DIAMOND CROSS BRACELET
The forth piece of jewelry we have here is this minimalist and girly colored gems & diamond cross bracelet in pink and white gold. Made of 0.15 carats of diamonds and and 0.65-0.85 carats of gemstones, this bracelet is sure to sparkle when you move. Additionally, it is 5.0-6.2 Grams of 18K yellow & white Gold. This bracelet also comes in 9 other different varieties of colors to choose from. If you are a religious or spiritual person, this precious jewelry is for you. Wear it for Sunday Mass or just at any occasion really! The cross symbolizes God and God is all beauty!
PALM CHANDELIER DIAMOND EARRINGS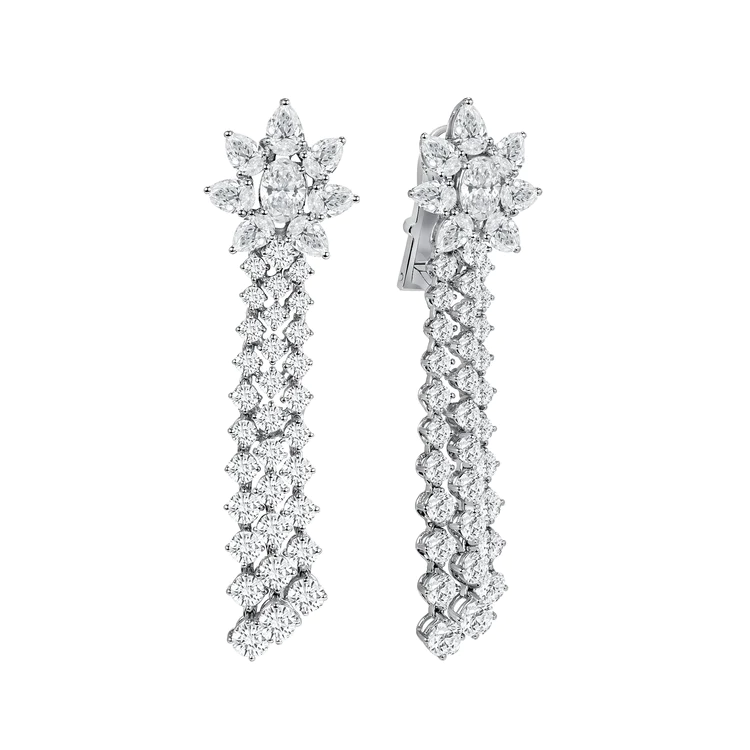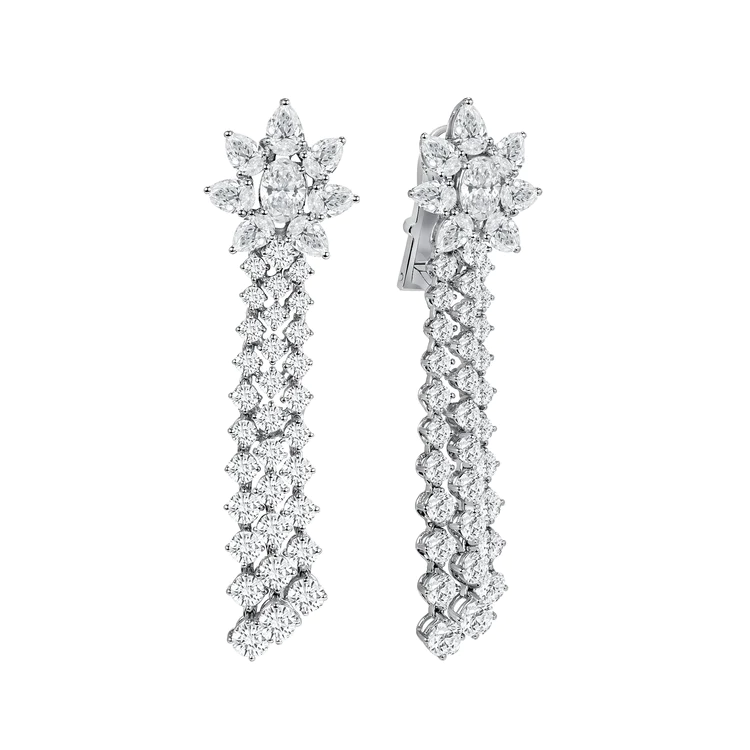 The fifth and final artwork of a jewelry we show you here is this ultra luxurious, chic and feminine Palm chandelier diamond earrings. Made of 12.67 carats of diamonds and 23.2 grams of 18K white gold this pair sure is a stunner! Furthermore it features a floral top that is the palm like tree shape and a rectangular base representing the branch, hence its name palm chandelier. I can imagine wearing this elegant set to a formal gala, and any once-in-a-lifetime occasion like a wedding or an anniversary party. Whatever the occasion, these earrings will truly make it a memorable one.
And there you have it! All these fabulous jewelry pieces are in high demand for royals. Yessayan, are not for the ordinary. They are also heirloom jewels that can be passed for generations onward. Look at their online store now and see what you like. For other luxurious jewelry we've featured before click here.