Pride Mega Yachts has built the award-winning 89m motor yacht "Illusion Plus". The Dutch Designer Design house Sinot Yacht Design has styled the interior and it was delivered to its owner in July 2018. Moreover, Rainsford Mann Design has designed the exterior of the vessel. So, it has a luxurious interior and exterior.
Outline
Length: 88.50m

Builder: Pride Mega Yachts

Year: 2018

Top Speed: 17.0 kn

Guests: 16
Accommodation
Illusion Plus 89m is capable of boarding up to 16 guests in 8 suites, comprising two VIP cabins. Moreover, it can carry around 25 crew members, giving a relaxed luxury yacht experience. 
The suites feature a private outside deck space, two bathrooms, a spacious dressing room, and a start-of-the-art private office. Moreover, two main-deck VIP suites feature their own custom "authentic loft" interior design throughout. The additional two suits have also been designed with precious natural stone bathrooms and feature large storage spaces. 
Range and Performance 
Illusion Plus consists of a steel hull and an aluminum superstructure, containing teak decks. So, the yacht comfortably cruises at 15 knots and has a maximum speed of 17 knots. Moreover, it has a range of up to 5,000 nautical miles from her 265,000-liter fuel tanks. Moreover, Illusion Plus has at-anchor stabilizers which provide exceptional comfort levels and stability at high speeds. The yacht's water tanks store around 146,000 liters of fresh water. 
Interior
Illusion Plus has a stunning and spacious interior design, which combines fine wood, rare natural stone, and exclusive metals to give a luxurious and relaxed feeling. Due to the amazing interior, the yacht won the Interior Design Award at the 2018 Monaco Yacht Show. The interior has two long sightlines and two vides which connect the main deck with the upper deck through the stairs. Moreover, the manufacturers have designed the yacht, keeping in view the needs of modern owners who value luxury and privacy.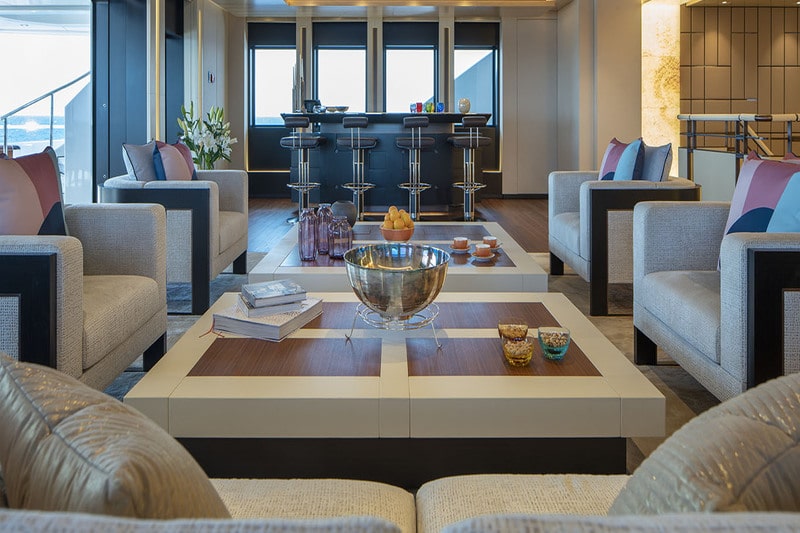 Onboard Comfort and Entertainment 
Illusion Plus 89m combines the sense of pure luxury with adventure. So, the key features include a dedicated spa, beauty salon, gymnasium, two jacuzzi pools,  and a touch-and-go helipad. There is also a beach club and luxurious dining areas. 
Price
The Illusion Plus 89m costs around $89,000,000. The motor yacht is currently not available for private charter. For more information, visit the Fraser Yachts website. 
The Illusion Plus 89m is the largest motor yacht ever made in Asia. The yacht gives you a sense of luxury and adventure. So, for a large group of people who want to have fun on the seas, the Illusion Plus is the perfect yacht.