ABOUT SHOE DAZZLE
Shoe Dazzle is an American Fashion shoe brand. Founded in 2009, its philosophy is that style is a way of life, deeply personal, and should always be fun. Similarly, just like Just Fab, Shoe Dazzle's customers and followers are co- creators of shoe designs as well, taking a part in designing and personalizing their own shoes. There are two ways to create your own design. One is to take a quiz about your personal style, and the other is to create your own style profile. Isn't it so much fun? Additionally, there are two ways to join Shoe Dazzle; you can either check out as a basic customer or join VIP membership. Millions of women get their personalized shoe style from the brand today. Get your personalized fashion fix with access to top trends, style inspiration and top tier service from Shoe Dazzle today! Let's now take a look at 5 gorgeous designs.
KENZY SPIRAL HEELED SANDAL (Pictured Above)
The first design we have here is this ultra classy modern Gladiator-eque Kenzy Spiral Heeled Sandals. It comes in 2 colors, namely, beige and bronze. Made of faux leather, it also features a clear stiletto heel and rhinestone-embellished coil strap. Another feature is the SD (Shoe Dazzle) Dream sole, which is double padding on the sole for more comfort, support and ease of movement. I can imagine wearing this super sexy heels paired with a long black slitted dress for a cocktail party. Pairing it with a short dress in a nightclub with your girls will likely get you to have free drinks. Wherever you go, the Kenzy Spiral heeled sandal will turn heads.
SOLAZ WEDGE SANDAL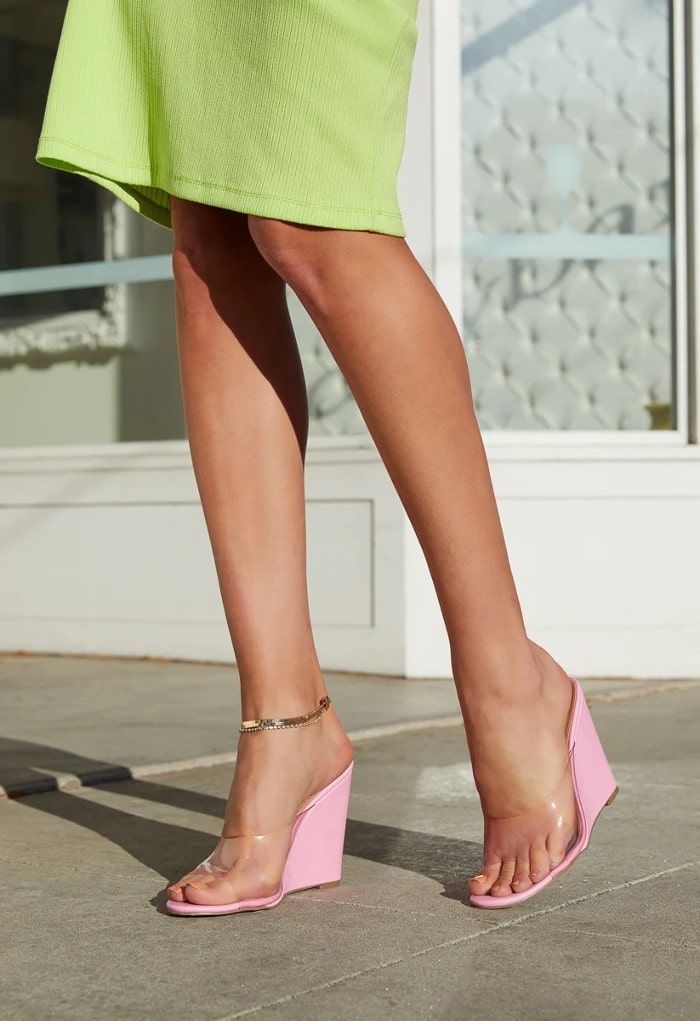 The next shoe we feature is this feminine and casual Solaz wedge sandal. It comes in 2 colors, namely prism pink and sharp green. Made of synthetic leather, it also features a transparent strap. This shoe is so versatile and comfortable you can wear it for almost any occasion! I can imagine wearing this with pants and a blazer for a corporate event. It can also be worn with a nice short dress while you are out doing errands and shopping at the mall. Not to mention, it's so easy to pair this with colors because of the transparent strap. Do not forget to don an anklet for an edgier look!
GAMI TALL POINTED-TOE BOOT

The third shoe feature we present to you is this funky, sexy and edgy Gami tall pointed-toe boot. This comes in 3 colors, namely, black caviar, leather and byzantium. It is made of textile and features an inner zipper. Furthermore, it also has the SD Dream sole which is double the padding for comfort, support, and ease of movement. Not to mention, there is an option for regular or wide calf so women of all sizes will be able to wear this super sexy boot. I can imagine pairing this with shorts and a crop top for a night out dancing. It will definitely make you the star of the show. In a more formal setting, this is also nice to pair with a short dress and a leather trench coat for a date night and strolling the streets of New York with your hubby.
YULANDA JEWELED GLADIATOR WEDGE

The forth majestic shoe we feature is this stunning Yulanda jeweled Gladiator Wedge. This beige wedge is made of faux leather and features clear straps, jewel embellishments, decorative buckles, and back zipper closure. In addition to that it has a functional back zipper and also has the SD Dream sole which doubles the padding for comfort, support, and ease of movement. I can imagine wearing this paired with just your bikini and a glamorous robe for a Malibu pool party! Another way to wear this pair is with a short dress or shorts for a summer event or festival. Just like the other pairs, this Gladiator wedge will surely catch a lot of attention.
GAMORA STRAPPY SANDAL

The fifth and last pair we feature is this minimalist yet cute Gamora strappy sandal. It comes 2 colors namely bright white and sheer lilac. It is made from faux leather and features a magnetic strap closure and the SD Dream sole which doubles the padding for comfort, support, and ease of movement. This pair is so cute and so versatile that wearing it in the office or the mall is ok. Pair it with jeans and a sleeveless top for lunch with the ladies. Short skirts and long blazers look good with this pair too.
To sum it all up, we looked at 5 amazing and comfortable pieces from Shoe Dazzle. To Dazzle everywhere you go, you better grab a pair now! Do not forget to check out more amazing shoe styles here.