Koenigsegg Jesko is the latest hypercar from the incredible mind of Christian Von Koenigsegg. It's named after his father who helped him build the company 28 years ago. 
With its cavernous grills, sinewy haunches, and splayed tail, the Jesko looks fast and fearless. Moreover, this is a modern automotive design. A 1280-hp V-8 provides the muscle, and an impressive nine-speed transmission backs it up. 
Engine and Performance
The Koenigsegg Jesko is powered by a twin-turbocharged 5.0-liter V8 engine, which generates 1280 horsepower and 1106 lb-ft of torque. According to Koenigsegg, the engine features the world's lightest V-8 crankshaft. Moreover, the crankshaft weighs only 28 pounds and is made from a single solid-steel billet.
This innovative luxury car comes with a nine-speed gearbox, referred to as the Light Speed Transmission (LST). Moreover, the LST features a multi-clutch design, which provides quicker gearshifts compared to a dual-clutch. Moreover, in comparison to its predecessor, Agera RS, the Jesko offers a 40 percent increase in downforce. According to Koenigsegg, the Jesko can produce 1764 pounds of downforce at 155 mph. 
Exterior
When it comes to the exterior, this sports car certainly doesn't disappoint. The front features a front bumper with side air vents, headlights, daytime running lights, and side air ducts. The sides have 20-inch wheels in the front and 21-inch in the rear, body-integrated handles, and carbon fiber side mirrors. Moreover, the rear of the Jesko features tail lights, an exhaust system, an engine cover, and a rear diffuser. 
Interior
The Koenigsegg seats two passengers and comes with a detachable hardtop. So, you can enjoy open-air driving. Power windows, adjustable pedals, and adjustable steering columns are all standard. Moreover, the car's Autoskin system provides electrohydraulic operation of the body panels. Moreover, the designers have used high-end materials, like leather, carbon fiber, and aluminum, throughout the cabin. 
The seats are quite comfortable and offer a vast selection of color options. The Jesko also has two dedicated compartments, one up front and the smaller one in the rear. Together, these areas provide five cubic feet of cargo space. 
Infotainment
Koenigsegg Jesko comes with amazing infotainment features. The car comes with a digital audio system with a USB port. Moreover, inductive phone charging is standard with a digital owner's manual on board. The infotainment also features a 9.0-inch central touchscreen, which supports Apple CarPlay.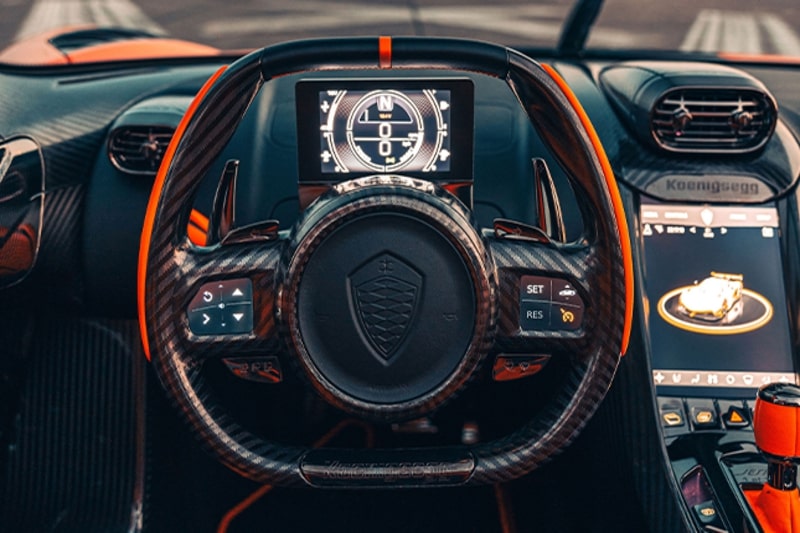 Price
The price of Koenigsegg Jesko is around $2,800,000. For more information, visit the Koenigsegg website. 
With its top notch-technology and high performance, Koenigsegg is truly a futuristic car. So, if you want a comfortable sports car that can go the distance, you should choose the Koenigsegg Jesko.