Sporty, fast, and packing the second highest EV range in the world. What's not to love about the Tesla Model 3? Seriously, every piece of this dream car proves that electric vehicles can be cool! And despite its supercar performance, don't forget that you can pick up this car for less than $50,000! So, is the Tesla Model 3 what we can expect for the automotive future? Well, let's take a closer look at everything this EV has to offer before giving the obvious answer.
EV with Supercar Performance
It's no surprise that the Tesla Model 3 comes with two electric motors. But what is surprising is the actual power these engines bring to the table. With a 0-60 in 3.3 seconds, it goes without saying that the Tesla Model 3 is fast. Extremely fast. Honestly, this isn't too far off from the speeds you'll find in today's supercars. And what's even crazier is the fact that Tesla doesn't even market this as a sports car! Either way, if you're looking for a fast EV, the Tesla Model 3 is here for you!
Also, don't forget about that 310-mile range! As far as production EVs go, this is the second highest speed in the world at the moment, second only to the Model 3's big brother, the Model S. In practical terms, that's far more than enough range to get you from LA to Las Vegas or even to Fresno in one single trip! So traveling will never be an issue in the Tesla Model 3. And if that's not enough, keep in mind that Tesla has more than 10,000 charging stations across the globe. So if your battery starts to run low, you shouldn't encounter any problems finding a charging station nearby!
What's also nice about this being a dual motor EV is the fact that these engines digitally control the torque sent to your front and rear wheels. So, in a matter of 10 seconds, the Model 3 adjusts to any condition or terrain you'll ever encounter! And best of all, you won't need both engines to work at the same time! So if one experiences issues for any reason, the other can safely get you to your destination.

Luxurious and Futuristic Design Inside and Out
Just one look at the Tesla Model 3, and you'll see that it's a sleek car from every angle. Seriously, just a single glance at the front fascia is enough to get any driver excited. And that's not even touching upon the carbon fiber spoiler in the back that helps you maintain and control the Model 3 at those 155 mph speeds!
Another cool design choice is the all-glass roof. Take a ride in the back seat some time to get a full view of the sky above you during your rides!
Also, getting into the Tesla model 3 is a fun design choice all around. You start by pushing in the handles first, then pulling them out to open the doors. And don't worry about locking your key in your car. With the Model 3, you can use your smartphone for entry! Talk about innovation!

Once inside, you'll find an all-out smooth and sleek design with 0 buttons to be found! Instead, you'll simply find copious amounts of leather and metal for a clean and modern feel to this cool car.
As far as vents go, you'll get one that stretches across the entire dash. But don't worry, that's all you'll need as you can still control how to direct the airflow for yourself and your passenger. It's by far one of the most unique vent systems in any modern car, that's for sure!
Naturally, you'll also get that massive 15-inch infotainment screen that rivals an iPad. And as you'd guess, this is where you'll access the bulk of your Model 3's controls. Everything from adjusting your mirrors to changing your steering style is found here! And of course, this is also where you'll access that token Tesla autopilot! That's just one reason Tesla is a more than just a car company!
What's the Price of a Tesla Model 3?
The AWD Tesla Model 3 starts with an MSRP at $47,200. So, there's no denying it's quite the affordable EV. But what's even more impressive is that its speed and performance surpasses expensive cars more than 3 times its price! Thus, it goes without saying that the Tesla Model 3 is well worth every penny of that price!
Final Thoughts: Is the Tesla Model 3 the Future of EVs?
Overall, the Tesla Model 3 seems to get everything right! From design to performance, there's really nothing to hate here. Instead, everything blends seamlessly together in one flawless package. And with such a low price, there's no doubt the Tesla Model 3 sets an entirely new standard when it comes to electric cars! So, there's definitely plenty here that other electric cars can learn from the Tesla Model 3 if other brands plan to make EVs the new norm.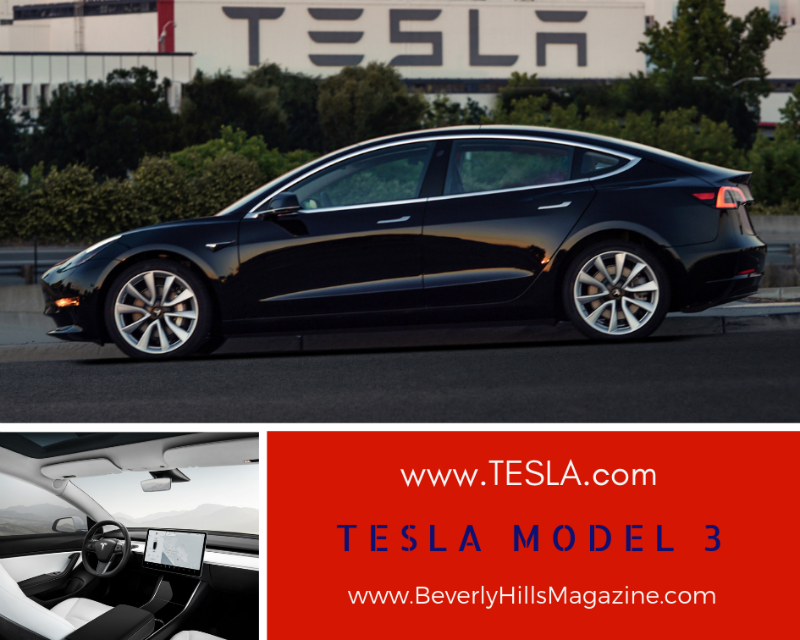 (Images Courtesy of Tesla Motors, Inc/ Timothy Artman)