Have you ever wanted to drive a real-life James Bond car? Well now's your chance with the Aston Martin DB9! As a whole, everything about this dream car is all you could ever ask of a grand touring. And just like everyone's favourite British secret agent, this car presents sophistication, dapperness, and an overall suave and sexy appearance. So with that said, let's see what this gentleman's car has to offer! (Image Source: 2018 Best Cars)
What's Hiding Under the Hood of this Dream Car?
Overall, there's nothing subtle about the DB9's 5.9-liter V-12 engine! As a whole, this powerful motor packs 540 hp and 457 lb-ft torque. And as you'd imagine, this car knows how to move pretty fast. To be exact, you'll get a top speed of 183 mph and a 0-60 in 4.4 seconds. So there's no doubt that it's deserving of gracing the cover of any prestigious car magazine!
Design: The Sexiness of a British Spy
As already noted, the DB9 hits all the right notes when it comes to design. And quite frankly, it's hard to find any flaws in this dream car's design! Just starting from the front, you'll immediately recognize that signature Aston Martin Grille for a graceful, yet robust exterior.
And if that's not enough, you'll also find those sexy Aston Martin wings that are just the right size. In short, the badge isn't so big that it's bragging, but it's also not so small that anyone will miss it. And all throughout the outside of this dream car, you'll find plenty of these subtle logos.

Hop inside this cool car, and you'll find an interior that surpasses some of the world's most expensive cars. Immediately, you'll notice plenty of wood accents on the door and center console. But what's special here is that all the wood comes from the same tree. So you won't see any changes in the wood's coloring or patterns. And really, it's small touches like this that allows Aston Martin to surpass so many other luxury cars when it comes to design!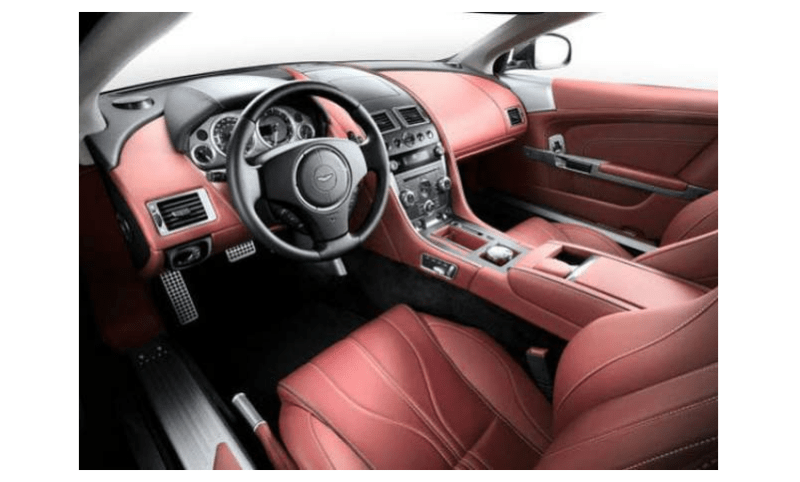 As you'd guess, you'll find plenty of other sleek features inside this opulent British car. One, in particular, includes the hidden infotainment screen that remains unseen until it's needed. And if that's not enough, newer models will even offer touch buttons throughout the front seat for a cool and modern accent.
What's also beautiful here is the brushed metal gauges for that sophisticated touch. And if that's not enough, you'll also get hand-stitched leather seats! Honestly, calling this interior beautiful or alluring is an understatement. And as a whole, Aston Martin really sets the standard of what the modern car's design should be!
Aston Martin DB9 Price
If you're thinking of buying the ultimate British spy car, then expect to pay $202,775. But once you take a look at this suave car, you'll immediately realize it's worth every penny if not more for it's unique looks alone!
Final Thoughts
You've got luxury cars and you've got fast cars. And then, there's the Aston Martin DB9. Quite frankly, it's hard to put a label on a fine automobile that does everything so well. This truly is the ultimate gentleman's car! And when riding inside, it almost feels disrespectful to not wear your finest suit to match this beauty's sophisticated design!