Toni Holt Kramer, a Hollywood and Washington DC "insider," will open the Fall season at the Beverly Hills Women's Club at a luncheon event starting at 11 AM on Thursday, September 19.
She recently published UNSTOPPABLE ME, Toni Holt Kramer: My Life in the Spotlight, Dog Ear Publishing, $29.95 hardcover, – $17.95 paperback
Charismatic, stylish and undeniably glamorous, this girl from Brooklyn has made it big through her own unerring dedication to her dreams.
Countless behind the scenes "inside stories" that capture both the glamour of Hollywood and the power of Washington DC populate UNSTOPPABLE ME, Toni Holt Kramer: My Life in the Spotlight.
Intrigued with real life glimpses into the entertainment and political capitals of our country? This fast-paced memoir, written by former Hollywood news reporter and television personality who recants decades of experience from an impeccable memory, is a must read. It is full of never-before-told stories and never-before-shared photos.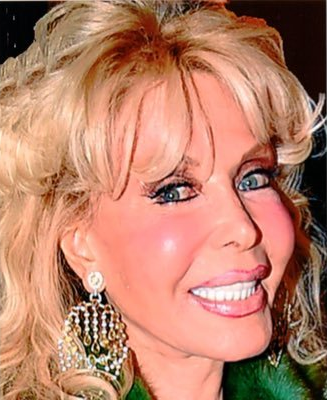 Toni Holt Kramer is not new to the spotlight. As a Hollywood insider, Toni has worked with over 3,000 major celebrities including Arnold Schwarzenegger, Bob Hope, Tom Cruise, Frank Sinatra, Phyllis Diller, Rock Hudson, and George Clooney. Her charisma and energy were further evident in the success of her column, "Toni Holt's Happenings" in Photoplay magazine, that led to her own magazine, "Toni Holt's Movie Life."
The two philosophies instilled by her mother, Helen, that have served Toni well on her remarkable path are "If you think it, you can do it" and "Do the right thing." These guiding principles are likely why she's had the most remarkable guardian angels by her side and made and kept friends throughout her life.
It has been said that Toni Holt Kramer truly defines the word "Unstoppable." You'll concur. Visit TrumpettesUSA.com to learn about how she is supporting the President of the United States.
About The Beverly Hills Women's Club:
Now 103 years old, The Beverly Hills Women's Club holds an exceptional and unique position in the history of Beverly Hills as the city's first cultural, social and philanthropic community organization. Associated with the influential General Federation of Women's Clubs and California Federation of Women's Clubs, the Beverly Hills Women's Club has proven to be a dynamic, longstanding entity in Beverly Hills that has had a profound influence on the civic, social and cultural development of the city. The Beverly Hills Women's Club is truly a community club; it is inclusive rather than exclusive. Its membership reflects the broad range of ages, ethnicities, and areas of diverse interests that make the club dynamic and relevant in today's world. Its landmark building continues to be lovingly updated in an ongoing process of renovation and restoration. Learn more at https://bhwclub.org.
About The Blaine Group, Inc.
The Blaine Group specializes in developing and implementing public relations campaigns and marketing strategies as comprehensive communications campaigns or as stand-alone entities.  The firm represents many authors and fast-track, emerging-growth companies.  It also handles investor relations and financial public relations activities for its publicly-traded clients.  The Blaine Group is located at 8665 Wilshire Blvd., Suite #301, Beverly Hills, CA 90211.  The telephone number is 310.360.1499 and the URL is www.blainegroupinc.com.