A vacation to the enchanting city of Rome, Italy is an experience everyone should have at least once in their lifetime. With its unique blend of culture, art, architecture, history, religion, and food, this luxury destination is not to be missed. One of the best places to experience the true essence of Rome is Piazza del Popolo. Designed and built between 1811 and 1822, the piazza is filled with beautiful sights and centrally located to some of Rome's other famous landmarks. In the center of Piazza del Popolo sits the Flaminio Obelisk which was brought to Rome in 10BC. The piazza is also home to the twin churches: Santa Maria in Montesanto (1679) and Santa Maria del Miracoli (1685). Fountains abound in the piazza, not the least of which is the recognizable Fountain of Neptune.
From Piazza del Popolo, it is a short walk down Via Del Babuino to Piazza di Spagna and the base of the Spanish steps. This pedestrian-friendly thoroughfare winds through one of the most charming neighborhoods in Rome, filled with historic monuments not to be missed on a vacation to the city. Seated directly on Via Del Babuino, just steps from Piazza del Popolo, is the incomparable Hotel de Russie.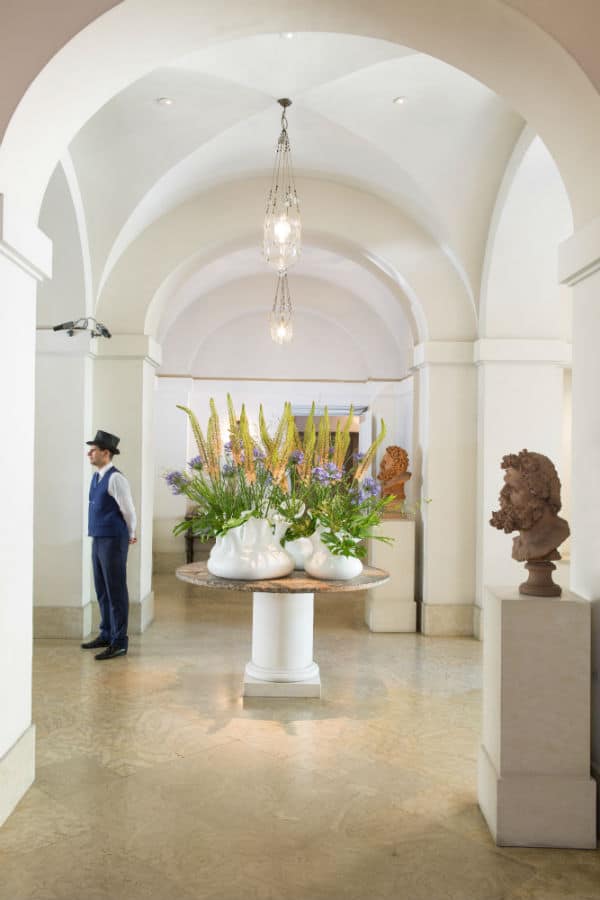 Hotel de Russie has 88 beautiful rooms ready to make every guest's Rome vacation a luxurious one. But this five star hotel is also home to 33 incredible suites that are sure to be the highlight of anyone's trip. The Popolo Suite is newly refurbished and features a unique blend of ancient Roman antiquities and modern elements. With an outstanding view of the Piazza del Popolo, a dining table, and guest bathroom, this suite is a wonderful place to entertain.
Sign Up For The Free GOD Foundation Travel Portal for 60% Off Travel Deals Today & A Portion Goes To Charity!!!
The Picasso Suite takes its name from the celebrated artist himself, who stayed in the suite for 3 months in 1917. Filled with lithographs and books about Picasso, this suite has a beautiful terrace and overlooks the hotel's Secret Garden. However, a stay in the Nijinsky Suite is a must for any guest looking for an exclusive getaway. Occupying the top floor, the Nijinsky Suite not only has a one of a kind view across Rome but also overlooks the Secret Garden, the Pincian Hill, and Villa Borghese Garden. Also a wonderful suite for entertaining, it features a library, sitting area, kitchen, a large dining room, and an oversized terrace.
Rocco Forte Hotels are known for the amenities they give their suite guests such as a personalized concierge service, unpacking and packing services, and an in-room mini bar. At the Hotel de Russie, suite guests are treated to even more additional perks. Guests are greeted with a complimentary bottle of Franciacorta upon arrival and can enjoy a full breakfast buffet in their suite. The hotel also offers an "Avenue of Style" experience which gives guests unique access to 11 different fashion brands. As a treat for child guests, Hotel de Russie's stuffed animal ambassador is Gian Lorenzo, an adorable frog who serves as a souvenir from their Rome vacation.
Guests looking to dine in-house will enjoy the sumptuous Le Jardin de Russie. With a menu designed by Celebrity Chef Fulvio Pierangelini and executed by Executive Chef Nazarene Menghini, the restaurant serves simple and refreshing Italian classics on their beautiful terrace. The Stravinskij Bar has a lovely private piazza. Ensconced within the exclusive space, guests are treated to signature cocktails, both alcoholic and non-alcoholic, accompanied by light Mediterranean fare.
De Russie Spa has a variety of spa treatments available to pamper guests on their vacation. With a salt water hydropool, steam area, and Finnish sauna, guests have many ways to relax. But for those looking for unique fitness opportunities, Hotel de Russie certainly delivers. For yoga and Pilates enthusiasts, the hotel offers private, in-room sessions. Runners will enjoy Art Running, a 1 hour private or small group session that takes participants through a running tour of Roman landmarks. Similarly, Art Biking gives cyclists a 2 hour individual or small group tour of Rome.
Hotel de Russie is an perfect venue to host business meetings and conferences. Located on Via del Babuino, attendees can easily combine business with pleasure. The hotel has four meeting rooms, each equipped with the most up-to-date technology.
For a destination wedding, nothing compares to the five star Hotel de Russie. The hotel has five unique wedding venues to choose from, three outdoors and 2 indoors. With access to the Secret Garden, a personal wedding planner, a menu designed by Celebrity Chef Fulvio Pierangelini, and an in-house florist, the happy couple will be sure to have the signature wedding they are hoping for in the luxury destination of Rome.