If you leave behind the stereotypes that accompany Mykonos, Greece you will discover a unique destination where you can find whatever you want. An island of winds, endless energy, Cycladic colors and crystal clear waters – a magical place where lifestyle intersects with tranquility, lavish parties with blue-white alleys, cosmopolitan with bohemian lifestyles.
The success of this luxury destination is that for many years it has accepted to walk on multicultural paths, creating different scenery. On the island you will live carefree days and crazy nights, you will enjoy experiences and emotions that will follow you forever, and when you leave knowing its secrets, you will realize that Mykonos is a charming place, with quality and authenticity.
Impressive beaches, stunning sunsets, beautiful settlements, high gastronomy, unforgettable nights, astonishing Mykonos Luxury Villas, friendly people and exciting walks make up the world famous island's picture. It is the island where you will always want to return.

Amazing dining-extraordinary culinary experience
Mykonos, Greece has for many years gained a glamorous position among the best international destinations. Cosmopolitan, with luxurious hotels, gourmet restaurants following the footsteps of global trends, it offers dishes and cuisines from every corner of the globe. Every summer famous chefs make a landing here, with some of them eventually falling in love with the island and staying for the winter as well. In recent years, Mykonos has made a clear turn, highlighting the Greek cuisine, especially the Cycladic one, while a number of new local chefs use traditional recipes and local products to create their signature dishes.
Some of the best gourmet restaurants you can visit in Mykonos are:
Mr Pug (Argyraina, Mykonos Town), with superb Siamese food, interesting menu, vegan options and a great location with views over the town.
Koursaros (Meletopoulou Sq., Mykonos Town). The interior is an elegant reminiscent of a corsair ship and the delicious dishes are based of fresh fish and seafood.
Krama (Panachrantou St., Mykonos Town), where Michelin awarded Chef Ioannis Parikos prepares authentic Greek dishes.
Buddha Bar Beach (Ornos Bay), with eastern atmosphere and smooth music that mixes well with the sounds of the waves.
For a more private fine dining experience you can hire a chef who will be cook in your own Mykonos Villa delicious meals according to your taste.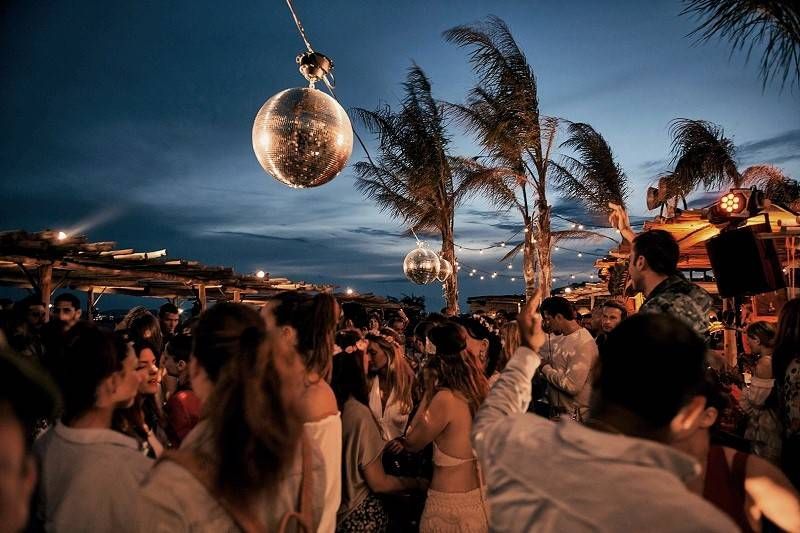 Famous fashion designers' stores
This exclusive getaway is a shopping paradise. Here you will find a lot of boutiques, art galleries, souvenir shops and delicacies. They have many authentic and handmade pieces and visitors will find little treasures among the numerous shopping opportunities.
But what really is a big market in Mykonos is famous fashion designers' creations. As the island is a gathering point for wealthy travellers and VIPs, many well-known designers and fashion brands choose Mykonos to show their freshest collections to the public. Some of them have their own stores and some others have a local representative.
Among the hottest fashion names you can find in Mykonos, Greece are:
Clothes: Chanel, Oscar de la Renta, Tom Ford, Jardin, Dsquared2, Blumarine, Tommy Hilfiger
Watches and Jewelry: Franck Muller, Lalaounis, Rousounelos, Kessaris, Bulgari, Rolex
Shoes and Bags: Luis Vuitton, Sandal, Christian Louboutin

Non-stop entertainment from the Greece beach parties to bars and clubs in Mykonos town
It may look strange to those that haven't visited this island yet but it is true: here you can find parties 24 hours a day. Visitors here want to have fun away from their stressful usual program and the island is offering them a vibrant entertainment.
Your day can start with a nice coffee or breakfast at Little Venice. After this, a visit to one of the party beaches is mandatory. If you can manage to escape some time later in the evening from the great, fun atmosphere at the beach, you can try some bars or clubs in Mykonos Town. And there are always these private parties in Mykonos Villas that nobody knows when they start or when they are going to end.
Cosmopolitan vibe
Mykonos is a gathering spot for celebrities and jet setters from all over the world. You will feel the island's cosmopolitan vibe everywhere: on the beaches, at the restaurants, at its five star hotels, at the night clubs – even on the streets.