When you think of South Florida, the neighborhoods and homes that come to mind are primarily luxurious. Yet, many condo owners are opting for a more minimalist lifestyle, which explains why the open concept of stylish condominiums is a hot commodity in the South Florida real estate market. The typical closed-off layouts of the past are out, and open spaces with large windows and high ceilings are in! 
For those considering buying or renting a condo, note the following four stylish condominiums in Miami that offer lots of natural light, convenient amenities, and indoor-outdoor living. So keep reading for more information about each property.
Apogee South Beach
Apogee in South Beach is a luxury condominium complex in the famous south beach neighborhood. The building is one project developed by The Related Group and designed by the acclaimed architect, Sieger-Suarez. 
This 22-story ultra-modern tower comprises 67 stylish condominiums. They equipped each unit with high-end amenities, such as keyless fingerprint door entry, 10-feet high ceilings, 4×8 entry doors, and custom closets. Besides that, the property offers residents an array of amenities, including a swimming pool and spa, private terraces, and a lounge with ocean views. 
The upscale building is conveniently near shopping and dining options and public transportation. Also, Apogee south beach condos residences have 11-feet deep balconies with summer kitchens and an interior floor plan of either three or four bedrooms measuring from 3,149 to 4,227 square feet. 
Continuum South Beach
Continuum South Beach is a stylish condominium complex on the southern tip of South Florida. The property comprises two towers-the South Tower (completed in 2002) and the North Tower (completed in 2008). Together, they feature 515 units (South Tower 312 and North Tower 203) with floor plans ranging from studios to five bedrooms. In addition, each tower features penthouse residences with varying floor plans. 
All Continuum South Beach complex units have private balconies with safety glass railings, floor-to-ceiling window glass, and high-end kitchen appliances. Equally, both towers have a beachfront that offers residents breathtaking views of the city skyline, bay, or ocean.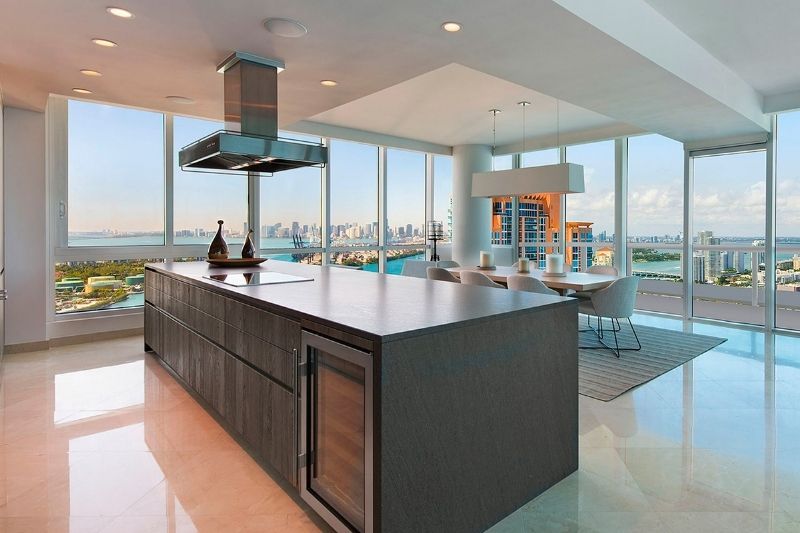 The Continuum South Beach is an impressive structure. It is ideally located and is also the undisputed focal point of the south beach and is visible from Key Biscayne and Fisher Island. The architectural design is evident upon entering the majestic two-story lobby. You can experience unexampled resort-like comfort, services, and fixtures that ensure residents have a one-of-a-kind lifestyle. 
Murano Grande
Murano Grande is a stylish condominium in South Florida. The ultra-modern building forms part of the luxurious condo community in Miami and is one of America's most exciting and highly sought-after places. This luxury complex comprises three connected towers of different story levels- 25, 31, and 37. 
The Murano Grande at Portofino Condominium features 270 luxury condos with floor plans of one-, two-, three-, and four-bedrooms with interior space ranging from 1,400 to 3,990 square feet. This condominium complex was developed by The Related Group of Florida, designed by Sieger Suarez, and completed in 2003. 
Each of the stylish condos inside the Murano Grande property has high-standard amenities and spacious features. These include the smooth ceiling, floor-to-ceiling glass window, walk-in closets, high-end kitchen appliances, and expansive balconies that offer stunning views of the ocean and Biscayne Bay. The Murano Grande residence hosts upgraded features like oversized glass terraces and aluminum railings. 
Murano at Portofino 
Murano at Portofino is the perfect place to call home if you're looking for a stylish condominium on the waterfront. With its private Bay Side Beach Club, heated pool and spa, saltwater pool, and poolside café, there's no shortage of ways to enjoy yourself here. And when you're ready to venture out, you'll be within walking distance of some of the best restaurants, shops, and boutiques that South Beach offers. If you're looking for one of the best buildings in South Florida, look no further than Murano at Portofino.
South Beach is one of the most popular tourist destinations globally, and Murano at Portofino is right in its heart. This 37-story Bayfront condominium building is home to 189 luxury residences just steps from the beach. Whether you're looking for a one-, two, or three-bedroom unit, you'll find everything you need here. And with stellar amenities like concierge service, a high-end fitness center, two tennis courts, and outdoor terraces. Residents also have an array of nightlife entertainment options. If you're looking for a slice of paradise, look no further than Murano at Portofino.
Last Take
The four stylish condominiums featured above offer residents luxurious amenities and a high standard of living. If you're looking for a place to call home that offers the best of South Florida, look no further than Apogee South Beach, Continuum South Beach, Murano Grande, or Murano at Portofino. No matter what you're looking for in a stylish condominium complex, you will find it in one of these four luxurious buildings.