Construction businesses are highly valued for their ability to bring architectural designs to fruition. Everything from creating modern, safe, energy-efficient homes to facilitate an ever-growing population or building fascinating entertainment complexes, shopping malls, and theme parks to distract and relax the public in their free time. Don't forget hospitals and schools that provide much-needed healthcare services and education to cities and towns. Indeed, what would the world be without construction companies? (Image Credit: Engin Akyurt/Pexels)
Moreover, the skill, planning, and organization that goes into construction are impressive. With that, it's easy to see why you were so passionate about launching your own construction business and why you're so eager to expand it.
For some guidance on where to begin to take your enterprise to the next level, below are a few ideas to help you get started. 

Create Realistic Goals For Your Business
Scaling your construction business will only work if there are specific, realistic goals to work towards. In addition, a plan of action helps you reach those goals. 
If your objectives to expand the business are unclear, the below questions may shed some light on what expanding your construction company means to you.
How much revenue do you want to make per month?

Where and

how do you want to expand

your business? (For example, the next state, the entire country, or overseas).

What construction projects do you prefer? And which ones are the most lucrative?

How much would you like to charge for construction projects in the future?
Answering the questions above will enable you to begin drilling down to the specific goals you want to achieve. To refine these goals further, and test whether they are feasible, evaluate each objective's potential. 
For example, you may aspire to accrue ten more clients and projects in the next three months. On analyzing this goal, you'll need to weigh whether your company has the funding and resources to facilitate the needs of ten more clients without putting the business under immense pressure. Or whether you have a method to get the extra funding for the tools and staff you'll need. 
In other instances, you may be hoping to charge more for your construction services by next year. However, it's necessary to give thought to whether the total you want to earn is possible. For example, if on doing some research, you may find your competitors are charging much less than the figure you're targeting. You may need to adjust the revenue to something achievable. 
Evaluating potential goals gives you an accurate indication of what is and isn't possible. It allows you to conjure the challenges you may encounter beforehand. Preplanning such as this is an essential part of creating a solid and realistic set of goals and timeframe.
Quality Construction and Service
"The bitterness of poor quality remains long after the sweetness of low price is forgotten" – Benjamin Franklin
To grow a business, it always helps to take an honest look at the company and determine what it's doing well. However, areas that need improving should also be considered.  
It's likely any potential clients who need a construction company to complete a project will ask a few construction businesses for a quote before deciding. Identifying your business's strengths and weaknesses can help you distinguish how your company excels, where others may fail.  
Here are a few areas to consider when identifying room for improvement: 
Safety
Safety should be at the top of any construction business priority list. From the safety of workers on-site to clients visiting the premises. And of course, the inhabitants who will live or work in the constructed facility once the building is complete are of key importance.
Complying with government guidelines and staying abreast of new changes in health and safety in the workplace will ensure your business operates at a high standard at all times. 
After all, one project that results in injury could cause the entire company's reputation to crumble, in turn, scaring off new potential clients from working with you. This surely risks your chance of expanding in the future.
The Team
Each staff member has a vital role to play in the construction process. And as such, they need to be equipped with the skills and knowledge to correctly complete their part. For this reason, it's essential always to hire experienced staff with relevant qualifications to work as part of your team.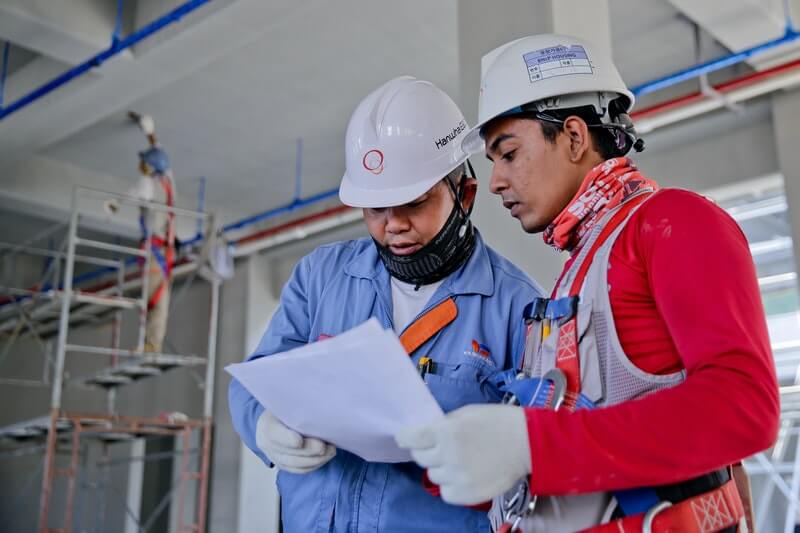 If you take on younger workers or people without experience, they will need to be mentored and trained by other experienced builders on-site. And in the interest of safety and performing construction tasks correctly, they may need to enroll in a course. 
Beyond skills and qualifications, you ideally want team members who are naturally co-operative, problem-solvers, and self-motivated.
You can dream, create, design, and build the most wonderful place in the world. But it requires people to make the dream a reality – Walt Disney
Equipment and Resources
New technology for construction companies should always be considered. Particularly when there are safer, more precise, reliable, durable, and faster options available than the technology you currently own or rent.
The initial cost of new equipment can be daunting. However, it is recommended to contact Virginia equipment rental to lease the machinery that will save you money and time.
Some machinery, for example, will save building time, reducing project timelines. Clients are likely to be satisfied. You also hire equipment and tools, for more information check lakeside-hire.co.uk.
Source and Manage Funding
Construction businesses are inherently expensive to run. Everything from hiring a qualified team of construction workers and project managers to sourcing quality yet affordable building materials to use can prove costly. There's a lot to oversee when monitoring a business's income and outgoings. But you have to do it if you want your company to grow.
Unless you have a lot of money stashed away in a savings account to invest in and grow the company, you'll need to look at other funding options to expand.
Although bootstrapping your company to expand is possible, it takes much longer to grow your business this way. Depending on how much you need to borrow, you might want to consider a bank loan or an investor.
Whichever option you choose, you'll have to manage the money diligently to ensure every dollar has a responsibility, and none goes to waste. Otherwise, if you spend the money frivolously on your business or have no financial plan, the funding will eventually wither away.
Suppose you don't have the time to keep track of each company purchase. The new excavators and bulldozers you ordered, the septic manhole frame and covers, or the steel and stone materials purchased in bulk. It might be worth researching an accountant who can manage this task effectively on your behalf. It's best to keep your finances in check and ensure you have enough money to fund your expansion plans.
Sales and Marketing
All businesses need to have a sales and marketing team and strategy to prosper. This way the income generated from future sales can be put towards the expansion of the company. This further reduce the need for you to borrow money from the bank. 
Your sales and marketing department's efforts can generate increased income. As a result, you'll have the means to hire even more workers, purchase and rent highly rated building equipment, and perhaps begin planning new offices and teams to operate across the country.
To advertise and sell how great your construction company is, words and imagery crafted by qualified and experienced marketers are necessary. 

Having someone to take over marketing operations for your construction company will ensure the following;
You have a website that reflects your business's professionalism and mission. A site should be easy to use and understand. It should also provide contact details for your company. Moreover, a mobile-optimized platform must be available to view on all devices. After all, it's likely your clients are busy professionals on the go. Thus they need an online hub they can access with ease.  

Social media channels to increase your company's presence on the web, to improve awareness of your brand among new clients. At the same time, highlight your distinctive and

professional reputation

in the construction industry.

Reviews and images from recent impressive construction projects to be advertised on your company site, Google business listing, and other notable review sites where clients might find you.

Consistent branding is key to your company's success in making sales. Excellent branding helps people remember and connect with your company.
Moreover, sales representative(s) can charm new clients, attend networking events to scout for business, and win new projects.
The Art of Sales
Sales professionals train in the art of highlighting the positive aspects of your company and why customers should sign a contract with your construction company over your competitors. But they're also trained on other subjects such as the psychology of selling, selling strategies, and the art of persuasion.
Sales professionals can make contact with warm leads. For instance, reaching out to a client who expresses interest in your business through the website. The salesperson will follow up on that call, identify what the customer is looking for, build rapport, and explain how your business can benefit their proposed construction project.
If you're unsure how to acquire suitable candidates that can represent your business the way you envision, contact a recruitment agency to source professionals on your behalf. Recruitment is an enduring, time-consuming process, and so, unless you have an HR team, it pays to invest in a recruiter.
The prospect of expanding your company is an exciting one. With the guidance above, there are several steps for you to work through to help develop your construction company. Set realistic goals and create a plan of action towards success. Then find funding and build a compelling sales and marketing department to propel your business to the forefront of your community.