The apex of any summer getaway is the first look inside your luxury vacation villa. Whether you are looking for a couples retreat, a spot to call home for a week, a family vacation, or somewhere to make an office for an extended period of time, on St Barths, you'll find an enviable selection of some of the Caribbean's most refined luxury villas to rent.
To truly appreciate the laid-back glamour and jet-set lifestyle of the Caribbean's most exclusive island, discover our top luxury vacation rentals in St Barths.
Luxury Vacation Rentals St Barths
Villa Wake Up
Centrally located on Flamands beach, villa Wake Up is a sleek, ultra-modern beachfront villa, enchanting its guests with its luxury supplies and spacious living areas. Inside, the style is modern luxury, in a sophisticated palette of neutral colours and high tech fixtures and fittings. Its six bedrooms have been stylishly decorated, with two rooms boasting refined en-suite bathrooms.
Decked out with ample amenities, this holiday rental in St Barth includes a hammam, massage room, fitness area, a cinema and a highly-skilled private chef. It is also just a stone's throw away from some of St Barth's finest restaurants – perfect for days spent exploring beyond the villa. The 'pièce de résistance' of villa Wake Up, however, is its outdoor space, which boasts several levels of gleaming terraces, outdoor kitchens for alfresco dining, a Jacuzzi and of course its formidable infinity pool overlooking the pristine Caribbean seascape.
Villa Castle Rock
Just five minutes to the airport, Nikki Beach and Eden Rock, this charming villa with panoramic views of Lorient and St Jean bay has a modern and comfortable interior, with a strong focus on architectural design. Built on three levels, villa Castle Rock enjoys a spacious living area, a professional kitchen, and large windows offering spectacular hill and sea views. Perfect for entertaining large groups and families, it has five bedrooms and five luxurious bathrooms. Complete with incredible amenities, this luxurious villa features a wine tasting room, hammam and sauna, and a fully equipped gym. With VIP services throughout your entire stay, this holiday rental in St Barth features a separate building with parking and a living area for up to eight staff members.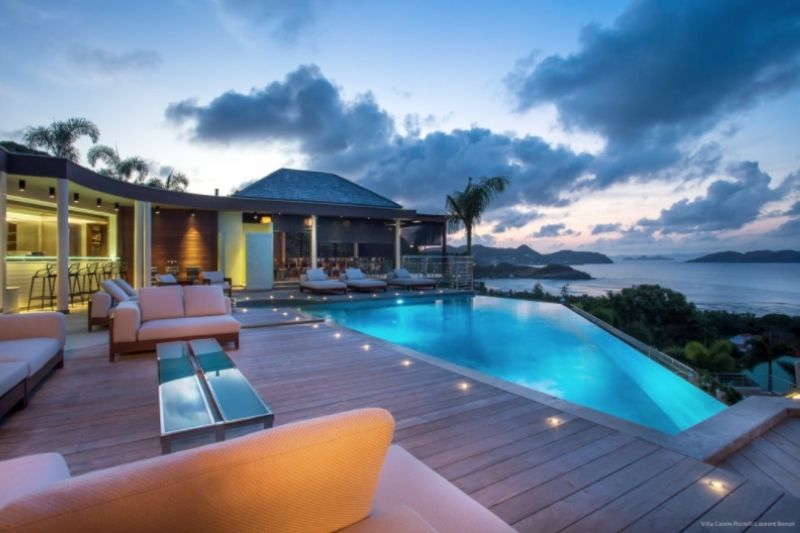 Villa Golden View
For anyone looking for a luxury vacation rental in St Barth's with exceptional privacy and the finest sunset views, villa Golden View is ideally located in an isolated hillside area of Vitet, just a few minutes drive away from Lorient and Pointe Milou. Surrounded by the ocean and mountains, this contemporary private villa features two spacious bedrooms fitted with king-sized beds, ocean-facing dining rooms and a fully equipped fitness suite.
Outside, the stunning infinity lap pool creates the illusion of swimming straight into the Caribbean Sea, and there are beautiful terraces for either breakfast at sunrise or cocktails at sunset, as well as charming seating areas with mountain and sea views, and contemporary poolside recliners and umbrellas.
Villa Casa Tua
Located in Lorient, this fabulous beachfront villa is perched directly off of the famous Lorient Surf beach. Just a few meters walk from the luxurious villa, you will reach a grocery mini-market, several restaurants and a bakery – perfect for your morning orders of French pastries. Villa Casa Tua's open-plan living area comprises large sofas, a media area and a well-furnished kitchen with a central dining table for eight people. On the first level, the villa's four bedrooms are fitted with king size beds and private bathrooms.
Outside, there are several terraces, a large dining table and a bar to welcome your holiday's best evenings. The terrace ends with a long pool that appears as if it ends in the crystalline sea. Surrounding the villa pool are luxurious sun loungers, fit for wave-watching and sunset pictures.
Which one of these luxury vacation rentals in St Barth will you be choosing?