ABOUT SUTTON
The Sutton Concept, is a fashion, art and design brand based in West Hollywood. It's founder, Sutton Stracke, a professional dancer and Los Angeles designer has curated exquisite pieces of art, fashion and gifts. Furthermore, she is also active on television as one of the members of the Real Housewives of Beverly Hills. Stracke has garnered several accolades such as a Board of Trustees for the American Ballet Theatre, Founders Committee of the CDFA Trust in Los Angeles, as well as a muse of Parisian and Italian designers. The concept is an always-changing, offering one of a kind pieces with limited distribution. Lastly, Sutton's concept is to rotate brands and new art, introduce bespoke services, and host trunk shows. Let us now take a look at 5 curated pieces.
KYLE x SHAHIDA TAILORED SATIN BLAZER (Pictured Above)
The first piece we have here is this unique and classy black Kyle x Shahida tailored satin blazer. It is made of  smooth satin and features a wide opening hemline on the arms with slits flaring, long cut out sleeves and a strong shoulder support. This is perfect for the office and even extends to an occasion after work, like a theatre show or a cocktail. Furthermore, this edgy yet sophisticated blazer looks good with tailored pants or on top of a dress or a skirt. Your collection of blazers will be incomplete without this gorgeous piece.
JOVANA LOUIS BE THE BEST YOU CAN BE BLAZER
The next blazer we feature in this article is this clean yet funky Jovana Louis Be the best you can be blazer. It features a collarless blazer structured with fitted sleeves and a minimalistic one button closure. Furthermore, it features the free hand print "Be the best you can be", a motto Jovana Louis believes in. I can imagine this blazer paired with flared pants to give a good contrast to the structure of the blazer. It can also be paired with a short flamenco skirt. Just like the firs blazer, this Jovana Louis piece is good not just for a corporate setting but for a formal event afterwards as well. Don't wonder why you turn heads with this piece when you walk confidently on it.
AMBER SAKAI ASYMMETRIC T-SHIRT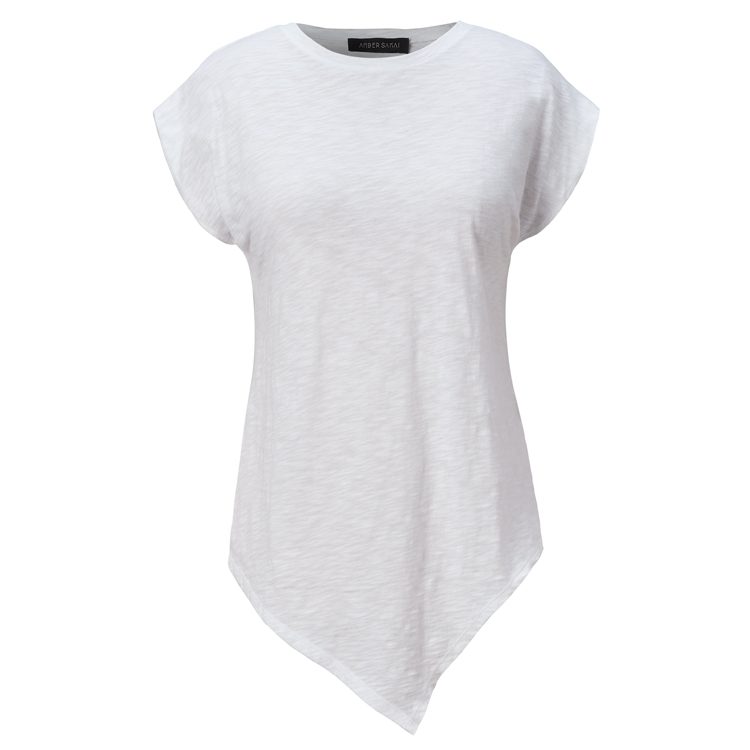 The third piece we have is this super casual and chic white Amber Sakai Asymmetric T-shirt. It is made from 100% cotton, leaving you so fresh and comfortable and features an asymmetric lining at the bottom hem of the shirt. For a very casual look doing errands, I can imagine wearing this with aviator shades, daisy duke shorts and flip-flops. Additionally, this can be a more together look when paired with skinny jeans and boots while travelling. You can also even wear this to the gym! The possibilities are endless with this super versatile t-shirt that should definitely be added to your collection of shirts.
JOVANA LOUIS BE THE BEST YOU CAN BE DRESS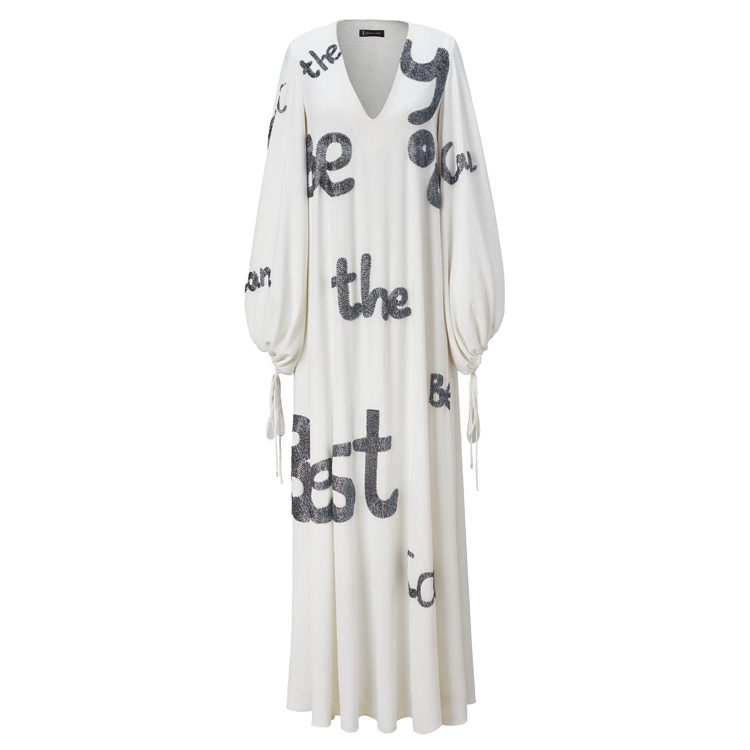 The forth piece we present to you is this modest and exceedingly stylish Jovana Louis be the best you can be dress. This white cream features a full length, and tie cuff bishop sleeves that are both easy to wear and dramatic. Furthermore, it has all over hand-beaded text print that reads "You can be the best" which of course is a motto Jovana Louis wants their clients to embody. I can imagine wearing this super feminine and chic dress just for lounging at home sipping champagne while watching Netflix. It can even be paired with heeled sandals at a museum opening or a fashion gallery. However you want to wear this dress, it will definitely make you look and feel like the best you can be!
LAKRIS BRAND RAZOR BLAZER
Last but definitely not the least, the fifth piece and third blazer we present to you is this jaw dropping pearl white Lakris Razor blazer. Made of 100% cotton and 100% polyester lined. Furthermore, it features a concealed hook fastening in the front, and aluminum zipper detailed collar. Glisten in the office with this blazer paired with dark tailored pants for a good contrast. It can also be paired with a long fitted black dress and embellished stilettos for a formal dinner date. Lastly, wearing this a a ballet show will make you stand out too. Not buying this blazer is one of the biggest mistakes you can make! Be sure to get your piece for that blazer collection. For more blazer designs click here.
Whatever form of fashion piece or art and gift decor, you can always look at The Sutton Concept for guidance and good fashion sense.