Afternoon Tea at The Pierre Hotel in New York City is more than you can imagine and it will certainly surpass your expectations, as it is not only elegant and sophisticated, but also very laid-back and inviting.  The hostess pleasantly greets each guest. The excellent customer service sets the tone of the afternoon. You'll feel like royalty as they cater to your every whim and fancy, while you indulge in the delectable delights.
As you sit waiting for the tea to arrive, you'll enjoy the opulent and serene ambiance of the beautiful dining room of Two E. It is designed as a sophisticated Upper East Side residence, with light tones that compliment the small intimate dining room. It is the type of relaxed ambiance that one could completely lose themselves in and relax in for hours.
The Afternoon tea offered at The Pierre includes a great selection of green, herbal and black teas from around the world. It is complemented by a variety of fresh scones and petit fours, baked daily by an in-house pastry team. In addition to this, it also includes house-made jams, clotted cream, and delicious finger sandwiches.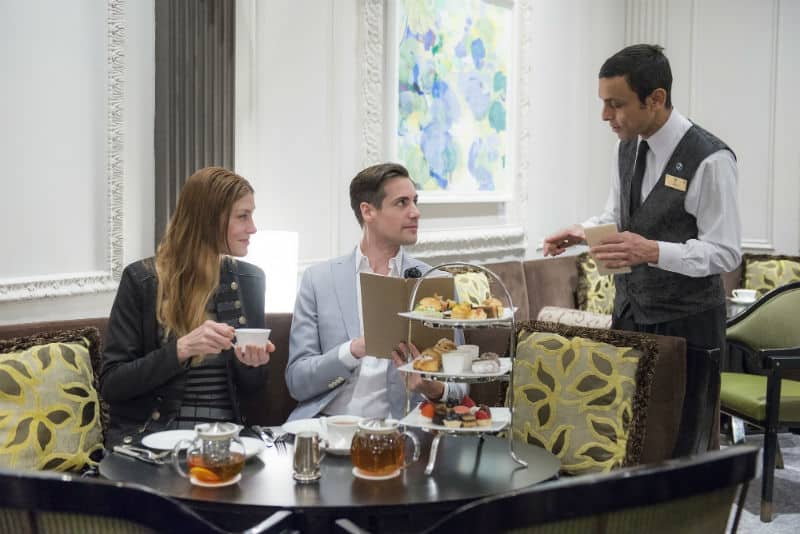 Whether you're looking for something to do with a group of girlfriends, before going to the theater, after enjoying a walk in Central Park or simply because it is your tradition to enjoy afternoon tea, you'll love Afternoon Tea at Two E at The Pierre Hotel. The service is great and the tea, pastries, and food were even better. It is a must when visiting New York City.
Dawn Wilson
Travel Writer/Luxury Boutique Hotel Specialist
Dawn Wilson is a Travel Writer and Luxury Boutique Hotel Specialist. As the owner of Unique Boutique Hotels, she writes about the boutique hotels with the highest guest approval ratings. She has also written for several digital lifestyle magazines, which include, the Miami Shoot Magazine. Her love of travel, art, and design led her to become a travel writer who focuses on luxury lifestyle experiences. She recently began exploring more international boutique hotels & resorts and is excited to share her recent discoveries. Dawn splits her time between the U.S. and South Africa.
(Images by Andrew Werner)