One of the most famous families in the world, the Grimaldi Monaco royal family not only rule over one of the wealthiest destinations in the world, but they also live a lavish lifestyle many of us can only dream of. Read on to find out more about some of the most famous members of the Grimaldi family. (Image Credit: ABC Television/Wikicommons)
Meet the Grimaldi Monaco royal family
Prince Rainier III
One of the longest ruling monarchs in European history, Prince Rainier III ruled Monaco for almost 56 years from 1949 to his death in 2005. He was central to transforming Monaco's economy into its current modern-day form, now a world-renowned tax haven and tourist destination. Indeed, when Prince Rainier III succeeded Prince Louis II to the throne Monaco was near bankruptcy. He was central to reviving many of the sun-kissed principality's key events, including the Monaco Grand Prix. Of course, he was best known for marrying American actress Grace Kelly, a union that made the Grimaldi Monaco family one of the most famous in the world.
Grace Kelly
Arguably one of the most famous members of the Grimaldi family, Grace Kelly was an American film actress who became a member of the Grimaldi family when she married Prince Rainier III in April 1956, becoming Princess Consort of Monaco. She embarked on her acting career aged 20, appearing in a host of theatrical productions in New York city, before starring in several Hollywood films in the early to mid 1950s, including Mogambo, which won her a Golden Globe Award. When she married, she gave up her acting career, becoming a popular Grimaldi Monaco family member. She tragically died aged just 52-years-old following a traffic accident caused by a stroke. Her legacy lives on through the many charitable foundations that she set up and supported as Princess Consort of Monaco.
Princess Caroline
Soon after Prince Rainier III and Grace Kelly's wedding Princess Caroline was born, now the Princess of Hanover. A regularly photographed member of the Grimaldi Monaco family, today she is seen as a fashion icon, regularly featuring in the world's best-dressed lists. She has been married three times and has four children; Andrea, Charlotte and Pierre, all with her second husband, Stefano Casiraghi. She had her fourth child, Princess Alexandra of Hanover, with her current husband, Prince Ernst August of Hanover. Fluent in five languages – French, English, German, Italian, and Spanish – she holds a diploma in philosophy and minors in psychology and biology, from the Sorbonne University in Paris. In 2003 she was named a UNESCO Goodwill Ambassador due to her commitment to philanthropy and the arts.
Prince Albert II
Prince Albert II was the second child born – and only son – of Grace Kelly and Prince Rainier III. Today he is Monaco's ruling monarch and is one of the world's wealthiest royals, estimated to be worth some $1 billion. He is also said to own around a quarter of the land that he rules over. Considered a playboy, he has fathered two children out of wedlock, Jazmin Grace Grimaldi and Alexandre Grimaldi-Coste. He married former Olympian Charlene Wittstock, now Princess Charlene, in 2011. They added two children to the Grimaldi Monaco family, twins Princess Gabrielle and Prince Jacques.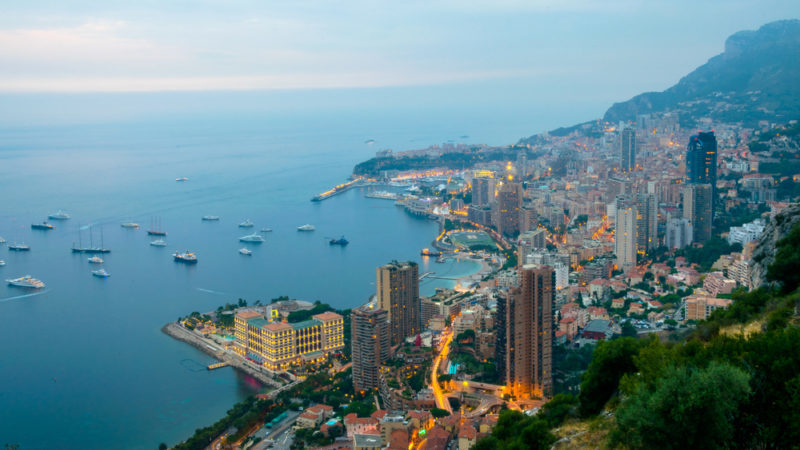 Princess Stephanie
Born in 1965, Princess Stephanie was travelling in the car with her mother, Princess Grace, when she had a stroke and crashed, dying from her injuries the following day. This tragic event has caused the royal to embrace life, and she is often known as the rebel of the Grimaldi Monaco family. She has tried her hand at modelling, fashion designing, and pop singing. She has dated a string of high-profile men, including a married elephant trainer – Franco Knie – even moving into his circus caravan. She has been married twice and is the mother of three children.
Princess Charlene
Born in Rhodesia, now Zimbabwe, former Olympic swimmer Princess Charlene became a member of the Grimaldi Monaco family in 2011, when she married the ruling monarch, Prince Albert II. They first met in 2000 at the Mare Nostrum swimming competition in Monte Carlo, announcing their engagement in 2011. She is a Special Olympics ambassador, an organisation which aims to use the power of sport to change lives, as well as a high profile supporter of children's charities across Europe and in South Africa, where she grew up. Princess Charlene and Prince Albert II have two children, twins Princess Gabrielle and Prince Jacques.
Princess Gabrielle and Prince Jacques
Already considered fashion icons, Monaco's adorable royal twins are set to herald in a more modern Grimaldi Monaco family. Born in 2014, the twins made their first appearance at the 42nd Monte Carlo International Circus Festival, where Princess Gabriella fed a banana to a giraffe. Wherever these adorable royals go, they are guaranteed to steal the show!
Fancy rubbing shoulders with such a famous family? Then why not consider exploring Monaco real estate for sale? Residents of Monaco enjoy one of the most luxurious lifestyles in the world, thanks to the principality's world-class amenities, including lavish resorts, award-winning restaurants, and some of the most famed events in the world.