As the season's change we believe there is always a reason to look good, rain or shine. With this summer style for men we show you a great evening ensemble for men that will make you look like you belong in a fashion magazine.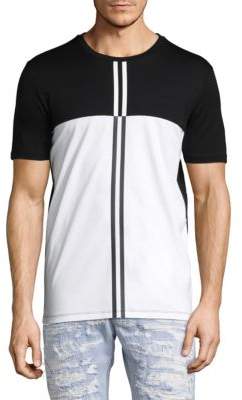 First, start with a cool and casual black gold Buono Tee Shirt by Diesel. This unique design with turn heads and keep you cool in the comfortable cotton fabric.
Next, you'll love these distressed Dsquared 2 Jeans. They have a relaxed casual and comfortable fit that can be worn day or night with ease, and still making you look stylish and hip. Don't be surprised if these become your new favorite pair of jeans. We love this denim style for men with a form fitted navy collared shirt by Alexander McQueen's mainline men's collection.
Additionally,  get these  Steve Madden shoes for men with velvet & suede upper. Steve Madden footwear is known for their unique designs, craftsmanship and authenticity conveyed in every style detail. We particularly love the stylish embellishment of this pair, as it adds an extra flair of high fashion to this casual summer style for men.
Then as always to complete this fashion for men is the timepiece. Synonymous with luxury, quality and craftsmanship, Swiss watch brand TAG Heuer deserves its worldwide reputation, evident in the Modular Diamond Bezel Smart Watch. This man watch is completed by .58ct diamonds with 512MB memory and 4 GB storage memory. with Android and iOS compatibility. Housed in sapphire crystal glass, finished with black PVD and titanium, this is a must for any discerning gentlemen.
You will notice the color combination of this fashion ensemble is what makes it look so striking. The blue, black, and white are cold colors, and by incorporating all the colors in subtle ways; it will make the style catch everybody's eye, no matter where you go. Now that's what we call style. Get this summer style for men now, and start turning heads later.
SHOP MORE SUMMER STYLE FOR MEN NOW!!!