In the dynamic world of fashion, anticipating the next big trend is an art and a science. As we look ahead to the upcoming season, we delve into the complex matrix of cultural shift, technological innovation, and consumer behavior that influences the direction of fashion. This document serves as an insightful exploration into the world of fashion forecasting, providing a comprehensive understanding of how trends are born, rise, and eventually integrate into the mainstream. Get ready to peer into fashion's crystal ball and discover the forces that will shape our sartorial choices in the season to come.
Designer clothing is still highly-wanted
Designer clothing continues to play an important role in the fashion landscape. Despite more accessible fast-fashion options, people are still drawn to luxury labels for their expert craftsmanship and unique aesthetic. To stay ahead of the curve, designers must have a keen eye for innovation in order to create pieces that stand out from the crowd. For example, there are designer clutch bags that were seen all over the catwalk back in Spring/Summer. Their bold and unique shapes, combined with intricate detailing, instantly caught the attention of fashionistas everywhere. Moreover, designer clothing serves as a way to express oneself, allowing individuals to make bold statements with their style. As long as people keep looking for these special items, fashion will continue to reinvent itself.
Sustainability takes center stage
As the fashion landscape shifts, sustainability is becoming an ever-important part of the conversation. Consumers are more conscious and concerned about the environmental impact of their purchases, leading to a rise in eco-friendly clothing. Designers have responded to this new trend by introducing sustainable materials such as recycled polyester and organic cotton into their collections. In addition, labels are also increasingly using ethical production practices, such as fair trade and living wages for employees. These practices are becoming the norm in the fashion industry, so those who don't embrace them risk being left behind. Not only is sustainability good for the planet, but it also serves as a unique marketing opportunity for brands to show their social responsibility.
The overarching theme of comfort continues to rule
One of the most enduring trends in fashion continues to be comfort. From athleisure wear to cozy loungewear, individuals are increasingly seeking out garments that prioritize comfort and ease of movement. This is due to a combination of factors, including an increasing acceptance of casual attire in the workplace as well as more people working from home. In response, designers have created stylish yet comfortable clothing that is perfect for the modern woman. Not only do these items look great, they also provide an optimal level of comfort for all-day wear. For those who want to stay ahead of the trend curve, continue to keep a lookout for multifunctional pieces that offer both form and function.
Voluminous shapes inspired by the 80s are set to make a comeback
If there's one thing that we can expect for the upcoming season, it's a return to bold silhouettes. Think exaggerated shoulder pads, powerful suiting, and voluminous shapes inspired by the 1980s and the vibe of that period. Already seen on the catwalk and in streetwear, this look takes inspiration from classic power-dressing looks while creating something unique and modern. The best part? You can make the look work for your own style, whether you want to go all-out with statement pieces or tone it down with more subtle additions. Just remember: when it comes to fashion forecasting, the key is to have fun and experiment! More importantly, when it comes to the 80s trend, be sure to go big or go home.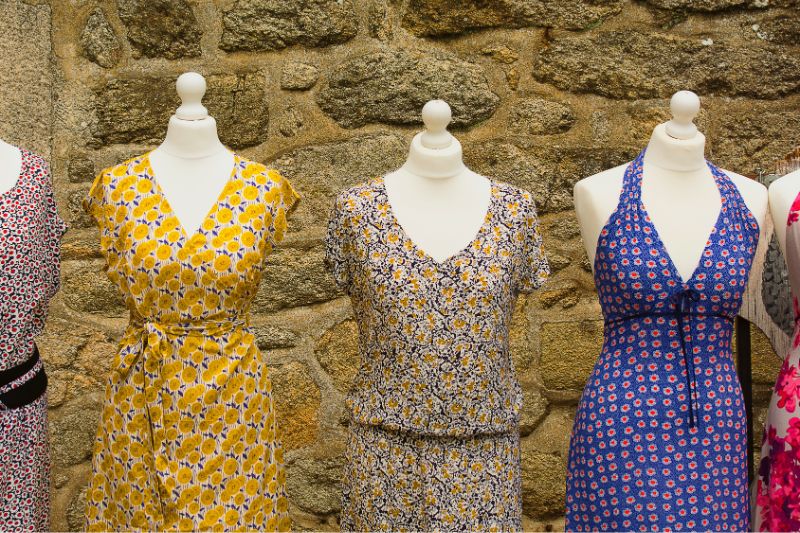 Technology's role in fashion is becoming more pronounced
Technology is increasingly playing a major role in the fashion industry and it's not just about using tech to make garments more efficient. We are now seeing digital immersion take center stage, with designers utilizing virtual reality to create interactive experiences for their customers. In addition, social media has empowered individuals to become tastemakers in their own right, allowing them to drive trends and influence the industry. As technology continues to develop, it is exciting to see how it will shape the future of fashion. From 3D printing to AI-driven design, the possibilities are endless! Furthermore, the existence of techware clothing has also enabled individuals to merge fashion and functionality, creating garments that are both stylish and high-tech.
In conclusion, the world of fashion is continuously evolving, shaped by numerous forces such as cultural shifts, technological innovation, and consumer behavior. The upcoming season will see a blend of the past and the future, with the revival of bold 80s aesthetics and the growing influence of technology in fashion design. Sustainability and comfort will continue to be central themes, reflecting our collective desire for fashion that not only looks good but also does good. The key to success in this industry lies in staying ahead of the trends and continuously adapting to the ever-changing fashion landscape. As we look forward to the season ahead, one thing remains certain: the world of fashion will always offer something exciting and new to discover.