ABOUT SINBONO:
Sinbono is a sustainable and vegan brand that sells bags, wallets, and card holders. Established in New York, Sinbono, wants its consumers to make a conscientious choice in their lifestyle. Like most innovative brands today, Sinbono is a cruelty-free and eco friendly brand. Furthermore, recycled bottles and reclaimed fruit leathers are what makes their signature range of vegan bags. Rest assured no guilt comes with that fashionable bag! It is not just the good impact on our planet that makes Sinbono an awesome go to, its bags are detailed, very hip looking and stylish. Not to mention, it is so sturdy that it lasts for multiple seasons. The brand lives by the motto: "buy one, buy well". That is why the bags stand the test of time. Protecting the planet and looking chic is very Sinbono. Let us now take a look at 5 stunning handbags.
ALYSSA BAG – PINK (Pictured Above)
The first handbag we present to you is the feminine and flirty Alyssa bag in pink. Purely made of Vegan leather, it not only looks fabulous, it didn't harm any animals or contain and emit any harmful chemicals. It features double gold metallic chains, a pink covering on the shoulders, and the Sinbono logo in front. Additionally, it has a hidden magnetic lock, 3 card slots, an anti theft brush and can store any phone size. It can both be a shoulder or crossbody bag. I can imagine wearing this at the office paired with a white dress and baby pink pumps. It can even extend to that cocktail party with your co workers afterwards! Very versatile; and stylish any girly girl would wanna have this in her collection!
VIENNA TOP HANDLE CROSSBODY BAG – BLACK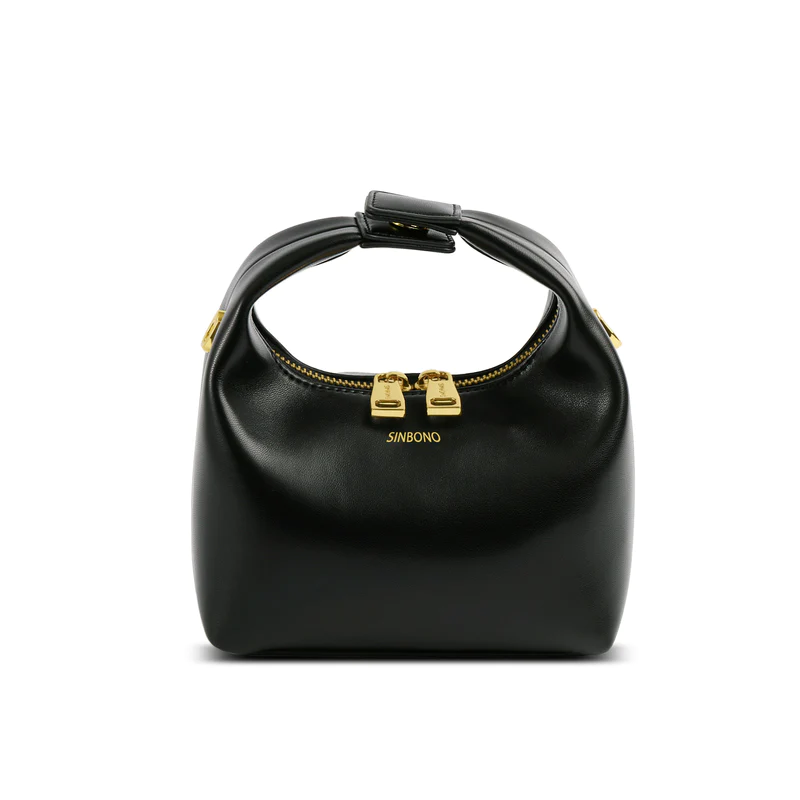 The second bag we feature to you is this super cute and convertible 2 way Vienna top handle crossbody bag in black. It comes in 4 others colors namely ivory, grass, pink and purple. Made of pure vegan leather and lined with faux suede, you can be sure not much harm was done to the environment in constructing this bag. Moreover, it features a handle drop, a golden chain, the Sinbono logo in gold, a zipper closure, one inner pocket and is suitable for all sizes of phones. Definitely a minimalist yet impactful bag. I can imagine wearing this for any occasion and it matches basically anything! Whether it is with a white top and jeans or a black dress for a fancy dinner, this basic but elegant bag is a favorite!
AMELIA SHOULDER BAG – PURPLE
The third super stylish and luxurious bag we have here is the Amelia shoulder bag in purple. Made from pure vegan leather but crocodile grain, do not be deceived as no crocodiles were harmed! It features a faux suede lining, removable and adjustable strap, the Sinbono logo, magnetic snap closure, one inner pocket and can hold any phone size. This pastel purple colored bag is definitely an eye catcher among the crowd. I can imagine wearing this with any dark colored ensemble for a good contrast and it definitely adds such sweetness to any bland outfit!
KACE CROSSBODY BAG – NATURAL SNAKE EMBOSSED
The forth sultry and sophisticated bag we have here is this Kace crossbody bag (natural snake embossed). Made of pure vegan leather and snake grain, do not be confused as no snakes were harmed in the making of this bag. Furthermore it features 100% recycled plastic lining, a magnetic hidden lock, one inner pocket and suitable for all sizes of phone sizes.  I can imagine wearing this bag with a corporate outfit, black blazer, and pumps. It can even be worn casually for a fancy lunch amongst family or friends. Luxury and earth friendly never looked so good.
FIONA SHOULDER BAG – YELLOW
The fifth and final luxury yet eco-friendly handbag we show to you here is this super fun and zesty Fiona shoulder bag in yellow. Made of pure vegan leather, and crocodile grain, it sure has an interesting texture to it. Furthermore it features faux suede lining, a pushing lock closure, one inner pocket, one inner zipper pocket and suits all phone types. This bag is perfect to make a certain outfit of the day or night stand out. Wear a white basic dress and match it with the Fiona bag for the day and you'll have a refreshing vibe to you. At night, pair it with a black short dress and strappy heels for a fun yet classical elegant look.
All the bags of Sinbono not only look luxuriously elegant, they are also for a better cause. There's no other luxury than helping save the earth. So what are you waiting for and shop at Sinbono now! For more of our featured handbags click here.