Vince Camuto was one of the most famous names in fashion when it came to women's footwear. He specialized in in creating shoes that were fashionable, comfortable, and affordable. With this, he also created the Nine West brand. The footwear looked best in the workplace. One of the reasons women were so attracted to these styles was because the shoes looked high-end while costing much less than some other designer brands. Even though the shoes were reasonably priced, Camuto was able to make millions of dollars over decades of selling his shoes. He also made about $900 million when he sold the Nine West Brand. (Image Credits: Compass and Concierge Auctions)
Architectural Styling
Let's dive into the history of the Chateau Ridge in Greenwich, CT, USA. The estate was built in 1927 in a classical French styling. Most of the house was later renovated by Jimmy Xhema and Tony Igraco. However, the kitchen and living rooms were designed by Daniel Romualdez.
The home totals just over 16,000 sq ft. Walking into the building, you may think you have entered an ancient cathedral in France, rather than a home in Connecticut. This comes into play because much of the house is crafted from rich limestone and there are high arched ceilings. Overall, viewing this home is a beautiful spectacle, as you can see below.
Bedrooms and Bathrooms
There are thirteen full bedrooms, eleven full bathrooms, and seven half bathrooms. The master bedroom of the house is called the Master Sanctuary. This is one of the largest bedrooms in the house. It comes complete with a "hall of mirrors" dressing room. Attached to the Master Sanctuary is a master bathroom with a spa-like bath and steam room. For more scholarly pursuits, you can also spend time in the connecting study.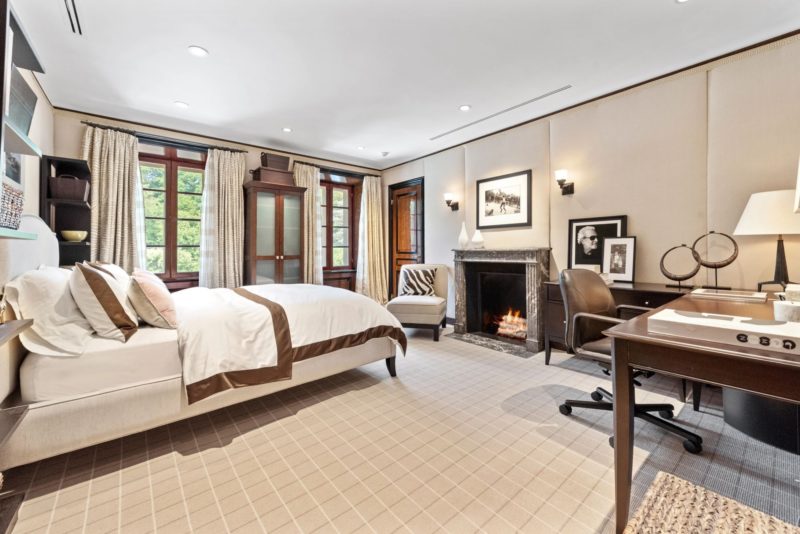 Other Amenities
As for other rooms in the estate, there is a great hall (which is separate from the grand entry gall, library, den, gym, recreation room, and staff quarters. Away from the main home, there is also a guest house that has two bedrooms. Of course, with all of the bedrooms within the main house, it's hard to imagine that you will run out of space!
In total, the Chateau Ridge has five separate garages that has space for up to seven cars! However, this isn't even the most impressive thing that comes with the home. When you buy the home, some of the furniture and other items inside will come with it. These will include some antiques dating all the way to the 16th century.
Landscaping
The landscaping and acreage of the property is almost more impressive than the home itself. In total, the land covers almost five acres. This land is populated by a several formal gardens, beautifully built decorative stone walls, terraces, and an assortment of tree species (including fruit-bearing trees). There are also four beautiful fountains and a gazebo on the property.
Outside of all things nature-related, the estate also plays host to a professional-sized tennis court that has an adjacent tennis house. If tennis isn't for you, then you can still enjoy your time outside by spending time in the grotto pool, which has a built-in artificial waterfall. Of course, this wouldn't be complete without a hot tub to go with it. Being here is like being in a celebrity resort.
Auction Dates and Prices
Sadly, Vince Camuto passed away in 2015 after spending decades in his estate after buying it in the mid-1980's. Now, Camuto's widow has put the estate up for auction. Previously, it was meant to be sold for $26.5 million, but the price is now negotiable. The estate, officially called Chateau Ridge,  will be up for auction through Concierge Auctions on August 12, 2020 at 4 PM EDT. There is a minimum deposit price of $250,000 for a bid, but other than that, there's no saying what the estate will sell for.
Would you like to live in this beautiful mansion? Well, if you have enough money to put down a bid, then you may very well be lucky enough to call the Chateau Ridge home. Good luck!