The Serenity 236' Austal 2003 is a luxury yacht that can be found in Athens, Greece. It is a magnificent looking yacht that would get even the disinterested person amazed at its elegance. Made by Austal, one thing is for certain.
You can be guaranteed of satisfaction in the entire yacht all the way from its structuring, models, to the engine among other factors. The yacht has an engine of MTU which is to mean that they are efficient in that they have low operational costs.
This is mainly due to the fact that they require minimal maintenance. Needless to say, once you step onto this magnificent yacht, its beauty becomes evident, and its highlights are deemed to offer you the experience you so seek.
The Serenity 236' Austal 2003 has a fuel capacity of 40.000 liters while its fuel consumption capacity is 800 liters per hour. Equipped with 16 cabins, the Serenity 236' Austal 2003 is a definite must-have.

Distinguished Features
The term Serenity in itself should depict the atmosphere and the experience emanating from this type of yacht. It is no wonder it is in many ways among the world's best. First impressions matter, and as such the Serenity 236′ Austal 2003 does not disappoint.
The dream ship is built with the intent of keeping up with standards of ship classes. The yacht is modified in such a manner that it has a set of new stabilizers, AC's, electronics, as well as refrigeration among others. With the upgrade of a lifetime, the yacht is one that shouldn't be passed off.
One of the most notable features of this elegant work of art is its design. The Serenity 236′ Austal 2003 is streamlined and rather glossy; an aspect that adds upon its elegance and magnificence. At 72 meters it wondrous modeling cannot be taken for granted.
Created to fit with the expectations of the modern day man, and in a manner that will provide satisfaction, the Serenity 236' Austal 2003 is a luxurious wonder created with a vast area of space to provide comfort.

Pure Luxury
In addition, this luxury yacht is equipped with a sundeck upon and a dazzling interior which is guaranteed to offer you an experience as you have never attained before. It is clear why the Serenity 236' Austal 2003 is so sought after; the experience it offers is one of a kind. With maximum speeds of up to 16.2 knots and cruising speeds of up to 13 knots, this is a smooth sail. In addition, a sundeck with exquisite, modern-day design and furniture, as well as interior and exterior that catches your eye. It comes as no surprise that the price of the Serenity 236' Austal 2003 is slated at $59,932,400.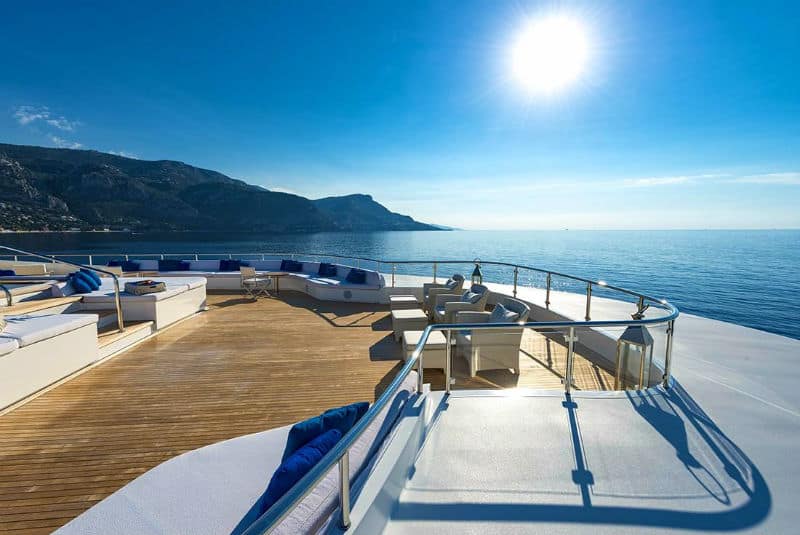 Final Thoughts
Undoubtedly, the Serenity 236′ Austal 2003 is the best possible modern yacht for your ride. So what are you waiting for? Secure this stellar yacht and enjoy the fun. By doing so, you will grant yourself the yacht life you desire by purchasing the Serenity 236' Austal 2003.
(Images Courtesy of Denison Yachts)