Ryan Wiik is a highly accomplished entrepreneur with a knack for a good deal, who is forging the way in the entertainment world. He is also a talented actor and Hollywood producer with many future projects in the pipeline. With charming good looks, he shares his fashion insight for what a true gentleman should wear, whether he's closing multi-million dollar transactions or just enjoying another day in the beautiful City of Angels.
Beverly Hills Magazine: Who are your heroes?  Who have you looked up to in your life?
Ryan Wiik: For as long as I can remember, I've been listening to Johnny Cash. I admired his deep, bass-baritone voice and the mindful and somber looks. I was struck by the fact that he looked fresh, yet appeared as if he were returning home from war. Or prison. Humble and proud, with his guitar on his back and dressed in black. "For the poor and the beaten down." They called him The Man in Black, remember? I admired him and he became my role-model.
 Steve McQueen, as "The King of Cool" inspired me, well, mostly watching his movies. He was the acclaimed anti-hero. When I was just a kid, I watched "The Magnificent Seven" and "The Great Escape." I knew was the highest-paid actor of the 1970s. The translation of that, to me, meant Steve was highly appreciated and esteemed as an artist.  Perhaps thanks to McQueen, James Dean and Clint Eastwood, I dreamed of becoming an actor and that's why I began studying the arts of acting and film-making.
Later on, when I became interested in the business side of the entertainment industry, I discovered Tony Robbins. With his actor-like physique, "The giant" went to becoming a successful businessman at only 17 years of age and after that, a highly acclaimed and proficient trainer. He bought a castle at 24! I was impressed. He accomplished all this by helping people rid themselves of fear and phobia. Tony Robbins made me understand I was capable of doing anything, given enough passion and diligence. So, I follow his lead, to "Live with passion" to this day!
Beverly Hills Magazine: What's in your style closet? (for traveling / for meetings)
Ryan Wiik: Well, I usually wear a three-piece suite. Or if it's a hot summer's day, I discard the coat, a white shirt and vest being just enough. Also, I use a slim briefcase or a sleeve for my tablet and papers.
Beverly Hills Magazine: What do you feel are the fall fashion trends for the modern man?
Ryan Wiik:  I think modern man looks great by staying natural. Unshaved, but tidy. A suit is just fine, but the casual also looks great. Not wearing a tie is something of a statement, focused but free, unbound.
Beverly Hills Magazine:  What three items are in your closet?
Ryan Wiik: I keep a lot of items in my closet, but maybe the three constant things are: the suit – three piece, gray or blue, always tidy and ready to wear. The briefcase, slim and black. And shoes… Shoes are very important to me. I like them to be stylish and but also highly comfortable.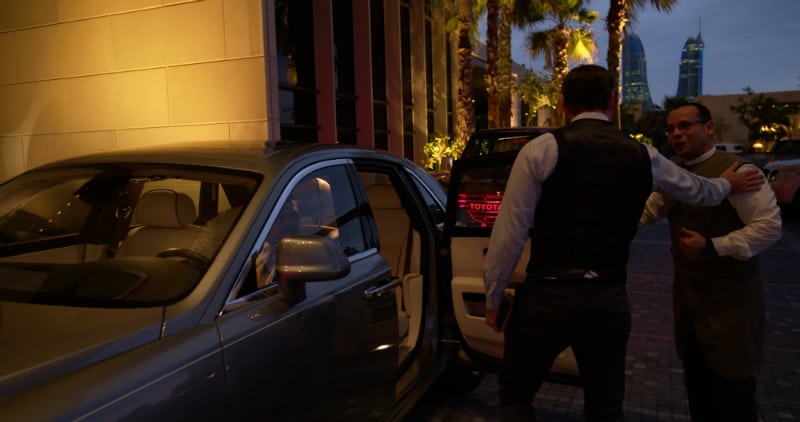 Beverly Hills Magazine: What are your go to fashion choices for a business meeting?
Ryan Wiik:  I like to keep it simple and elegant, relaxed and casual. Too much importance given to the clothing may scare people away. But the most important "gadget" I have is my attitude to my business partners. Fair, unrestricted, cordial and full of validation.
As they say, "Attitude is everything." Ryan Wiik proves that you can be driven to succeed, look great, dress in style, and still be kind. Now that's the ultimate success package. Where do we sign?