Calling all royal princesses! Since love is in the air, we wanted to create a perfectly lovely fashion ensemble that you can wear to inspire you to royal heights in your own life. Famous faces filled the pews as the glorious name of Jesus Christ was proclaimed to all the world, as we all sat watching the adorable Duke and Duchess make their vows. Isn't love grand?! Royal wedding style is simply fabulous, from celebrities to royal descendants, we wanted to give you a a classic royal wedding style that you can call your own.
First, you'll want a stylish dress in a bold feminine color. We love a pink Michael Kors dress, but you can always opt for a purple, yellow, orange, blue, or turquoise dress if pink isn't your thing. But who doesn't love pink?!
Next, pair it with these fabulous gold and black high heels by Charlotte Olympia. These classic velvet high heels add dimension to this ensemble with the unique fabric and duo-tone design. As you can see, we chose 2 colors to complement this style; gold and black.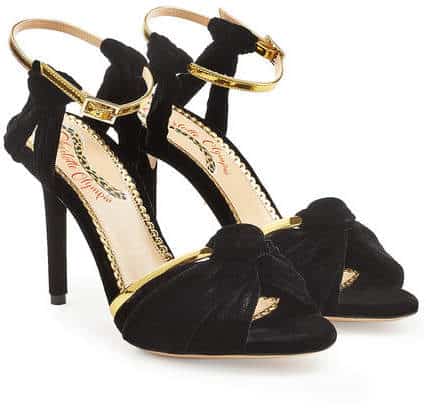 Additionally, you want the perfect clutch to carry all your basic feminine essentials like chapstick, mints, and your cellphone. We selected this Alexander McQueen brass knuckles clutch. A subversive signature of Alexander McQueen, this brass knuckle clutch features crystal embellished skulls and a gold-tone studded exterior.
Moreover, we added a pair of Chloe Sunglasses in a lighter shade of pink. Whenever you use a bold color in your personal style, feel free to use the same color in different shades in the same look. This adds depth to the ensemble, and makes you really stand our from the crowd. Chloé's 'Myrte' sunglasses are inspired by Jackie-O. Punctuated with polished gold-tone trims, this square-frame pair is crafted from peach and white acetate and fitted with over-sized gradient lenses.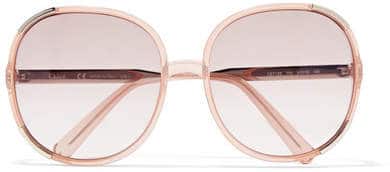 That being said, you'll want to to finish your look with the perfect jewelry accessories. True to royal style, we opted for a classy pearl necklace. This necklace showcases  graduated rows of hand-wrapped pearls slightly askew to create that perfectly imperfect look.
Finally, last but not least you'll want the perfect adornment for your royal fingers. We chose this dainty and incredibly lovely Delfina Delettrez 18kt yellow gold ring with pink sapphires.
Sleek and sparkly with two pink sapphires, Delfina Delettrez's open front ring lends exquisite polish to this must have Royal Wedding style giving you the ideal daytime glamour fit for a princess.
SHOP MORE ROYAL STYLE NOW!!!