Rita Ora is a world-renowned singer and entertainer. She began her singing career with her debut album Ora. It wasn't long after this that she achieved fame, as her album hit #1 on the UK charts. Ever since, Rita Ora has been producing album after hit album. Now, she's taking a liking to fashion– designing fashion, that is. She has recently partnered with the shoe company, ShoeDazzle, to make her own line of custom boots, heels, and sneakers. Below are some of the best looks from her new collection.
Thigh High Boots
If you've ever wanted to look like a punk rocker, then the High Road High Block Heel Combat Boot is the perfect addition to your closet. These boots have a chunky heel, making them slightly more comfortable to walk in than other boots. Of course, this doesn't take away from the style at all. The boots rise right above the knee and lace-up throughout the whole length of the boot. Is there anything that could look more punk?
If you aren't in love with the punk look, but still love high boots, then there are a couple of options you can choose from. One of the hottest shoes in this collection is the Strut Around Stretch Stiletto Boot which comes in a beautiful bright blue, black, or in what looks like newspaper print. Another great style of stiletto boot in this collection is the Let You Love Me Stretch Over the Knee Boot. This boot looks very similar to the other style but comes in pink and black.
Blue Faux-Leather Boots
One of the most eye-catching shoes in the Rita Ora collection has to be the Night is Young Asymmetrical Boots. These boots rise almost up to the knee, but rise slightly higher in the back to give the shoes a unique look. The boots also have an impressive four-inch stiletto heel. What really makes these boots stand out is the blue crocodile skin-like pattern that spread along the entirety of the boots. The boots are made from faux-leather, so no animals were harmed in the making of these boots– making them both friendly and fashionable!
Edgy Ankle Booties
There are so many great ankle booties in Rita Ora's new collection that it would take a whole article to talk about them all! However, is there one style that stands out from the rest. This is the Keep Me High Chain Detail Stiletto Bootie. This shoe comes in two colors, black and brown, both made out of a faux-leather. Even though the toes are narrowly pointed and the heel is an impressive four inches tall, the shoes remain comfortable with extra padding on the inside. There is also a zipper on the sides and the laces can be used to loosen or tighten the fit. One of the most dazzling parts of this shoe is the gold-colored chain that decorates each shoe.
Classic Pumps
Ora's collection has a couple of different pumps to choose from, one of the best being the I See You Clear Jeweled Heeled Sandal. The clear heel brings back a crashing wave of 90s nostalgia. The embellished sandal near the toes only gives more of a 90s vibe to the design. Lastly, a simple side buckle closes off the shoe, so you don't need to worry about the sandals slipping off!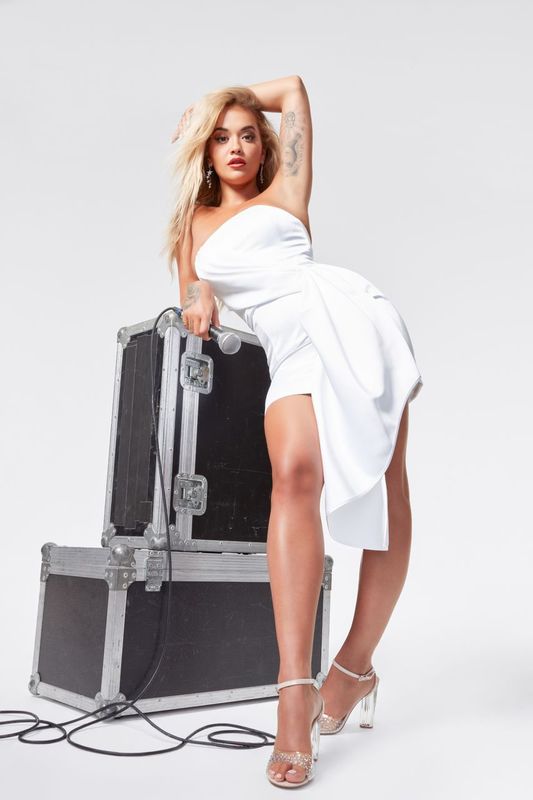 Patterned Sneakers
Most of Rita Ora's designs are dazzling high heels. However, she still has something for you, even if you are looking for something a little more low-key. The Playground High Top Sneakers have punk-rock spices all around the bottom of the shoe. This brings back from 90s nostalgia. The shoes come in two great designs. Steal the show in a sketch-like black and white plaid design or stick with straight jet black to keep things a little more monochromatic. Either way, you are sure to look like a casual rock star in these shoes.
Shop and Stay Connected
If you like any of the designs pictured in this article, you can purchase them by clicking on the links. You can also view the rest of Rita Ora's amazing collection by checking out her page on ShoeDazzle. To keep up to date with all of ShoeDazzle's new collection and styles, you can follow them on Instagram @shoedazzle. Happy shopping!