Yachts are mostly associated with the rich and famous. Whether or not that is a misconception, it remains a big debate. But of course, we all know water vessels offer an adventurous option, especially when you want to get away from the hustle and bustle of work life. If you are into yachting, you are in the right place. For the rest, stick around, and together let us look at one of the Purest yachts, Pura Vida. You will love it! 
Pura Vida is a product of Moonen, a Dutch Shipyard. She measures 98' long and boasts a lot of luxury stuff as well as teak decks. Furthermore, the motor yacht features a semi-displacement hull and superstructure made from aluminum. Both interior and exterior designs were done by Rhoades Young and Rene van der Velden.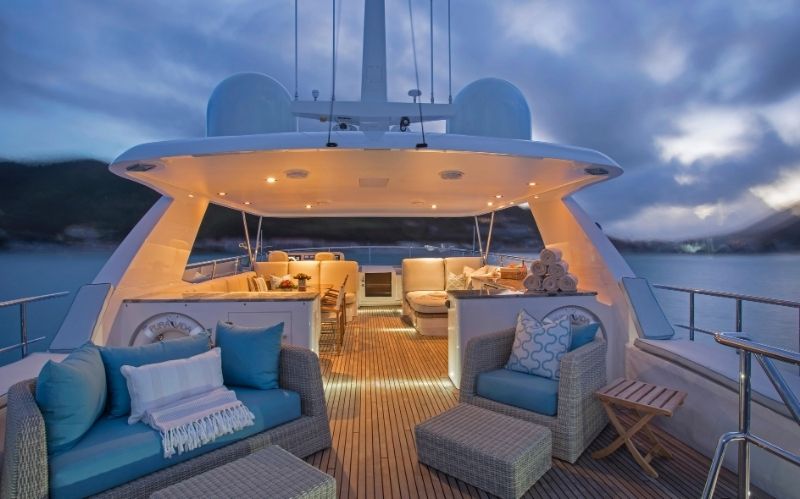 Decks, Audio Visual Equipment, and Accommodations
Let's begin on the aft deck; it comes packed with an alfresco dining area with a square teak table, a bench seat, and six chairs. It also has a wet bar with a fridge and a sink. Plus, a passage to the swimming platform, underwater lights, and a walk-around balcony.
The salon has an ample comfortable area with seats and chairs. They also included a dining table on the starboard side, close to the galley. For entertainment, the deck has surround sound, DirectTV, and an iPod docking station.
Foredeck plays host to a magnificent semi-circular seating area and an adjustable sun pad. It offers guests a relaxing space to catch some sun. Likewise, it has a spectacular private space for enjoying the sunset.
Flybridge comes with a top shade that creates another perfect space for alfresco. It also includes a large settee, bench seating, and ample sunning space. On top of that, it has a large sun pad for relaxing while reading a book or sightseeing the scenery as the yacht drifts away.
Just like the after deck, the flybridge features a wet bar. It includes a wine cooler, two-person outdoor couch, four chaise lounges, and toy storage.
Pura Vida hosts up to eight guests in four cabins; they include a master king suite, one queen cabin, and two twin cabins. She can carry three to four crew members to ensure you have a relaxed yachting experience.
All staterooms are en-suite, and each features a stall shower with hand wand and bench seat, heated towel rail, head, and sink. They all have satellite receivers, climate control, robes, hairdryers, and entertainment systems, which include a DirectTV and iPod docking station. However, the master stateroom is more spacious and has extra features like a closet, portholes, and natural lighting.
Engine Type and Performance 
Pura Vida cruises on two Caterpillar diesel engines and uses twin screw to propel. The total output produced equals 1,798 hp, which gives the motor yacht a cruising top speed of 26 knots. On a comfortable, typical cruise, she drifts at speeds of 14 knots. Her maximum range is around 2,879 nautical miles when doing 12 knots. Besides, the luxury yacht has fuel and freshwater tanks capable of storing 18,900 liters and 3,900 liters.  
Selling Price
Now, you know what to expect when onboard Pura Vida from Moonen. But like every beautiful thing, it comes with a price tag. For Pura Vida, the asking price stands at $5,250,000. 
Last Take
From water toys and tenders to fishing gear, Pura Vida offers all that make your yachting time wonderful. Guests have amenities like a swimming platform, underway stabilizers, anchor stabilizers, air conditioning, and onboard WIFI connection.   
If you're looking for an outing vessel that offers relaxation, fun, social interaction, and good for family get-togethers, Pura Vida is the luxury yacht to pick. Above all, she ticks all the boxes for family yachting. For example, the layouts are child-friendly and have multiple lounging, dining, and socializing areas.