Although the business jet category was hit the hardest due to the pandemic, one aircraft demonstrated resilience in the heavy jet category. That jet is none other than the luxurious Cirrus Vision SF50 G2 Version.  Moreover, this aircraft became the most popular jet among business people, in 2019 and 2020. 
Enjoy the View
The first impression of the aircraft is that of light and excellent visibility. While driving, you can easily see the wings on both sides. The nose drops at a good angle, so you can experience an amazing view. 
In the nose cone, there is a radar for weather and traffic avoidance. It also features the popular Cirrus Airframe Parachute System. 
Exterior
For pilots used to flying single-engine aircraft, the Vision Jet is quite easy to fly. On the exterior part, the most amazing thing about the aircraft is the V-shaped tail assembly. Moreover, the streamlined fuselage expands which makes a spacious area, enough for five adults. 
A split door allows easy access to the cabin. The top rises and the lower one drops down with inbuilt steps. The pilot's seat also slides back, which allows you to move straight from the stairs to the seat. 

System and Features
As mentioned earlier, this luxury jet can hold up to 5 adults. The seats are quite comfortable with a flexible layout. You can also configure the seats in up to 28 combinations. The large windows draw natural light, which lessens claustrophobia and vertigo. Within the pressurized cabin, the altitude experience is up to 8,000 feet, which is the same as a normal airplane flight. 
Some revolutionary features of the G2 vision Jet are standard. Amazing Flight Deck features, like Auto-Throttle, Electronic Stability Protection, and Envelope Protection, all lead to a lesser workload for the pilot.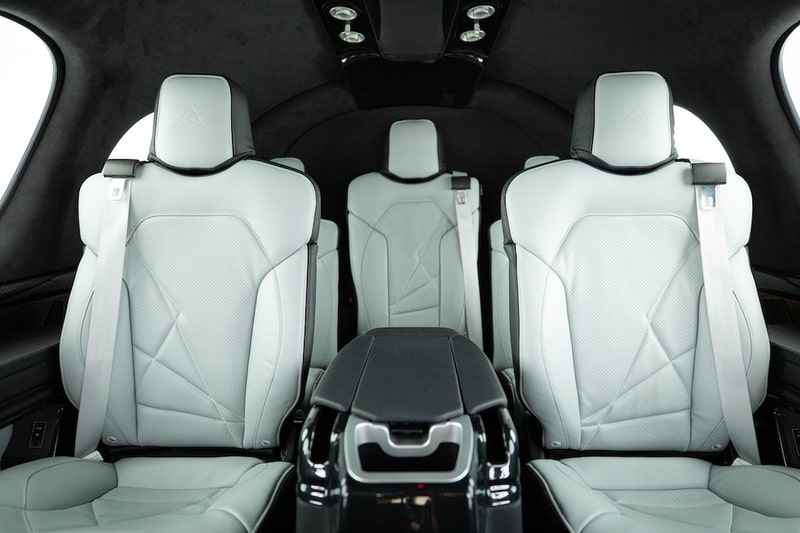 The aircraft features a Safe Return system, which is based on Garmin's Autoland technology. You can use the Safe Return system within minutes after the takeoff. The plane's inbuilt system automatically accesses the conditions all around it, avoids any terrain in its path and approaches the nearest airport, and gives a safe landing without the pilot or passenger intervention. 
The aircraft is quite tech-friendly and some tech features include a 22-inch Entertainment Display, a power station with HDMI and USB power, and multi-zone climate control systems. 

Pricing
The Cirrus Vision SF50 Jet is priced between $2.3 million and $2.75 million. For more information, you can check out Av Buyer. 
With an average range of 1,467 miles, coupled with a cruise speed of 358 mph, the Cirrus Vision SF50 G2 jet makes a four-hour drive from Los Angeles to Las Vegas into a 51-minute flight. These kinds of stats, plus the technology and Safe Return system, show why the 2019 Cirrus Vision SF50 G2 version is one of the most popular business jets on the planet.