The Embraer Phenom 100 was announced back in 2005 and it was met with great expectations by people around the world. The previous jet designs were a great hit and Phenom 100 didn't disappoint. It started delivering in 2007 and now over 1000 units have reached operators, building a reputation for reliability, simple logistics, and ease of operation. 
Performance and Handling
The Phenom 100 has a maximum cruise speed of 390 knots and a range of 1178 nm for four passengers. Moreover, it has a 100 nm alternative reserve, with a 41,000 ft. ceiling. Moreover, its top speed is Mach 0.7. 
In the standard atmospheric conditions and loaded to its maximum take-off weight of 10582 lbs, the Phenom 100 needs 3200 ft. of runway to take off. However, at a standard landing weight, it requires 2430 ft. Moreover, its fuel consumption is around 77 gallons per hour. 
According to reports, the plane can cruise at 360 knots at its service ceiling. Moreover, Phenom handles turbulence and ice without any issues. Furthermore, it has smooth low-speed handling, which makes landing easy. 
Exterior
The Phenom 100 is a low-wing monoplane with a T-tail assembly, designed to provide high performance and exceptional comfort. Moreover, the aircraft has a length of 12.82m, a height of 4.35m, and a wingspan of 12.3m. 
The jet has a baggage space of around 70 ft3 and has a fully enclosed lavatory, which you can get fitted with an optional rigid door for more privacy. 
Interior
This luxury jet has a cabin equipped with the latest technologies and new seating configurations. It can accommodate around six occupants with the standard configuration and can carry up to eight people with an additional seating system installed. Moreover, the cabin offers more head and leg space with better ergonomics and comfort for passengers. 
Customers can choose from several cabin finish options available in 11 color pallets, including crystal, amber, bronzite, pearl, ruby, mystic, quartz, tiffany, and sunstone.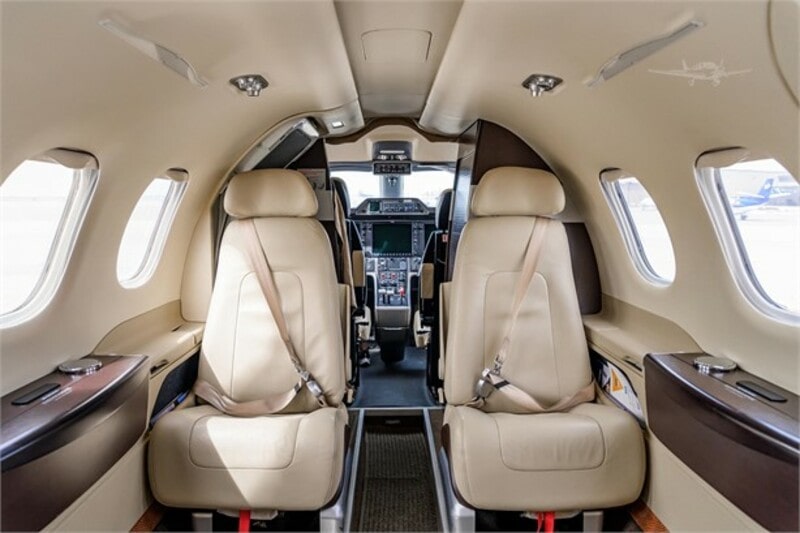 Infotainment
Embraer Phenom 100 contains the latest technologies. It features a Prodigy Touch avionics suite, which is based on Garmin G3000. The suite has centralized touchscreens and includes vertical navigation, GWX 70, turbulence detection, and ground clutter suspension. 
The flight deck also features three 12.4-inch interchangeable displays with soft keys, which reduces the navigation time on menus. Moreover, the jet also contains smart system automation and flight management system. 
Price
The cost of Phenom 100 is around $2,500,000. For more information, visit the Controller website. 
Embraer Phenom 100 has both low maintenance costs and higher availability rates. So, if you want to buy a lightweight business jet, Phenom 100 should be your top choice.