The perfect royal purple style is the ultimate go-to style for your next date night, cocktail party, and night out. The style consists of a preowned Chanel bag, exquisite diamond earrings, crystal heel sandals, and a Tom Ford sequin dress. 
TOM FORD SEQUIN TIE WAIST DRESS
Have you ever imagined a dress that puts the spotlight on you, that makes you the center of attraction? Then here it is; your imagination is finally a reality. The Tom Ford sequin tie waist dress features a deep v-neck, a tie waist, long sleeves, and a short length. 
Moreover, its sequin embroidery, short length, and tie waist will form a fitted silhouette on your body; thereby, putting all eyes on you. 

BAYCO WHITE GOLD MULTI-COLOR SAPPHIRE AND DIAMOND EARRINGS
These 18kt white gold and platinum natural unheated multi-color sapphire and diamond earrings are the perfect jewelry pieces for any dress and any outing. 
Also, you can match it with the Tom Ford sequin tie-waist dress. They will surely look good on you.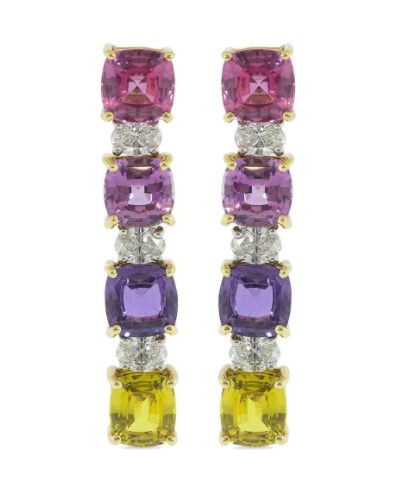 DAVID WEBB CARVED AMETHYST HORSE BRACELET
A classic jewelry piece from the David Webb Kingdom collection, the bracelet is made from cabochon, brilliant-cut diamonds, carved rubies, 18kt gold, 18kt white gold, and platinum. 
Moreover, check out the perfectly intricate designs and you will see that this magnificent beauty is for a royal wrist.

CHANEL PRE-OWNED METALLIC DIAMOND QUILTED SHOULDER BAG
This classical Chanel beauty is all you need to perfectly rock your date night, accentuated with the signature CC logo, leather & gold chain-link shoulder strap; It's a magnificent beauty to behold and claim as yours. 

AQUAZZURA TEQUILA CRYSTAL SANDALS
A pair of heel sandals wrapped in a royal purple elegance features a crystal embellishment, open toe, branded insole, and buckle-fastening ankle strap.
This piece was made to grace the feet of a goddess like you.

SHOP MORE FASHION AND STYLE NOW!!!