A soft knock at the door and a secret password will offer 'in-the-know' travelers exclusive admittance to Puerta Privada, a bespoke luxury wellness experience in the heart of Scottsdale, Arizona's exclusive Omni Scottsdale Resort & Spa at Montelucia. Puerta Privada – meaning 'private door' in Spanish – was designed to give select guests access to the resort's crown jewel, Joya Spa, and its myriad of rejuvenating and romantic offerings after the spa is closed to the general public.
Just over an hour from LAX or Burbank airports, Beverly Hills' most discerning spa-goers will be whisked inside the Castilian-style doors guarding the entrance by a spa butler who will guide couples up to Joya's luxurious Spa Suites situated along the terrace complete with private spa pool. Guests will be transported to an exotic world – inspired by the Moroccan deserts and Andalusia in Southern Spain – and the enchanting atmosphere of Joya Spa will awaken feelings of mystery and intrigue. The spa suite "hideaways" will be accented with candles, antique lamps, plush pillows, and Moroccan antiques.
This is a one-of-a-kind wellness and dining experience is offered Fridays and Saturdays starting at 7:30 p.m. and is limited to 3 couples per night. The package also includes: exclusive, private entry to Joya Spa; a one hour couples massage; a private unique astrology experience overlooking Camelback Mountain; and a custom dinner for two created by Executive Chef Michael Cairns, based on guest preferences, all while an acoustic guitarist plays through the evening. The pricing of the package starts at $750, depending on suite and seasonality, and bookings should be made at least a week in advance due to limited space.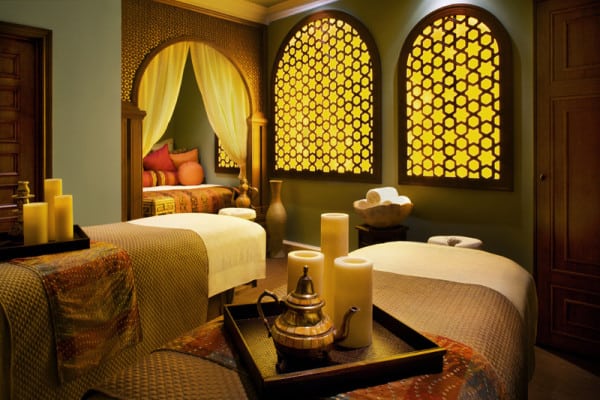 Consistently rated as the top spa in the Phoenix & Scottsdale area, Joya Spa is also home to Scottsdale's only Hammam treatment spa – a Moroccan-inspired hot and cold bathing ritual that helps increase circulation, improve balance as well as mental and emotional states while strengthening the immune system and flushing toxins. Guests can add the rejuvenating Hammam Experience to any treatment. Joya Spa is also renowned for its Restorative Sleep Ritual – featuring Arizona's Red Rock lavender aromatherapy. This soothing treatment promotes deep relaxation and quality sleep by combining full body reflexology. Guests can experience the Restorative Sleep Ritual as well as other unique wellness offerings such as cupping, homeopathy, and hypnotherapy along with numerology, tarot reading, lip print reading and more.
Ranked 6th on Travel + Leisure's "Best U.S. Hotels List" in Arizona, and one of Condé Nast Traveler's "Best Spas" in 2014, Omni Resort Montelucia is an exclusive oasis inspired by the exotic locales of Morocco and Andalusia in Southern Spain. Nestled at the base of picturesque Camelback Mountain in the exclusive enclave of Paradise Valley, the luxury resort boasts 293 luxurious guestrooms, inclusive of 38 spacious suites, highlighted by rich hues, dark woods, and gilded bronze accents. Two 2,800 square-foot Presidential Suites, the Camelback and Andalusian, offer ultra-luxurious villa-style accommodations – the ultimate level of Old World luxury, privacy and seclusion for the highest profile of guest.
To book Puerta Privada or book a stay at the Omni Scottsdale Resort & Spa at Montelucia, call 888-691-5692 or 480-627-3200.