There are very few cars that blend beauty and driver delight like the new Aston Martin Vantage Coupe V8. It looks amazing in its couture-inspired suit of impeccably pressed sheet metal. The Vantage V8 will inspire you with a lively handling, athletic chassis, and explosive acceleration. Moreover, you can customize the interior of this luxury car with several options.  
Engine and Performance
Beneath the Vantage's clamshell hood lies a thrilling, thundering twin-turbo 4.0 liter V8. The base V8 engine has 528 horsepower and 505 lb-ft of torque. The higher output V8 has been reserved for the track-inspired F1 edition. Moreover, Aston claims that the car reaches from 0 to 60 mph in just 3.4 seconds, but that is a conservative estimate. 
The V8 model's transmission manual creates a purer connection with the powertrain than the auto box and also has the benefit of removing 209 pounds. The Vantage V8 sounds beautiful, starting with a low rumble at idle and ending with the high-strung shriek as it comes near the red line. Moreover, the handling is lively but predictable which makes it fun on a race track. However, the optional carbon-ceramic brakes are less amicable during daily driving. The upgraded brakes are too grabby for daily use.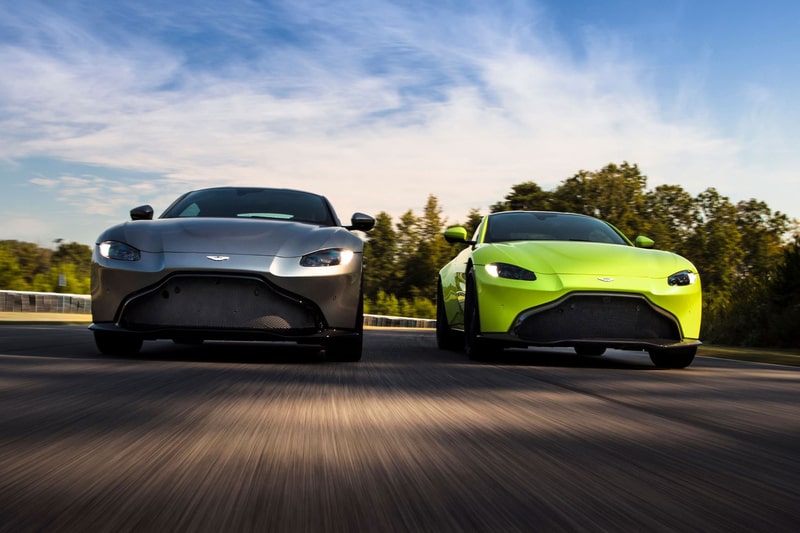 Interior
The exterior theatrics continue inside with tons of custom options. So, it's easy to spend money on the new Aston Martin Vantage. Moreover, the car offers fancy options, like a full-leather interior, ventilated seats, a carbon-fiber steering wheel, embroidered headrests, and different options for interior trim. 
The cockpit is designed for two, however, it is designed with leather and faux suede. Similarly, the sports seats with power adjustments and memory settings are standard. However, its luxury experience is diminished by the poor noise isolation on the highway. 
Infotainment
There is an 8.0-inch display on the top of the car's dashboard and it operates through a rotatory knob and buttons on the center console. The Vantage's infotainment system includes an Aston Martin audio system, built-in navigation, and Bluetooth compatibility. Moreover, an upgraded audio system with a touchpad is optional. However, popular features, like the Apple CarPlay and Android Auto integration are absent.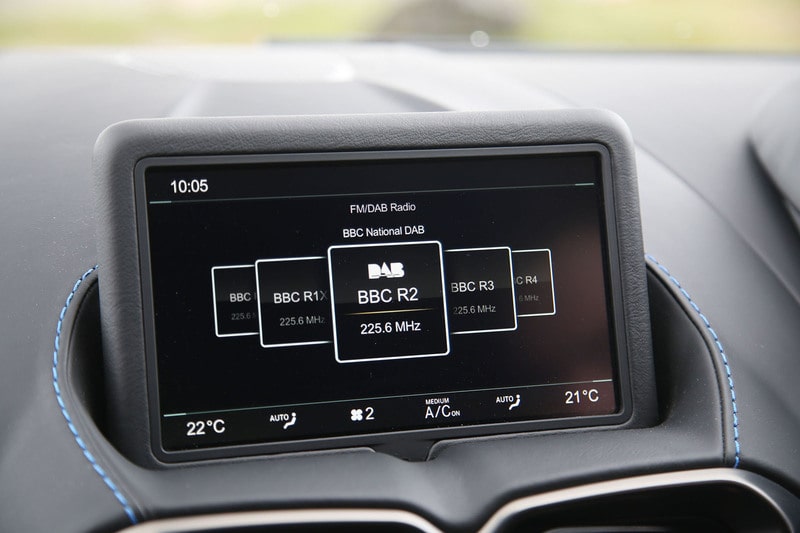 Reliability and Safety
Aston Martin Vantage cars have been around for 10 years, so it is quite a well-sorted car. The manufacturers resolved the early problems and the car has a healthy reliability record. 
As with any hand-built car, there is a margin for human error. However, the staff at Aston Martin's Gaydon factory knows how to put an amazing car together with minimum problems.
Price
The new Aston Martin Vantage V8 Coupe costs $139,000. For more information, visit the Aston Martin official website. 
The new model of Aston Martin is a big upgrade from the previous model. Its performance and refinement are exceptional. Moreover, with sleek styling and smooth handling, it is a highly desirable car with iconic heritage.