Finding your perfect office look is a lot of fun these days. There are so many varied types of attire to choose from. This particular modern office style for women is high on fashion. It is one of those styles that will definitely turn heads in meetings. It packs a mean punch when it comes to impressing new business clients as well. It's classy, ulra chic, with a little sexy.
First, the Silk Faille Cropped Top by Tibi is a classic. The back zipper means that you are setting trends with new styles. Silk is a beautiful fabric that exudes sophistication. If you want a fashion must have, then put this feminine top in your wardrobe.
Next, the Houndstooth Stretch-Knit Pencil Skirt in Black by Balmain brings the zipper to the forefront. Counterbalancing the placement of the zipper on the top versus the bottoms is a savvy move. It brings a lot of visual interest to the table. You will feel joyous that you purchased this ultra stream lined skirt. This is one of those skirt styles that never goes out of style.
Now, add the Rockstud 110 Pumps by Valentino. The metallic gold studs bring together the gold metal theme. Additionally, these heels really accentuate the entire outfit. You need a shoe for work that is high in fashion and also adds dimension to the overall look. These shoes take this look to the next level of stylishness. They are completely suitable for making impressions and showing yourself to be a professional with high fashion sense.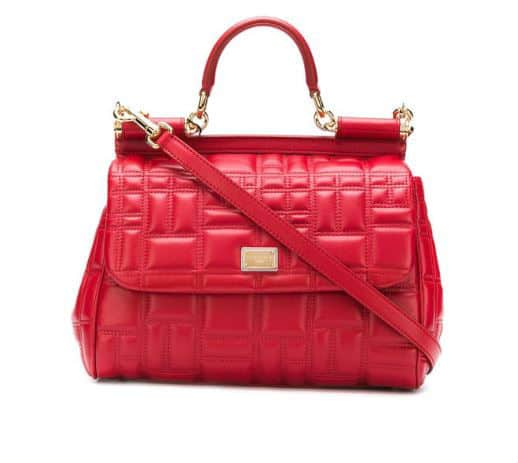 Finally, you will need the Medium Sicily Quilted Handbag by Dolce & Gabbana to fully execute the look. It has two strap carrying options. This means that you can alternate the ways that you wear your bag. The gold plating brings together all the gold metal in the other pieces. That being said,  having a more patchy design to the leather really gives the bag some stand out features. This is a great bag for women who like to take style to fashion magazine status.
SHOP MORE FASHION AND STYLE NOW!!!