About Shatora Adrell
Looking for fierce, sophisticated, and tailor-made styling? Shatora Adrell is a Los Angeles-based modern fashion designer who has also been named the #1 Stylist in Trinidad by Forbes. From designing for the red carpets to crafting exclusive wear for music videos/ TV/ Films, Shatora Adrell is truly a fashion arbiter of her generation.
Besides her special projects in the entertainment business, Shatora produces selective designer wear with the belief that quality clothing can build confidence and provide freedom of expression to her clients.
Shatora's feature combinations of solids, stripes, and elegantly printed shirts, pants, one-piece dresses, blouses, tops, jackets, and coats for women. For stylish men, they have a selected line of tailored shirts, adorns, and bowties. Her designs are also counted upon by plus-size women. Visit their website or Instagram to shop for their latest trends.
Black Elegant Blouse in X-Line Design
This flattering black elegant blouse has a sophisticated X-line silhouette that effortlessly enhances your style at any formal event or an evening gala. The middle slit around the bottom end of the blouse gives glamour a new meaning without making your look feel too sultry. You can pair the blouse with side-slitted formal pants for the classiest look. The long blouse is available in sizes S to XXL.
B & W Striped Abstract Shirt
Made with thermoregulating fabric, this Black and White Striped Long-Sleeve Shirt is a must-have for the transitional and colder months. It has a fine mix of micro-elastic and polyester/spandex fabric that traps body heat effectively to keep you warm.
Talking about the design, the illusionary abstract print does all the work to help you look more powerful and stylish. Pair this with vintage sunglasses and a solid clutch to finish the look.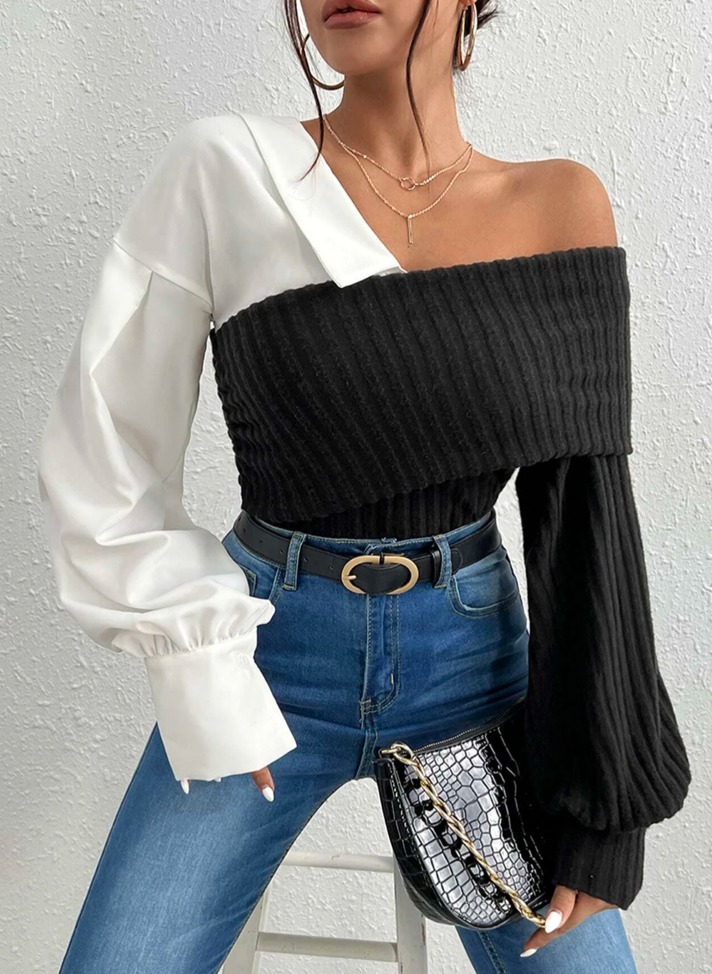 Two-in-One Sweater and Shirt Combo
A sweater or a shirt? Well, Shatora got you the best of both worlds! While the right part of this top is a white colored shirt with a half-collar, the left side is an elegantly designed black-colored, off-shoulder rugged sweater. Both segments come with extra-long balloon sleeves.
The Sweater/ Blouse Fitted Combination Shirt is available in black and tan color options in sizes XS to L. You can effortlessly pair it with a blue denim skirt or jeans, a croc skin sling, and some minimalist fashion jewelry for any casual outdoor event.
Black Bustier Top With Sheer Sleeves
The Tux Bustier Top in Black can instantly add a touch of glamour and style to any casual outfit. The showstopper top comes with shoulder flap detailing and sheer sleeves – certainly something that is both classy and sultry. The back has an adjustable zip closure to help you get that figure-hugging look.
For a personal style, balance this form-fitting corset top with relaxed short pants and simple accessories.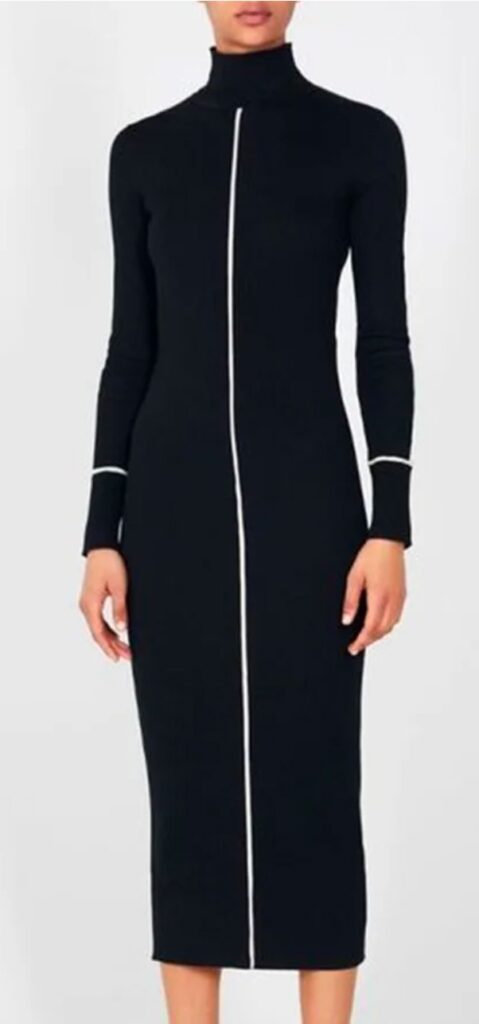 Long Pinstripe Bodycon Dress in B & W
If you are Gen-Z or a Millennial, you already know this Long Black and White Pinstripe Dress is a huge sensation on social media. However, this outfit from Shatora Adrell is no commoner as it is crafted with high-quality elastic fabric that fits into all well-trained body shapes.
Undeniably , you can wear this at the office, for a night out, or just for any casual event. The white pinstripe in the middle and the wrist area upgrades the overall simplicity of this black bodycon dress. The piece is figure-hugging, elegant, yet a loved street-style favorite.
So what fashion pieces have you shortlisted from the collection of Shatora Adrell? The brand is for someone who wants to look timeless and a class apart, be it any social space or occasion. So if you love elegant, confident, and fierce styling, you can also contact them directly for a personalized style.
To add the aforelisted dresses to your wardrobe collection, you can browse and shop them on Shatora Adell. For classy accessory recommendations that compliments this modern fashion designer wear, click here.