Who could ever say no to a hydromechanical watch? After all, these watches are all the rage these days. In fact, it's this reason that the HYT H2 Ployepoxyde men's watch happens to be one of the coolest luxury watches you'll ever find. By combining liquid and clockwork, HYT created a watch that's unlike anything the market has to offer. And with only 50 pieces, it'll certainly stand out on your wrist as well. So let's take a look at everything that makes this hydromechanical watch downright epic.
Luxury Meets Cool Design
At first glance, you'll notice a lot going on at one time. But the first place to look is definitely those springs at the bottom of the watch. These are the pieces where the fine clockwork begins. Mainly because these springs push liquid over the hour scale in an ultra cool fashion.
Near the 3:00 mark, you'll find another dial with the letters H, N, and R. Really, this is the piece that lets you know whether the watch is working in neutral, time setting, and winding mode. So it's a convenience feature that manages to sleekly blend with the rest of the watch.
But the real showstopper here is that liquid indicator. It's not common at all for a liquid meter to tell you the time on a watch. But simply put, it looks cool. Plus, it never feels difficult to read, which is always a plus with innovative means of telling the time.
Moving on to the face as a whole, you'll find plenty of exposed cogs and gears on the inside. Overall, each gear manages to remain in perpetual motion. And seeing the liquid gauge constantly filling only adds to the impressive clockwork on this timepiece. It's definitely these little touches that really innovates this watch for a new generation of timepieces.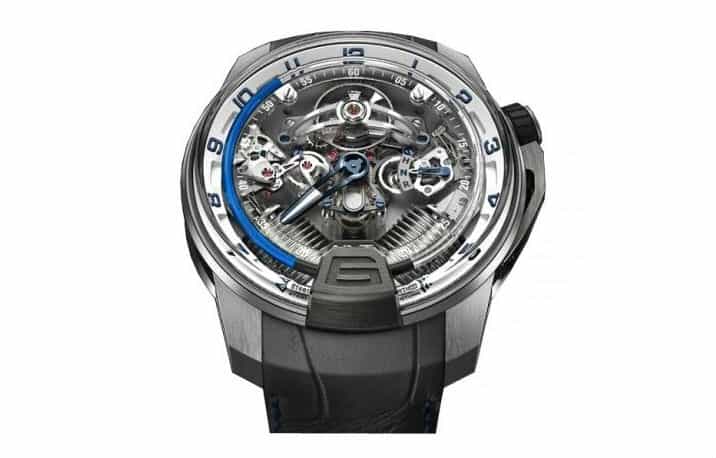 The Movement
Flip this cool watch over, and you'll find a skeletal-looking Caliber 201 movement. And honestly, it's quite the site to see those pieces in motion that pump the liquid through this timepiece. Plus, the spring-like pieces at the bottom beautifully and frame that HYT logo. Add to it a stylish greyish coloring and it pulls off that modern feel quite well.
As far as functionality goes, this movement is just as impressive. By manually winding this piece, you'll get an entire 8 days of power. So it never feels like an annoying chore.
What's the Price of an HYT H2 Ployepoxyde?
Overall, this men's watch typically sells for $160,000. But we managed to find one for you for only $120,000. And with this unique of a look, it's definitely a great deal. It's tough to knock off, so you'll certainly be wearing a unique and one-of-a-kind timepiece on your wrist.
Final Thoughts
When it comes to luxury watches, it's quite common to see many follow the same old basic formula. So it's certainly a breath of fresh air to see HYT innovating their watches a bit. This is something that won't look like your grandfather's watch from the 1960s. Instead, it's a classic timepiece that uses hydromechanics to innovate means of telling time. And the end result is certainly a stylish watch you'll want to sport on your wrist.