McLaren Automotive has released the final numbers, images and information relating to its phenomenal most expensive car, the McLaren P1™ ahead of a global reveal in just a few days at the 83rd International Geneva Motor Show.
The race-inspired dream cars Instant Power Assist System (IPAS) gives the McLaren P1™ astonishing performance.  Zero to 100km/h will take less than 3 seconds, zero to 200 km/h under 7 seconds, and zero to 300 km/h will be achieved in no more than 17 seconds.  Putting that into perspective, that's 5 seconds faster than the legendary McLaren F1 road car.  Top speed is electronically limited to 350 km/h.
McLaren has been engaging with potential customers actively in the last few months to get their views on the McLaren P1™, about the car's luxury sport styling.  Their unanimous verdict on the styling was not to change the car presented last September in Paris.  So unusually, the McLaren P1™ has translated to production form with very little change.  In fact just one, the addition of LTR ducts ahead of each of the front wheels to further aid cooling and optimize down force. Making this one of the fastest dream cars out there.
McLaren has closely monitored demand so as to maintain exclusivity, and announced a production number of just 375 units – a figure that will ensure the McLaren P1™, the most expensive car in the Mclaren family, will remain a rarity and, if spotted on the road, an unforgettable sight.
McLaren has also announced that the car will cost from £866,000 or just over $1.1million dollars on the road with a specification that fully equips the most expensive car for both road and track use.  The company prides itself on designing performance dream cars that their owners can use regularly so the McLaren P1™ comes comprehensively equipped as standard with an array of color and trim alternatives from which the customer will be able to choose as well as visible carbon fibre in the cabin.  The options list is limited to only bespoke content that a customer might wish to add through McLaren Special Operations, and fitted luggage.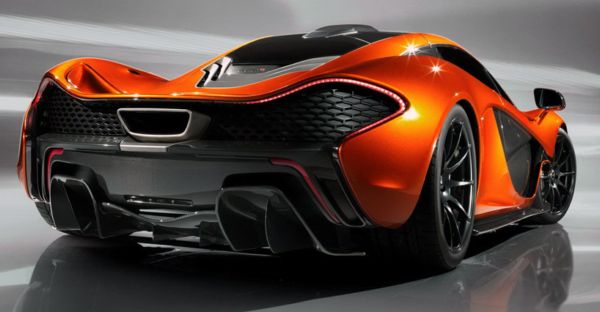 One of the world's most expensive cars, the McLaren P1™ will have the combined force of two highly-efficient power plants, offering the optimum mix of superb throttle response, day-to-day drivability and top speed. A mid-mounted 3.8-litre twin-turbo V8 petrol engine is substantially enhanced featuring, for example, larger turbochargers and a highly effective electric motor, to give a combined output of 916PS (903 bhp) and a maximum torque figure of 900Nm. This ensures instantaneous throttle response through the rev range, more akin to a naturally aspirated engine.
To rein in the power produced by the twin power plants, the McLaren P1™ is designed to offer braking performance more associated with a GT3 or sports racing car. Developed by McLaren's Formula 1 partner Akebono, the system features a new type of carbon ceramic disc, which has previously seen service in space, but never before used on a road car. Stronger than conventional carbon ceramic, the material dissipates heat more effectively, giving the highly efficient braking system exceptional stopping and cooling capability. The system also boasts significantly reduced weight, and a bespoke ceramic layer coats both friction surfaces to give an attractive mirrored finish.
One surprising feature is that the car can also be driven solely in electric mode.  In city driving, with an average speed of 30 mph, this could mean up to a 20km range.  More than enough for an owner to enter, for example, a city centre Zero Emissions Zone, have dinner and return home.