Oscar award-winning actor Matt Damon and his wife, Luciana, have listed their Pacific palisades home for a stunning $21 million. The house, which seems to be more like a retreat wellness center, has been in their possession since 2012 when they bought it for around $15 million.
Its location in Pacific Palisades, LA, brought Damon closer to his best friend Ben Affleck, with the two being neighbors since 2012.
This home was proof of the Damons' excellent taste in homes. The couple owns several properties stretching from Miami to New York to this beauty in Pacific Palisades.
A Peek Inside
Once described as the 'best house on Pacific Palisades', this mansion is definitely one of its kind. The 13,508-square-foot home features seven bedrooms, 10 bathrooms, a large living room with a fireplace, and an indoor-outdoor dining area.

The bedrooms come in a Zen-style décor comprising of wooden flooring, high-end furnishings, and sophisticated accessories. The master bedroom comes with his & hers dressing rooms, a private terrace, a massage room, an expansive shower, and even a spa-style bathtub with a soaking tub.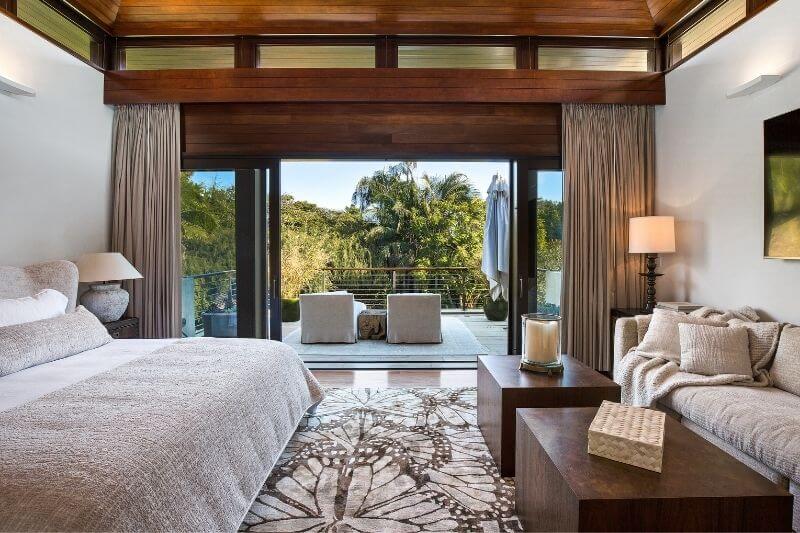 There's also a set of floating staircases, a spa pavilion, and a disappearing wall of glass.
At the entrance, guests and homeowners are welcomed by a 35-foot atrium serving as the home's centerpiece.
The center-island kitchen, designed in bluestone and mahogany, comes complete with white cabinetry and stainless-steel appliances.

The living room and dining areas all feature large floor-to-ceiling windows that ensure the homeowners get the most of that LA sun.
With the bathrooms, this architectural masterpiece spares no expense. The 10 baths in the home are all complete with lavish marble finishes and giant bathtubs. It's just like a luxury resort!

Other rooms on this three-story house include a game room, wine cellar, office, home theater, home gym, and a bar.
Contact Maddison Estates To Buy, Sell, Or Build Your Dream Home!
Outdoors
Outdoors, the estate's 0.68 acre comprises of a large picture-perfect swimming pool, a cascading waterfall, spa, and a koi pond. For the kids, there's a spacious play area on site.

There's also an alfresco dining terrace and a Hawaiian inspired Lanai with a lounge, which completes the otherwise perfect scene. All around the estate, the green, well-maintained lawns not only decorate the grounds but also give it that tropical-retreat touch.

While it's not clear why Matt Damon and his family are moving out from this home, it's clear that this resort-style mansion won't stay long in the market. And just like his previous home sale, the Miami Spanish-style mansion, this home is likely to be his priciest home yet!
The home's listing agent is Erick Haskell of The Agency, Beverly hills.