My Seanna is a luxury yacht built by Delta Marine in 2001. Originally, she was known as the Gallant Lady, whose main design was for hosting entertainment events. But less than four years later, this yachting vessel went through an extensive refit courtesy of Rybovich shipyards. Afterward, My Seanna emerged as the charter yacht to go for and was a favorite for cruising the Mediterranean, South Pacific, Caribbean, and the Bahamas. 
The luxury yacht, My Seanna, became even more popular after appearing in season two of the Bravo series "Below Deck." Another unique feat for this yacht is that it's one of the few yachting vessels in the market with six fully furnished staterooms. Not only that, My Seanna comes with spectacular sun decks, a beach club, among other incredible features and amenities. For more details, read on. 
Interior and Exterior Decks Features of My Seanna
During the refit, they extended the yacht length from 48.77m to 56.40m. This translated to longer hulls and decks, plus space to create a beach club and swim platform. 
The main saloon boasts a 61-inch TV screen, a spacious lounge, cushioned window seating, and a Gran tour player piano. More interestingly, the window panel offers an option of a complete blackout when watching cinemas. There is also a path that gives guests access to the aft and upper decks. Plus, the main saloon features a day head forward.
My Seanna has a magnificent staircase which is the main attraction as you enter the Aft Deck. It actually connects the accommodations area and spirals up the main saloon. There is also a dining area on the main deck with a seating arrangement capable of fitting fourteen guests. And not only that, the seats are custom-made Versace dining chairs. Other interior features include a large service pantry, a Wine Cellar, and gym, with a 26-inch TV screen, a treadmill plus free weights. 
The exterior features are equally impressive. Starting from the alfresco dining area, with a capacity of up to twelve guests on the aft deck to the sun deck, which has a spa pool and another alfresco dining space. The sun decks come with five chaise lounges, a convenient Day Head, and a 42-inch TV screen. Furthermore, the crow's nest, which offers spectacular panoramic views, can serve as an alternative Bridge for Captain. And for more sunning space, guests can use the main deck's forward area, which has six chaise lounges. 
On accommodation, My Seanna can host 12 guests in six ensuite luxurious cabins. These include the owner's suite on the main deck and a VIP cabin found on the bridge deck. The latter offers occupants a 360-degree ocean view. All the cabins have SAT TV, iPod Stations, mini-fridges, among other lavish features.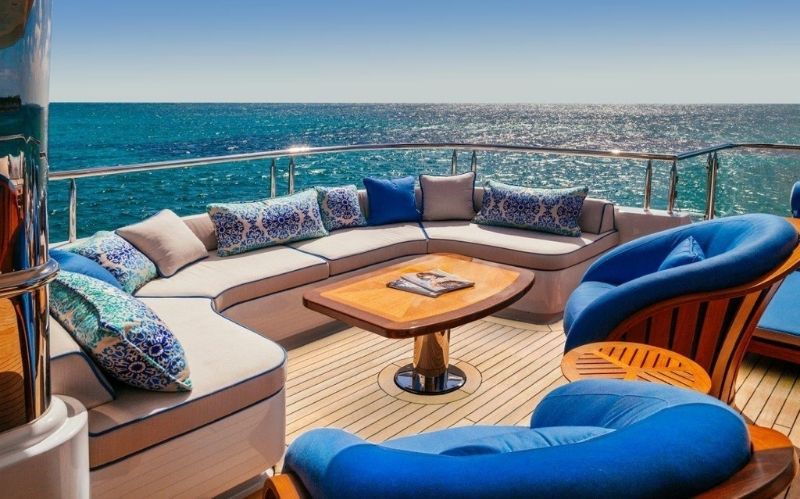 The Cruising Ability of My Seanna
My Seanna gets her propelling power from two caterpillar engines, and each has an output of 1,100hp. Together, they give enough output to give the yacht a cruise speed of 12.5 knots, while her maximum speed stands at 14 knots. It has a maximum drift of 2.44m and quantum zero speed stabilizers. And apart from that, the superyacht has fuel and freshwater tanks, with a carrying capacity of 21000 and 3500lgallons, respectively. 
The Selling Price 
This luxury superyacht is available for sale. Interested individuals can get in touch with Denison Yachts, but they should be ready to part with $26,500,00.
Summary 
As you can see, My Seanna is not only a luxury yacht but a home floating on water. It plays host to countless features, entertainment facilities, and amenities that make your yachting time more fun. So, if you are planning for a yachting getaway, don't charter any other yacht. Choose My Seanna, a luxury yacht that guarantees you, your family, and your guests a yacht life to remember.