Maserati Quattroporte S Q4 GranSport is a luxury sports sedan embedded with Italian flair. Having been around to decades, since introduction in 1963, The model has been getting better with each rebuild. As expected, Maserati looks set and ready to unleash another exciting S Q4 GranSport model.
Maserati will release the sports sedan together with a series of other cool cars. The line up comprises 225 limited units, among them will be 25 Quattroporte S Q4 GranSport. Others are 100 for Ghibli S Q4 and 100 for Levante S. All will be under one name, the Edizion Ribelle, where Ribelle means rebel in Italian. In essence, the name implies the latest edition of Maserati dream cars will stand out from the rest and offer distinctive features to clients.
Performance of Quattroporte S Q4 GranSport
The luxury sports car rides on a V6 twin-turbo gas engine with a capacity of 3.0-litre, capable of delivering 424 hp and 428 pounds-feet of torque. Besides, the powertrain features other enhancement systems that make Quattroporte get an uptick on performance levels. They include an all-wheel-drive, which sends power to all four wheels and an eight-speed automatic transmission system.
The Maserati GranSport takes 4.8 seconds to accelerate from zero to 60 mph with 179 mph of top speed. Hence, the AWD sedan ranks behind the GTS model, which tops the series using a V8 engine and RWD system. The GTS accomplishes the same sprint within 4.7 seconds, recording 0.1 seconds faster. Hence, the slight time difference makes the GTS rank fast in the Edizion Ribelle range.
Interior and Exterior of Italian Sports Car
The cabin styling remains attractive as per Maserati standards, and it's because they used a mixture of premium leather together with genuine wood. Above that, the interior displays a series of fancy trims and leather shades.
Occupants will not worry about space, as both front and rear seats offer ample legroom and headroom. They will also enjoy a user-friendly infotainment system easy to operate while on the move, something you don't see on most luxury cars.  
The front seats will have heat functions and several power adjustments, including the soft-close doors, power rear sunblind, among other standard features. Moreover, the driver will have aids like adaptive cruise control.
The exterior aspect of Quattroporte makes competitors shy away. Every angle and styling on this dream car adds to perfections, and any intention to search for badness will end in futility. As usual, the Maserati signature grille graces the facial, while the side air ducts and exhaust look fabulous.  
As an addition to the Italian flair, the GranSport introduces an upgraded 20-inch wheel design. The luxury sedan also wears gloss red brake clippers and sports bumpers for both front and rear.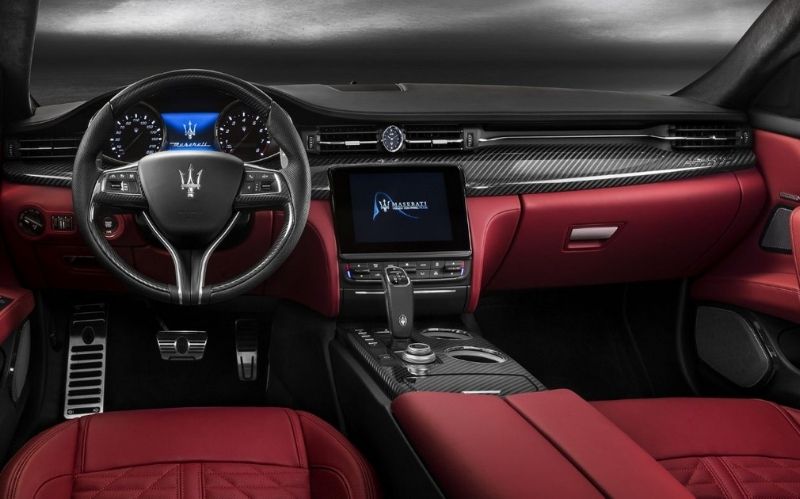 Selling Price
Maserati is selling the Quattroporte S Q4 GranSport at $126,800, while most of the other cool cars in the series show a price tag of between $ 99,990 to $112,490. Yet, the GranLusso and GTS GranSport models are expensive than S Q4 GranSport.  
Final Remarks
The Quattroporte S Q4 GranSport comes with a fancy body and a fancy name. Under the skin, it's one of the most comfortable luxury cars on the market. Overall, what the Ribelle series brings forth are exciting models that showcase Maserati's ability and craftsmanship.